A long-vacant drive-in theater just east of Fountain Square soon could be home to the nation's largest rugby facility.

The Indiana Youth Rugby Foundation has raised $1.2 million for the ambitious project and is seeking another $500,000 to break ground this spring.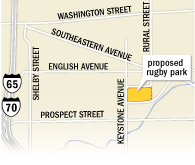 Citizens Energy Group last year agreed to hand over the 26-acre parcel next to a former coke plant along Keystone Avenue if Indiana Youth Rugby can line up funding.

The $4.7 million proposal includes five 100-meter-by-70-meter fields—which also could be used for soccer—plus a two-story, 18,000-square-foot community center that would feature banquet areas, a kitchen, two conference rooms and a classroom, a large outdoor deck area, and locker rooms with shower facilities.

Plans also call for a splash park, playground, 1.1-mile exercise trail with workout stations, open-air shelters, and a rain garden educational site.

The facility—dubbed The Indianapolis National Rugby Park—will take the entire space formerly occupied by the Twin Aire Drive-In, which closed 17 years ago.

It's not the first time a sports complex has been suggested for the site.

In 2010, local not-for-profit Play Ball Indiana proposed a $6 million lighted baseball facility that would host youth and adult baseball and softball leagues and tournaments. It was touted as a key component to revitalizing the area, which is a mix of industrial and residential.

But those plans were scuttled a year later when Play Ball Indiana couldn't raise enough funds.

"I think that had a lot to do with the economy," said Jan Diggins, Citizens' manager of community redevelopment.

Indiana Sports Corp. CEO Allison Melangton is optimistic the rugby project will fly.

"I'm incredibly impressed with their organization and their grass-roots effort to gain support for this project," she said. "They are reaching out to schools and other youth organizations, and I think that will be key to their success. They have good people behind this project."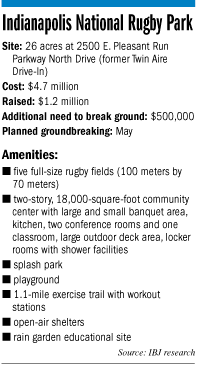 Locally based Terra Site Development Inc. is handling design and construction.

"The pre-construction planning, architectural and design work and traffic studies are all done," said Indiana Youth Rugby Executive Director Michelle Leroux. "We're just waiting to break ground. The timing of that is dependent on fundraising."

Local attorney Jon Anderson is leading the fundraising efforts. Kohl's department stores and Kona Jack's restaurant have been lined up as sponsors, and project leaders have "several important meetings in terms of fundraising in the next few weeks," Leroux said.

"The feedback we've gotten is good, so we're very optimistic," she added.

If Indiana Youth Rugby is successful, the local operation would be nearly twice as large as the country's next-biggest facility dedicated to rugby, said officials for USA Rugby, the Colorado-based national sanctioning body for the sport.

"It's an absolutely amazing project," said Kurt Weaver, USA Rugby youth development director.

Weaver and USA Rugby CEO Nigel Melville have visited Indianapolis to walk the site and work with local officials to assure its development. And though USA Rugby has no plans to support the project financially, Weaver said the organization will lobby companies locally, regionally and nationally to do so. USA Rugby leaders also have pledged to hold some of the group's biggest events at the local site.

"We think this facility would be a big economic boon for that area," Weaver said.

Indiana Youth Rugby is raising $4.7 million to develop a rugby facility on 26 acres on Indianapolis' near-east side. Now owned by Citizens' Energy Group, it was home to Twin Aire Drive-In until it closed 17 years ago.(IBJ file photo)
Not everyone is convinced.

Rachel Cooper, a longtime area resident and president of the Southeast Community Organization, thinks something should be built on the drive-in site that would be more useful to community residents—not merely a draw for outsiders.

"There are no recreational facilities out here for our kids, and our kids don't know what rugby is," said Cooper, who lives across the street from the property. "I agree a development on that site would be a big and needed economic boost for this area. I'm just not convinced this is the right project."

Though many locals know little about the sport, USA Rugby has been around since 1975 and the organization has 105,000 members. Rugby is increasingly popular on college campuses, and the 2009 movie "Invictus," about South Africa's 1995 World Cup rugby triumph, helped accelerate growth.

In recent years, Weaver said, membership has been increasing at a 10-percent clip, with youth membership doubling over the last two years. A 2012 match in Houston pitting the U.S. national team against Italy drew 20,000 spectators, he said, and tournaments featuring 16 to 24 amateur teams regularly draw 5,000 people to a host site.

Locally, Indiana Youth Rugby has 1,800 member players and 200 coaches and has been growing at a 16-percent annual clip. The state has 75 teams stretching from South Bend to Bloomington, with 60 percent of those in central Indiana, Leroux said.

Supporters credit the sport's low cost and high energy for the growth.

"All you really need is a field and a ball to play," Leroux said. "And it's a great way to teach the importance of teamwork."

Indiana Youth Rugby recently started a youth outreach program, and the organization is working with 18 Indianapolis public schools within two miles of the proposed facility, Leroux added.

"We're on our way to being in every school and on every playground—and facilities like this are a big part of that," Weaver said. "It's not like many other traditional sports, where there's lots of standing around or time sitting on the bench. Rugby is constant motion. Everybody gets a chance to run, pass and score."

The sport isn't just for children. Central Indiana has four adult rugby teams—two men's and two women's—and all plan to use the facility as their home field.

"Rugby is a sport anyone can learn to play: young, old, men and women," said Citizens' Diggins.

There are two versions of the game, with a team having either seven or 15 players on the field at a time. There's also a version of non-tackle rugby for smaller children.

Leroux pointed out that, in addition to opportunities to learn to play rugby, area children and adults also would be welcome to use amenities like the playground, fitness trail and community center.

"It's a facility that could host anything from birthdays to weddings," Leroux said.

Citizens purchased the property on Keystone north of Prospect Street to create a buffer between its 101-year-old coke plant and nearby residential areas. When the utility closed the plant in 2007, company officials began looking for ways to redevelop both sites.

The contaminated coke-plant property is still being cleaned up, but Diggins thinks the rugby project could spur development there by 2014 or 2015.

"We wanted to use the best parcel we have out there for the benefit of the community," Diggins said of the former drive-in. "That's what this is all about."•