Landing a North American Soccer League franchise might be the easiest part of Indianapolis developer Ersal Ozdemir's grand plan, which includes building a downtown soccer stadium and surrounding it with retail and residential space.

If all that works out, leaping to Major League Soccer is not out of the question, Ozdemir said.

But first things first.

Ozdemir
Flanked by Gov. Mike Pence and Indianapolis Deputy Mayor Deron Kintner, Ozdemir announced Jan. 16 that he would bring professional soccer back to Indianapolis for the first time since 2004. The NASL is one step below the MLS.

Ozdemir, president of Keystone Group, will spend the first quarter putting together a front-office staff and mapping out a year-long marketing plan. He's already hired Peter Wilt, who was the founding general manager of Major League Soccer's Chicago Fire, and plans to have a staff of eight to 12 in place this year.

Initial reaction to the team's formation has been largely enthusiastic. But building support for the 8,000- to 10,000-seat soccer-specific stadium he wants downtown will likely be a tougher sell.

The as-yet-unnamed team will play its first two or three seasons at IUPUI's track and soccer stadium, but Ozdemir hopes to build a new stadium by 2017.

Likely plots Ozdemir will consider, local real estate brokers said, are the former Market Square Arena site, which is almost eight acres just east of City Market; and the old General Motors stamping plant, which occupies 102 acres along White River on the southwest edge of downtown.

Downtown Indianapolis parcels can cost as much as $2 million an acre, but local real estate brokers said the entire GM plant could go for as little as $4 million. The former MSA site, which is city-owned, would likely be more costly.

Equity is key

While Mike Wells, president of Indianapolis-based REI Investments, says "a downtown soccer venue could be good," he thinks it must be done in conjunction with other developments to make it sustainable, and added that the developer "better have deep pockets."

Given the tepid economy and uncertain real estate market, Wells predicted a bank would be willing to lend only 30 cents for every dollar needed for such a project.

"A soccer stadium simply isn't worth much to a bank," Wells said. "The bank would value the land as if the soccer stadium weren't there."

Ozdemir, who is well-connected within the Republican Party and on the board of several high-profile organizations, including the Indiana Historical Society and University of Indianapolis, would appear to have the juice to give this ambitious project a chance.

His timing is good, too. The city has been searching more than a decade for the right high-impact development for the MSA site. And local real estate brokers said the Racer Trust, which controls the GM site, wants that parcel sold either in whole or in chunks by year's end.

The 12,500-seat IUPUI stadium will be fine short term, but Ozdemir said it doesn't have optimal site lines for soccer and lacks adequate concession facilities and corporate entertaining areas. He'd like a higher-profile location with surrounding development.

Ozdemir said he will begin scouting for a 10- to 12-acre site during the second quarter of this year. He'd like to be able to expand the venue to 22,000 seats.

When asked about the Market Square Arena and General Motors sites, Ozdemir smiled and raised his eyebrows.

"Right now, nothing is off the table," said the native of Turkey who came to Indiana in 1993 to attend Purdue University.

He's already hired Hunt Construction Group, which has designed myriad sports venues. Ozdemir projected it will take 18 months to design and build the stadium.

Once it's open, Ozdemir said, his team's front-office staff should grow to 50 employees, besides the 25 to 30 soccer players.

If all works out as planned, Ozdemir said a leap to the MLS is a solid possibility.

"The location will be critical to the success of this," he said. "We definitely think downtown is the best place for this venture."

Ozdemir is confident a soccer venue with adjacent retail and perhaps residential space would not only fit nicely into downtown, but also help the city center prosper.

"All you have to do is look at Google maps, and you can see there are sites downtown that would accommodate this development," Ozdemir said.

Low-cost stadium?

Ozdemir, whose company developed Sophia Square in Carmel and is building a large retail and parking facility in Broad Ripple, doesn't yet have a cost estimate or a plan to pay for the facility.

But sports business experts said the stadium alone shouldn't cost nearly as much as Bankers Life Fieldhouse, which was completed in 1999 for $183 million, or the $750 million Lucas Oil Stadium, which opened in 2008.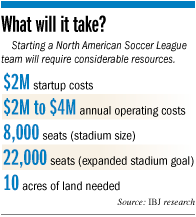 A better comparison would be Victory Field, the open-air home of the Indianapolis Indians, which was built for $18 million and opened in 1996.

In 2008, the United Soccer League franchise in Montreal built a 13,000-seat stadium for $13 million. Saputo Stadium has a natural-grass playing surface, individual seats—not benches, 16 luxury suites and a giant video screen.

It has been touted as a multi-use complex and has been approved by Major League Soccer Commissioner Don Garber as a future MLS venue since it could be easily expanded to 20,000 seats.

Several of Ozdemir's recent projects have had public incentives attached to them, and soliciting city or state funding could be one way he attempts to defray costs. He's also looking for "patient" private investors to help grow the franchise. Sports business experts said it will cost about $2 million to launch the team and $2 million to $4 million annually to operate it.

"The people that get in have to realize they're going to lose money for some time," he said. "We want to build this franchise the right way. This is a long-term investment, a community investment."

Mayoral support

Though Indianapolis Mayor Greg Ballard hasn't even been approached yet about public support for a stadium, he's certainly bullish on building it downtown.

"The mayor believes the sports model all the way back to the '70s has worked, and the games need to be downtown where they have the greatest impact from an economic standpoint," said Kintner, who heads up economic development for the city.

With the city's Capital Improvement Board already paying to operate Lucas Oil Stadium and doling out $3.5 million annually to the Indianapolis Colts, plus $10 million each of the last four years to help the Indiana Pacers run the fieldhouse, some question how much more the city could—or should—take on.

CIB President Ann Lathrop said she's aware of the soccer project, but hasn't pondered CIB involvement in it.

The addition of professional soccer locally, Kintner said, would help brand Indianapolis as a global city and help attract foreign investment and lure and retain young and international workers who embrace the emerging game.

Pacers, Indians weigh in

Ozdemir has found a surprising ally in the Pacers, who operate the 18,165-seat fieldhouse and could compete with the new facility for events.

The NASL soccer team would play only 15 home games a year for starters, and Ozdemir acknowledged he'd have to attract collegiate and other soccer matches to the stadium as well as other entertainment events to help the enterprise cover costs, much less make a profit.

"Drawing another 150,000 to 200,000 people downtown in the summertime would be fantastic for our hospitality industry, downtown retailers and restaurants and for the overall strength of downtown," said Pacers President Jim Morris. "My grandkids play soccer, and they love it. I know this is a sport young people very much support. I see no downside to this."

Indians General Manager Cal Burleson said officials for the local AAA baseball team—which will have an overlapping season with the new soccer team—don't have "a strong opinion" on the matter.

"Our mission is to provide Indians baseball at Victory Field as affordable and memorable family fun, and we do our best at that when we stay focused in that direction," Burleson said.

Indians Chairman Max Schumacher voiced concerns about stretching the local sports market too thin when the WNBA's Indiana Fever was launched in 2000. The women's basketball team, owned by the Pacers and winners of last season's WNBA championship, also plays during the summer.

Schumacher isn't alone in his concern.

"At some point, you have to wonder how much more this market can support," said former IUPUI dean and sports business author Mark Rosentraub. "It's a strong sports town, but given its size, it's a very crowded sports marketplace."•