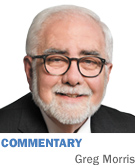 I wrote a column recently complaining about all the new taxes bestowed on us this new calendar year. It was a lengthy list.
So, I don't want to sound contradictory when I tell you now that I want central Indiana residents to support a modest tax increase in the future to expand mass transit. The current mass transit funding plan includes a combination of federal, state and local dollars, as well as transit fares.
The plan proposes an increase in the local income tax of 0.3 percent to create local dedicated funds for the project. We need to approve this additional tax. But first the Indiana General Assembly has to authorize a referendum to give voters the final say on whether to create this fund.
Our legislators are discussing this topic as you read this. Thus the timing of the radio and television commercials you're hearing and seeing that advocate for mass transit.
Unlike much of the wasteful spending in Washington, this initiative is worth the investment. It benefits everyone from all social and economic classes. I talk to as many people as I can about expanding mass transit. Indianapolis is the 12th-largest city in the country, but our bus system barely ranks in the top 100. We're way behind the eight ball and we can't fail to seize this moment.
As I'm out evangelizing the benefits of expanding mass transit, I'm always interested in the reaction. A lot of intelligent people just don't get it. And I understand. I didn't get it either for the longest time. First, I'm not an urbanite. I've always lived in the suburbs. I have no problems traveling our excellent roadways and getting anywhere I need to go. So, I'd ask myself why we need mass transit.
But sometimes we forget that not everyone can afford to own, operate and maintain a car. And not everyone wants to. Forget the cost aspect for a moment—and consider that many upwardly mobile young folks don't want to drive everywhere they go. These are the very people we need to retain and attract to be a successful city. These up-and-comers want to use alternate forms of transportation. They'll use bike and walking paths and mass transit and they insist on these amenities.
But, regardless of your age or income level, you should be able to move around the city and get to work via some form of public transportation without taking hours to travel a distance that could have been driven in 30 minutes or less.
Our current bus system doesn't meet that standard. Those who oppose an expansion of transit like to point out that people here don't use public transportation. Of course they don't—it barely exists. Fixing the system is in progress and first on the list. Coming are shorter wait times, more service and more destinations with convenient connections to the rest of the new rapid-transit corridors.
However, a new and more efficient bus system isn't enough. The plan being proposed calls for local and express buses, bus rapid-transit lines and rail rapid-transit lines. It's a vision we all need to embrace.
And what about the benefits that result from reducing our addiction to foreign oil—like not transferring a large percentage of our country's wealth to foreign powers who hate us, and improving our environment with fewer vehicle emissions? When we get this mass transit system, I'll park my vehicle as often as possible for these reasons alone.
Mayor Ballard has taken a strong leadership role with this initiative. The list of advocates is a who's who of community and business leaders from the region. I've barely scratched the surface of all the benefits transit can provide.
People are moving from rural to urban areas and that trend is projected to continue. We have real transportation needs today, especially in Marion County, and we have to plan for the entire region. We can't have a downtown that lives up to its potential without a good mass transit system, and the outlying areas won't be successful long term without a thriving downtown.
The realization of mass transit in Indy is a multi-step process. Right now, please call, e-mail or write your state legislator and ask them to support putting mass transit on the ballot.•
__________
Morris is publisher of IBJ. His column appears every other week. To comment on this column, send e-mail to gmorris@ibj.com.
Please enable JavaScript to view this content.