Don Marsh will have a lot of explaining to do about millions of dollars in expenses he charged to Marsh Supermarkets during a two-week civil trial that got underway Monday morning.

Court proceedings began in downtown Indianapolis with Judge Sarah Evans Barker giving court instructions to a pool of about 50 potential jurors. Attorneys selected five men and four women from the pool for the nine-person jury before breaking for lunch.

The locally based grocery chain alleges that Marsh tapped corporate coffers to pay more than $3 million in personal expenses from at least the late 1980s until new owners ousted him in 2006.

Among the examples cited in court records:

• $1,000 for two pairs of boots he gave to a hunting trip guide and the guide's girlfriend.

• $5,960 for four Indianapolis Colts season tickets.

• Use of the corporate plane to fly to the Dominican Republic with three female employees, one of their sisters and his driver on a trip that included a $325 dinner and a $295 round of golf.

• Rent for a mistress's New York apartment.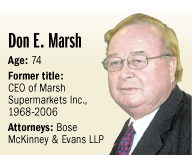 Attorneys for Don Marsh defend the expenses, saying they were within the boundaries of his employment contract. And they say his extensive travels were justified to promote his company and stay on top of the trends in food retailing.

Marsh, 74, was one of Indiana's highest-profile executives for decades. He served as CEO for 38 years and frequently appeared in the company's TV advertising.

His attorneys aim to persuade the jury it's the company that did wrong. After Marsh Supermarkets sued him in federal court in 2009, he countersued, asserting the company improperly halted his post-retirement payouts in 2008 and owes him millions of dollars.

Attorneys for the two sides have lined up dozens of witnesses and hundreds of pieces of evidence. Among those expected to testify are executives and board members of the company before its 2006 sale to Sun Capital Partners. Sun, which paid $88 million in cash and assumed $237 million debt, slashed expenses and installed a new board after the deal closed.

David Herzog, a partner at Faegre Baker Daniels representing the company, declined to comment. But in briefs filed over the past three years, the company paints Don Marsh as a gallivanting, philandering businessman who liberally used corporate money at his leisure.

"Mr. Marsh had a fiduciary duty to deal with the Company fairly, openly, and honestly," one recent filing says. "He breached that duty over and over. He committed deception by misrepresenting information regarding his expenses and use of the Company plane."

In all, the company is seeking $7 million—$3.4 million in improper expenses, $2 million in payments he received after leaving the company, and $1.6 million for fees and reimbursement for an IRS penalty stemming from his questionable expenditures.

Don Marsh's attorneys argue he legitimately spent corporate money as he traveled for business and promoted the company.

"First and foremost, Don didn't commit fraud or breach his contract," said Andrew McNeil, a partner at Bose McKinney & Evans.

In addition, McNeil argues the company violated federal labor law by dodging the severance pay mandated in the CEO's employment contract.

He argues the company waived its right to cancel retirement payouts when it terminated him "without cause" in September 2006.

While the parties can argue the facts surrounding Don Marsh's expenses, it's beyond debate that the company must honor the employment agreement, McNeil said.

"No matter what the facts are, we still win because of these legal issues," he said.

Spending spree

Company documents filed in court show that, as Marsh prepped itself for sale in 2005, board members began questioning the CEO's expenses and launched an internal investigation.

After they started to learn the extent of reimbursements, "I went ballistic," board member Steve Huse said in a deposition filed in court.

The company estimates in its lawsuit that Marsh took 115 trips from 2000 to 2006 and his wife went on at least 100. Grocery vendors, such as Coca-Cola and Tyson, often covered part of the bill for trips, which included sojourns to the Olympics, Wimbledon and Alaska for hunting.

Marsh justified the expenses by noting his involvement with groups such as the Paris-based Centre for Food Trade and Industry, where he served as president.

Marsh Supermarkets says it initially didn't fire Don Marsh because its investigation was in progress when the sale to Sun closed. The company argues it wasn't until later that it concluded he had breached his employment agreement, triggering the halt to severance payments.

What to expect

The jury is expected to hear testimony from almost 40 witnesses. They range from company administrative assistants and board members to Don Marsh and Don's son David, who worked under his father as president.

Marsh Supermarkets launched a legal assault on David in 2006 after he sued the company, alleging it shorted him $102,000 on his $2.1 million severance package. The company shot back that he had used the company "as his personal checkbook," had expensed family trips to Africa and New Zealand, and must repay more than $750,000. The parties reached a confidential settlement in 2007.

David Marsh has gone to great lengths—to no avail—to avoid assisting the company with its case against Don Marsh.

David's attorney, Linda Cooley, a partner at Krieg DeVault, persuaded a federal magistrate in 2011 that the company should not be allowed to depose David because it had an "inside advantage." However, the magistrate reversed himself later that year.

Then, in late 2012, Marsh left the continental United States.

Attorneys tried to deliver a subpoena for his trial appearance to his Fishers home 19 times starting in November but learned he was in Hawaii and did not plan to return until at least March.

Herzog, of Faegre Baker Daniels, claimed Marsh was trying to avoid the subpoena, and sought a bench warrant that would have brought him back to the mainland.

A warrant proved not to be necessary because the day after attorneys applied for one, Marsh agreed to come back to Indiana to testify in person under the condition the company paid for his air fare.

Cooley said in an e-mail to IBJ her client still intends to appear during the trial.

She denied Herzog's claim that David Marsh was trying to avoid a subpoena.

"David and his family have been, and still are, in Hawaii on a trip and his absence from Indiana had nothing to do with the Marsh Supermarkets v. Don Marsh trial," she said.•