Allos Ventures has raised $40 million from local tech industry luminaries and others to invest in early-stage tech companies in the Midwest, a segment that has seen funding dry up.
The fund, Allos II, aims to invest $3 million to $7 million each in about a dozen early-stage companies—not upstarts but those already generating solid revenue streams.
The first recipient of the recently closed fund is Indianapolis-based energy management software firm Blue Pillar.
 
Aquilano
"Our next one will probably be in the next 60 days," said Don Aquilano, managing director of Allos Ventures.
Allos II comes at an opportune time. Angel investors and public/private-sector investments have helped a number of tech firms bud. But early-stage venture funding for more-developed firms hasn't been as easy to find in the Midwest. Some firms aren't making new investments or are shifting to later-stage, higher-revenue companies, Aquilano said.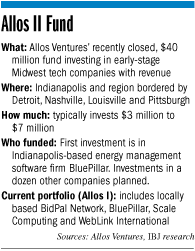 "It's darned hard to raise a fund in this environment … . However, there is a very significant need in the Midwest for early-stage venture capital."
The new fund "is great news as it further extends what is still a fledgling venture capital industry in the Midwest," said Jeff Ready, founder and CEO of Indianapolis-based Scale Computing, which makes data storage devices.
"But there is momentum there and it takes a combination of great companies to invest in as well as great investors to keep that momentum going," Ready added.
Allos II investors include a number of wealthy tech veterans in the region, whom Aquilano declined to identify, other than to say they are household names and "tech luminaries" who are able to vet potential investments and offer support to firms that win funding.
One of the investors is Collina Ventures' Mark Hill, who, with wife Karen, co-founded the banking software firm Baker Hill. They later sold it to Experian and have been active in supporting tech entrepreneurs in the region.
"I am a big fan of Don. He has contributed significantly to the success of our local tech community, not just with the creation of Allos, but as an adviser to many angel investors and entrepreneurs," Hill said.
He pointed out that the $23 million Allos I, a previous fund, helped provide funding to locally based software firms BidPal and WebLink. "Allos clearly strengthens our community with the access to funds locally."

Hill
The new, $40 million fund also received institutional investment from groups including Indiana University Foundation, Purdue University, The Ohio Capital Fund and from Ann Arbor, Mich.-based Renaissance Capital Fund.
The first to get funding from Allos II—Blue Pillar —actually received the money back in April, before the fund closed. Allos Ventures teamed with several other venture funds from the coasts to provide Blue Pillar $7 million toward expansion of the Indianapolis firm's distributed energy-asset management software and systems.
Allos "kind of acted like the glue in the process," said Blue Pillar CEO Kevin Kushman, "almost as the concert master" coordinating the various funds in the due diligence process.
Venture firms on the coasts often prefer a local co-investor.
Blue Pillar has grown its employee base nearly sixfold, to 30 people. The 7-year-old company started out creating a software platform that helps hospital campuses better manage their systems—everything from chillers to generators—to reduce energy costs.
Among clients are Duke University Health System and Tenet Healthcare.
Kushman's firm has since expanded into other industries, such as manufacturing and telecommunications. It also landed a contract with the U.S. Air Force to manage power consumption at MacDill Air Force Base, in Tampa.
These kinds of promising companies, within a five-hour drive, are the kind Allos Ventures is targeting.
The fund was founded in 2010. Aquilano is known for his work locally in Gazelle TechVentures. The other principals are John McIlwraith, a former executive of Indianapolis-based Quantum Health Resources, and Dov Rosenberg.
All three also have managed funds with Cincinnati-based Blue Chip Venture Co.•
Please enable JavaScript to view this content.