Insiders at Indianapolis-area companies cashed in millions of dollars of their own companies' shares this month, a selling spree that might reflect growing sentiment the market rally is ending.

The Dow Jones industrial average on Feb. 1 surpassed 14,000 for the first time since October 2007, and it's reached that high-water mark twice since. Since the latest market surge began in mid-November, the Dow and S&P 500 have advanced more than 11 percent.

"You're deluding yourself if you think it's just going to continue to do this," said Scott Gambill, vice president at the Minneapolis investment firm Emergent Financial.

Gambill tracks the ratio of insider buys to sells among Russell 3000 firms. He said buys typically represent 10 percent of all insider transactions but plummeted to less than 5 percent on Jan. 28 and 29.

Local companies that saw a spurt of insider selling in recent weeks include Interactive Intelligence Group, Allison Transmission Holdings and ExactTarget.

Many investors closely watch insider trading, believing that executives and board members have a stronger grasp of companies' growth and earnings potential than do outsiders.

Others caution against reading too much into the trades, especially for individual companies.

"There are lots of reasons that people sell. There's only one reason people buy," said Mark Foster, chief investment officer at Kirr Marbach & Co. in Columbus.

Brown
Interactive Intelligence CEO Don Brown said there were a couple of reasons he sold $10.6 million of his shares Feb. 7-12. Brown said he had options to acquire stock that were about to expire. And once he did so, tax consequences discourage holding onto the acquired shares.

Brown also wanted cash to support a Raleigh, N.C., startup, OrgSpan, which he co-founded, and he realized it was a lucrative time to sell shares.

Shares of Interactive, a maker of call center software, are up more than 20 percent since Jan. 4. The stock closed at $41.01 on Feb. 19, near its 52-week high.

"We just had a humongous fourth quarter," Brown said. "We had the greatest fourth quarter in the company's history. Some of us decided to sell a few shares."

Interactive Intelligence CFO Stephen Head cashed in $1.2 million in shares.

Other central Indiana executives to sell large blocks of stock include David Graziosi, chief financial officer at Allison Transmission; Stephen Russell, chairman of trucking company Celadon Group; Steven Collins, chief financial officer of marketing software maker ExactTarget; Stephen Head, Interactive Intelligence's chief financial officer; and Derica Rice, Eli Lilly and Co.'s chief financial officer.

Another big seller was Michael Marchetti, executive vice president for store operations at Finish Line. He cashed in a total of $3.7 million in Finish Line shares in four transactions in early February. A company spokeswoman declined to comment.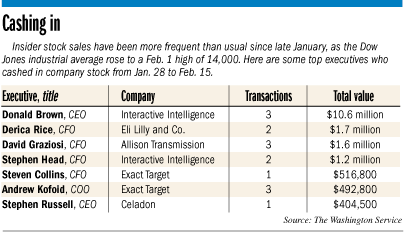 At ExactTarget, the venture fund Greenspring Crossover conducted two sales worth a combined $11.5 million. The sales reduced Greenspring's holdings 5 percent, to 9.7 million shares. A representative of Greenspring couldn't be reached for comment.

John Weil, a director and major shareholder at the insurance company Baldwin & Lyons Inc., sold 100,000 shares worth $2.5 million. He did not return a call seeking comment.

The sales by Russell, who retired as Celadon CEO in December, were part of an arranged plan to unload 200,000 shares, or 14 percent of his holdings, over 10 months. The plan was disclosed to the Securities and Exchange Commission Feb. 4.

"I'm 72 years old," Russell said. "I thought it was an appropriate thing to do from an estate-planning standpoint."

More executives are arranging selling plans through brokers, just to eliminate speculation that they're trading on material, nonpublic information.

"I've seen a lot more of that in the last couple of years," Foster said. "It takes it off the table, in terms of their decision-making."

At Allison, which went public in March, all insider transactions have taken place under arranged selling plans, though the company doesn't require it, spokeswoman Melissa Sauer said.

That's in addition to company policy restricting the trading window for insiders. Allison also requires that executives maintain a certain level of stock ownership, Sauer said.

All of those restrictions make it difficult to read much into sales, Foster said.

Then there are the personal considerations. Foster said a friend who is CEO of a publicly traded company once sold some stock to pay for his daughter's wedding.

"It's not always an indicator the stock is topping out," he said.

Still, executives realize that large sales could unnerve the market. Interactive's Brown said he knows investors would worry if he significantly reduced his holdings, and he doesn't plan to do so. He still owns 4 million shares, more than 20 percent of the company.

"I'm quite content to let my chips ride on Interactive," he said.•