Where does greatness come from? What is its legacy? And if I someday change the world, what stuff of mine will end up in a museum 150 years from now?
 
Abraham Lincoln's sum book
Those are the kinds of questions you may find yourself pondering after a visit to "The Lincolns: 5 Generations of an American Family" (through Aug. 4 at the Indiana State Museum). With a wide range of artifacts culled from the museum's Lincoln Financial Foundation Collection and more loaned from elsewhere, the show looks both backward and forward from Lincoln's life. It looks at his contemporaries, and his immediate family, of course.
It's the best-known part of his legacy that is likely to feel the most familiar to those rooting for Abe and company to take home this year's Best Picture Oscar. But it's the fringes, where those of us not steeped in Lincoln lore, might find the freshest material. That's where I encountered Abe's Uncle Mordecai, who was married to Mary Mudd. Is that last name familiar? That's because she was a distant relative of Dr. Samuel Mudd, who was arrested as part of Lincoln's assassination.
Abraham Lincoln's grandchildren, c. 1883. Cabinet card.
When he was younger, Mordecai witnessed the murder of his father and shot and killed one of the Native American assailants. In the process, he very well may have saved his brother, Thomas, Abe's father. Fans of alternate-history fiction can go ahead and write a novel about how the world would be different if Mordecai hadn't acted.
Mary Todd Lincoln gets a fair share of exhibit space, all of which seems shadowed by a sad portrait of her painted years after her death. Letters mak
e reference to her deteriorating mental state after her husband's assassination and the death of her children. It's difficult not to empathize with the notoriously difficult surviving son, Robert, who had to make the difficult decision about what to do with his mother.
The show doesn't try to replay everything about Abe Lincoln's life, but some interesting details come through about the man. We see a letter in which he granted his father's request for $20 to help pay off a debt while another denies his stepbrother $80. There's an electoral ballot Abe cast for William Henry Harrison and a charming whimsical note scrawled when he was young: "Abraham Lincoln is my nam[e]/And with my pen I wrote the same/I wrote in both hast and speed/And left it here for fools to read." (For the record, I prefer young Abe's more compact "Abraham Lincoln/his hand and pen/he will be good but/god knows When").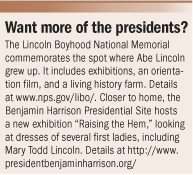 The last piece of the exhibition struck me, at first, as one of its oddest: a blown-up and framed Oakland Tribune quote about Lincoln's last undisputed de
scendant that seems hardly worth the trouble of printing: "Robert T. L. Beckwith inherited the short stature of his mother…His favorite spirits are bo
ating and golf. Mr. Beckwith is very genial in disposition."
But perhaps it's in the context of such trivialities that greatness shines brightest. Abraham Lincoln becomes even more impressive not only when we see his humble beginnings and his ability to still make a difference after life's deepest sorrow, but also when we see the mark (or lack thereof) that the rest of his family—and most of us—make on history. •
__________
This column appears weekly. Send information on upcoming arts and entertainment events to lharry@ibj.com.
Please enable JavaScript to view this content.