FINALIST: Advancements In Health Care
Michael Guzman, M.D.
Anesthesiologist, Medical Director, Community Surgery Center East
Michael Guzman, M.D., is an inventor with a single purpose: alleviating pain. His first innovation in 2007 was a simple infusion-filling device he created from IV tubing and stopcocks. That garnered him his first patent. He now has three patents to his credit with one in the works.
Since then Guzman, 59, a board-certified anesthesiologist who's been affiliated with Community Health Network for more than 20 years, has come up with numerous innovations to minimize post-operative pain.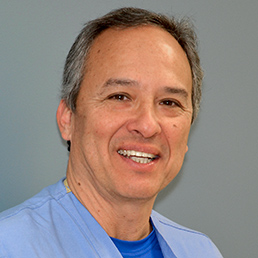 (IBJ Photo/ Gene Herndon)
It was in New Orleans in 2009 while presenting a paper to the American Society of Anesthesiology that Guzman got what he calls his "big break." While networking at the conference, he learned Virginia Mason Medical Center had found a way to relieve the pain of abdominal surgeries without using spinal or epidural narcotics, which necessitate bed rest and have side effects such as nausea, severe itching and urine retention, among others.
This procedure, a Transversus Abdominis Plane block or TAP block, applies local anesthesia between the stomach muscles. The TAP block was reported to be 80-percent as effective for relieving pain as an epidural, and without the associated side effects. This single TAP block relieved pain up to 24 hours.
When Guzman returned home, he discovered a technique to provide continuous pain relief far beyond 24 hours using a TAP block. He received a provisional patent for his continuous TAP block kit, and in 2011 sold the rights to a Fortune 500 company.
"It was just a fluke chance," said Guzman, who grew up in the small farming community of Morocco, Ind. "It all came about because I was invited to New Orleans. I don't think anybody saw this coming—the concept that an anesthesiologist can change patients' post-operative outcomes."
Soon after, Guzman had another "aha" moment. "I realized this device could be used for any peripheral nerve block commonly performed by anesthesiologists. My TAP kit had many more applications." Again, Guzman received a provisional patent for his peripheral nerve block kit.
Among the new applications is providing pain relief for any abdominal procedure using a laparoscope. Guzman trademarked this use as LAP TAP-Laparoscopic Assisted TAP block. LAP TAP has been used successfully on bariatric patients in the Community Health Network.
Today many surgeries—hernias, hysterectomies, rotator cuffs, total knees, total hips, minimally invasive spine surgery and others—are being performed using the TAP block. Post-operative patients are 80-percent pain-free and typically enjoy quicker recovery times, shorter hospital stays and reduced health care costs.
"Guzman's innovations in pain management—which have captured the attention of some of the nation's top physicians and health care companies—are evidence that groundbreaking health care ideas can emerge wherever caregivers are dedicated to improving experiences and outcomes for their patients," said Pete Turner, vice president of Innovation for Community Health Network.
Anesthesiologists and surgeons from more than 75 hospital systems, including Mayo Clinic, Cleveland Clinic, and the University of Pennsylvania, have visited the center to learn the TAP block technique.
Although Guzman's innovations have improved the lives of many patients, he considers his most significant achievement to be a variation of his device that provides continuous relief for mastectomy patients. Chronic pain after mastectomy with breast reconstruction can be present for up to one year after the procedure.
"Patients at Indiana Surgery Center East have experienced low post-operative pain scores which have exceeded our expectations," Guzman said. "When these women come in they're just mentally beat up and devastated because they have a terrible disease. This is something we're doing that can help their outcomes."• 
Please enable JavaScript to view this content.