FINALIST: Advancements In Health Care
C. Max Schmidt, M.D., Ph.D., MBA, FACS
Director, Pancreatic Cyst and Cancer Early Detection Center at Indiana University Health
The statistics on pancreatic cancer are devastating. In 85 percent of diagnosed cases, the cancer is too far advanced for surgery to be an option, and even when it is, surgery rarely provides a cure. Once diagnosed, the average life expectancy of a patient is less than one year. A "lucky" five percent survive for five years.
C. Max Schmidt, M.D., director of Indiana University Health's Pancreatic Cyst and Cancer Early Detection Center, is dedicated to identifying and working with at-risk people before they develop the disease so they won't become a statistic.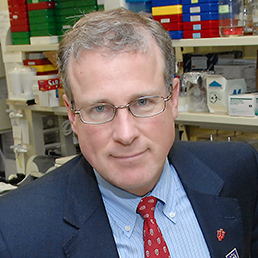 (IBJ Photo/ Perry Reichanadter)
"There are really two windows of opportunity to cure pancreatic cancer," Schmidt said. "One of those is by following patients who present with pancreatic cysts. The other is to follow people who are at-risk for pancreatic cancer because of their family history."
Pancreatic cysts are key to early detection because 20 percent to 30 percent of them develop into cancer. Since cancers can take up to 20 years to form, there's plenty of time for early detection. "The main focus of our lab is to detect biomarkers that will help us determine which of these high-risk patients we should subject to invasive treatments such as surgery, and which ones we don't have to be as concerned about," Schmidt said. "The most impressive biomarker we've discovered to date is one that can tell us, with near 100-percent certainty, that the cyst will not become a cancer."
High-risk patients who test positive for the biomarker receive a "get out of jail free" card. The other high-risk patients continue to be followed, and cysts that turn precancerous can be removed before they become cancer.
Schmidt worked with the Regenstrief Institute, an informatics and health care research organization that collects data from patient medical records citywide, to identify at-risk patients. Future plans include developing an interface to notify primary care providers and others involved in a patient's care when something in a patient's medical record raises a red flag.
Once in place, Schmidt plans to "template" the technology to create a nationwide informatics-based pancreatic cancer prevention program to help raise awareness and promote the creation of more centers like the one at IU Health. "In the whole scheme of things, this may be the most promising of all because it will touch more lives," Schmidt said.
Schmidt, 46, earned his medical degree and MBA from the University of Chicago and his Ph.D. in tumor biology from Georgetown while serving his internship and residency at Johns Hopkins. From 2000 to 2001 he honed his pancreatic surgical skills at Johns Hopkins Hospital while completing his Pancreaticobiliary Surgery Fellowship.
Since coming to IU in 2001, he's grown the center to become the largest of its kind in the country. The clinic, which boasts one of the most robust tissue banks nationwide, coordinates the care and follow-up of more than 1,000 patients with precancerous lesions of the pancreas. It attracts patients far beyond Indiana's borders.
Schmidt also heads B9, an IU startup company, created to identify and market the existence of biomarkers.
"Central Indiana, and beyond, is fortunate to have Dr. Schmidt tracking family histories, providing care, and most importantly, providing hope for thousands who will be affected by this devastating disease," said Doug Schwartzentruber, M.D., system medical director at IU Health Cancer Centers. "With identification and proper screening of high-risk patients, prevention and early detection, survival is possible."• 
Please enable JavaScript to view this content.