FINALIST: Physician
Malaz Boustani, M.D.
Medical Director, Wishard Health Services Healthy Aging Brain Center
Many of us would like to live forever—but only if we could retain our mental faculties. For Malaz Boustani, M.D., keeping the brain healthy is both a personal and professional quest.
Upon arrival at Wishard in 2002, Boustani, who was born in Syria and immigrated to the United States in 1994, focused on research to improve the quality of life and health outcomes of dementia patients. A federal grant allowed him to test his Aging Brain Care model, and in 2006 he published his findings in the Journal of the American Medical Association.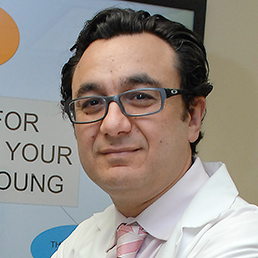 (IBJ Photo/ Perry Reichanadter)
Fortunately that wasn't the end of the story. Wishard leadership encouraged Boustani to put his clinical model into practice. The result was the Wishard Healthy Aging Brain Center.
"We started touching lives in January, 2008, and last May we touched patient No. 1,000," Boustani said. "We've been seeing patients all over the country, as far away as Seattle, Texas and New York."
The Aging Brain Care model goes beyond the normal realm of patient care. It also includes care for family members. Relieving the stress of family members has been shown to reduce patients' dementia symptoms, allowing them to remain at home longer. The Center's care coordinators follow up with patients and families between visits—sending emails, calling, making home visits—to ensure patients have the best quality of life possible.
"We don't limit our delivery of care to the wall of the doctor's office," Boustani said.
This model of care can also reduce hospitalization costs. Twenty-eight percent of the center's patients visited hospital emergency departments, versus 50 percent of similar non-center patients. Hospital stays of center patients averaged five days versus seven days for non-center patients.
Boustani's drive and passion for his work comes from seeing patients who are able to stay at home with an improved quality of life.
"When my patients and their families say 'thank you,' it's like somebody gave me a million dollars," he said.
Boustani, 41, wants to use what he's learned to change the world. "That's what keeps me going," he said.
He's on his way. Last June, IU received a $7.2 million Health Care Innovation Award from the Centers for Medicare & Medicaid Services to expand the ABC model to Wishard's 11 community health centers.
Boustani is also heading the Innovation and Implementation Science Initiative in collaboration with the IU School of Medicine and the Regenstrief Institute to expand the ABC model of care to IU Health systems.
"Dr. Boustani's ability to network and develop fruitful collaborations leads to novel research that not only results in research publications and additional research funding, but most importantly, directly improves the care of some of our community's most vulnerable residents," said Babar Khan, M.D., medical director of the Wishard Critical Care Recovery Center. "Dr. Boustani is a strong, vocal and visible advocate for aging research."
Boustani is on the faculty of the IU School of Medicine, an investigator with Regenstrief Institute, associate director of the IU Center for Aging Research and chief research officer of the Indianapolis Discovery Network for Dementia. He is the current president of the American Delirium Society.
In 2005 he received the Paul B. Beeson Career Development Award in Aging Research, and in 2012 he was honored with the American Geriatrics Society Outstanding Scientific Achievement for Clinical Investigation Award.
Boustani considers his greatest accomplishment, however, to be building the Healthy Aging Brain Center and developing the ABC program.
"It's been like completing the circle of life for me," he said.•
Please enable JavaScript to view this content.