WINNER: Non-Physician
Jean Hafley, LPN
Triage & Education Nurse, Heart Failure Care Clinic,Indiana Heart Physicians at Franciscan Physician Network
You might say Jean Hafley, LPN, had a bit of heavenly help getting on the cardiology track. She started out working in a geriatric rehab center, but when a friend who was a nurse at St. Francis Health died, Hafley was drawn to apply for work there.
"I wanted to walk the halls that she had walked in," Hafley said.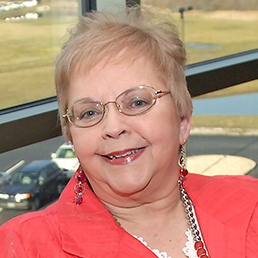 (IBJ Photo/ Perry Reichanadter)
As luck would have it, there was an opening for an LPN in the cardiac unit. That was in 1980. Since then, she's been making a difference in the lives of cardiology patients everywhere she goes.
Ten years after joining St. Francis, Hafley saw an ad in the paper that looked as though it had been written with her in mind. She applied, was hired and joined the practice of John C. Bailey, M.D., in Indiana's first heart failure clinic.
In 1995, what she learned there helped her land a position with Harry C. Genovely, M.D., at Indiana Cardiology Consultants. Genovely's specialty is heart failure electrophysiology.
"I just soaked in all kinds of wonderful, educational experiences," Hafley said of her work with Drs. Bailey and Genovely. "I've had this wonderful experience in cardiology since 1980 working side-by-side with two wonderful heart failure cardiologists."
After Genovely's practice dissolved, Hafley came onboard with Indiana Heart Physicians in 2001.
The respect Hafley has for her employers goes both ways.
"In my 35 years of health care work, I have seldom, if ever, seen someone as caring or such a natural fit to nursing as Jean," said Mary Conway Benjamin, practice operations executive at Franciscan Physician Network's Central Indiana Region.
"While Jean has been a pioneer in heart failure education and the development of heart failure nursing protocols, it is her true concern for the patient and family that differentiates Jean from others. Jean is a patient advocate to the core, believing that all patients deserve the best treatment, attention and service the Heart Failure Care Clinic can give."
When the practice opened the Heart Failure Care Clinic, Hafley transitioned to her current position as triage and educational nurse. She says helping to lay the foundation for the clinic is her biggest career achievement.
She teaches patients and families about heart failure and how they can better manage it, reviews their medications to ensure they are in compliance, provides them with resources and gives them the support and hope they need to live with a disease once referred to as "the cancer of heart disease."
But she does other jobs that some would consider above and beyond.
After two knee replacement surgeries, Hafley, 65, gained first-hand experience with walkers and arranged to have them available for sale in the clinic so patients could start using them right away.
She's also responsible for implementing overnight oximetry testing to diagnose patients who need oxygen while they sleep. Knowing what they need saves them from trips to the emergency room during the wee hours of the night.
"Jean has achieved a number of quality-initiated goals, such as reductions in morbidity and mortality and reduction in hospital re-admissions," said Dr. Genovely.
Hafley has been so effective that nurses and heart failure educators from other hospitals have come to see how she communicates with her patients.
Hafley hones in on a patient's economic and educational background, their career, whether they were raised in a rural or urban environment and other clues that help her personalize her message.
"I know the common person," she said. "I know how they feel when they don't want to admit that they can't afford the money, or that they can't get the transportation they need."
She can be tough when she needs to, giving patients who aren't taking proper care of themselves what she calls her "$500 talk"—telling them the consequences of their behavior to themselves and family.
She should probably be on the receiving end of one of her own $500 talks. Although she's under doctor's orders to work only eight hours a day, if a patient needs her, she'll stay as long as it takes. And she'll do it with a smile on her face.
"She is a ray of sunshine in our office for the chronically ill patients," said Polly A. Moore, M.D. and co-director of the Heart Failure Care Clinic. "She always has a smile on her face."
Hafley said it's easy to smile when you love helping people. "Every day I come in and I can't wait to help the next person," she said. "I've been fortunate to work with such wonderful physicians, nurse practitioners, physician assistants and administrators here. All they want to do is help people, too."•  
Please enable JavaScript to view this content.