FINALIST: Non-Physician
Patricia D. Bledsoe, MEd, MSW, LCSW
Program Manager and Senior Affiliate Faculty, Charles Warren Fairbanks Center for Medical Ethics at IU Health
A newspaper ad for a hospice volunteer trainee changed the course of Patricia Bledsoe's life. That was back in 1985, when Bledsoe, a stay-at-home mom, was looking for a way to give back to the community. For the next five years, the former English teacher poured her heart and soul into hospice work.
When the time was right to seek full-time employment, Bledsoe didn't dust off her diplomas—she has a Bachelor's degree in English from Franklin College and a Master's of Education from Georgia State University. And she didn't rely on her decade as a high school teacher in Atlanta. Instead, she investigated avenues for working with terminally ill people on a professional basis, although all paths required returning to school.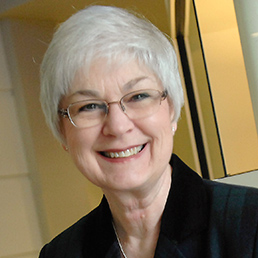 (IBJ Photo/ Perry Reichanadter)
A Master's Degree in Social Work offered at IUPUI won out. It was a part-time, three-year program and classes met during the week, allowing Bledsoe time for her family. "It was for pretty pragmatic reasons that I opted for the Masters in Social Work, but it has made all the difference," she said.
So has she.
In 1991, Bledsoe, now 65, began her first job as a social worker with the Bone Marrow and Stem Cell Transplant Program at IU Hospital, supporting patients and families as they journeyed through difficult times. She earned a reputation for being compassionate and effective, and people responded to her kindness.
"Patty's one of those people you meet who you immediately know is deeply interested in other people," said Paul Helft, M.D., director of the Charles Warren Fairbanks Center for Medical Ethics at IU Health. "It's not superficial. It's not just a veneer. She's the real deal."
While Bledsoe was working at the hospital, the director of IU's Social Work Department asked her to be the department's representative to the ethics committee. "I got my toe in the water of patient care ethics there," Bledsoe said.
She was immersed in the study of medical ethics when Gary Mitchell, M.D., who had spent many years as chairman of the hospital's ethics consultation sub-committee, invited Bledsoe to join his training program for ethics consultants. "He was one of my ethics heroes," Bledsoe said. "It was a very enriching experience for me. A life-changing experience, actually."
It was also quite an honor. Bledsoe was one of the first two non-physicians to be invited to do this kind of work at IU Hospital.
When the Charles Warren Fairbanks Center for Medical Ethics at IU Health was established, Bledsoe became its first program manager. Since 2005, she's trained many people who are now serving as ethics resources in their own departments at IU Health.
"What we hope to do is mediate difficult situations, help all voices be heard and help people who are truly struggling to know what the best course is," Bledsoe said.
Helft calls Bledsoe the "core of the ethics center," citing the popularity of her programs and her responsiveness to requests.
Steven Ivy, Ph.D., senior vice president of values, ethics, social responsibility and pastoral services at IU Health, has nothing but the highest praise for Bledsoe's work. "Having worked as a social work clinician for many years, Patty understands the real struggles that physicians, nurses, patients and families face in day-to-day hospital and sickness situations," he said. "She keeps ethics very well-grounded in the reality of taking care of patients and families in difficult times."•  
Please enable JavaScript to view this content.