FINALIST: Non-Physician
Carl T. Sundberg, Ph.D., BCBA-D
Founder and Executive Director/President, Behavior Analysis Center for Autism
In the 1970s and '80s, Carl T. Sundberg, Ph.D., was studying behavioral analysis before it was cool.
"Back then we had to defend ourselves because there were a lot of disbelievers," said Sundberg, who earned his doctorate degree in Applied Behavior Analysis, known as ABA, from Western Michigan University. "Today behavioral analysis is a big buzzword—especially when it comes to the treatment of autism."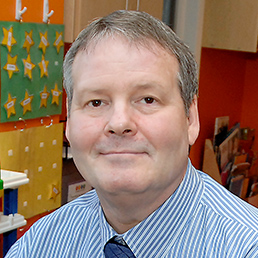 (IBJ Photo/ Perry Reichanadter)
The dramatic increase in the number of children with autism probably has a lot to do with that. In 1988, autism was diagnosed in one out of every 10,000 children. "Now it's one in every 88," Sundberg said.
Since 1996, Sundberg has assessed and worked with more than 400 children and adolescents with autism spectrum disorders.
Initially he traveled the state of Michigan on weekends, working with families who were starting home ABA programs. Then he quit his full-time job at a brain injury facility and began traveling full-time.
Sundberg enjoyed the work, but it had its limitations. He could only visit with families infrequently. "I tried to stay in contact over e-mail and phone, but it just wasn't enough," he said. When he got a chance to work at a center in Indianapolis in 2001, he jumped on it. "I thought it would be great, because we could accomplish more in a center with all the resources in the same building," he said.
But Sundberg, 53, was steeped in the ABA model, which uses B.F. Skinner's Analysis of Verbal Behavior. He even teaches it at Ball State University. Not everyone at the center was on the same page. "I realized I needed to open my own center so I could have more control," he said. "I wanted it to be a behavior analysis center run by a behavior analyst."
The first Behavior Analysis Center for Autism, BACA1, which serves children up to age 7, opened in Fishers in 2009. It was followed by BACA Prep (ages 7 to 19) in Fishers; BACA-Z in Zionsville and BACA HART in Elkhart. Altogether more than 100 children are enrolled. The centers feature intense, individualized programs, with most children working one-on-one with a therapist.
"There are very few programs like BACA in the United States," said Scott Schrum, CEO, Residential Opportunities Inc., a Kalamazoo-based mental health organization. "Indiana and especially the greater Indianapolis area are very fortunate to be the home for BACA. Being home to a state-of-the-art, evidence-based program is a treasure a community should celebrate every chance it gets."
In 2003 Sundberg was presented with an "Angels of Autism Award" by the Coalition on Autism. He is a sought-after speaker and his expertise is in demand to help other centers nationwide.
Sundberg considers opening the centers to be his biggest achievement. "This was the end result of a lot of earlier successes," he said. "This was a life-changer for me."
It's a life-changer for the children and families who attend his centers, too. One such family wrote the following in support of Sundberg's nomination for a Health Care Heroes award: "Just a few years ago we were uncertain of [our son's] future, but now he interacts with us, our family, his therapists and his friends regularly, and we are only encouraged and excited to see what is in store for his future. We thank Dr. Carl Sundberg for his ground-breaking research and practice in the autism field."•  
Please enable JavaScript to view this content.