FINALIST: Volunteer
George J. Huntley
American Diabetes Association
Spring break of 1983 will always be memorable for George Huntley. What was supposed to be a relaxing time visiting friends and family back home in Baltimore turned into a nightmare. Without warning, he lost his vision and was rushed to the hospital. At age 20, he was diagnosed with Type 1 Diabetes.
Huntley's eyesight returned, but life was never the same. He had to test his blood sugars, give himself insulin injections and constantly watch his diet.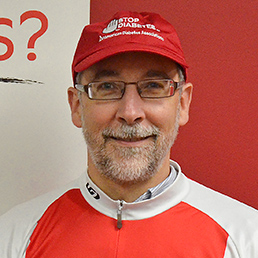 (IBJ Photo/ Gene Herndon)
"It's a tough disease, and it's with you 24/7," Huntley said. "You don't get a break. Ever."
Huntley's volunteer work began in 1986 when he attended an educational program held by the Maryland affiliate of the American Diabetes Association. "Over the lunch session I looked up and saw my boss at the head table," he said. "I made the mistake of saying, 'Hey, Glenn, how's it going?' Two weeks later I was the organization's treasurer!"
He may joke about how his volunteer career was launched, but his devotion to the ADA is no laughing matter. For the last 27 years, Huntley, 50, has provided national and local leadership to the organization, and has personally helped those diagnosed with the disease.
In the mid-90s Huntley was part of a group that traveled to all 50 affiliates to encourage them to consolidate into one national organization to eliminate redundancies. This measure added millions of dollars to the ADA's coffers. "We were able to put a ton of money toward research," Huntley said. "That gave us a real nice shot in the arm."
In 1997 Huntley was finishing his first of several terms on ADA's National Board of Directors when he and his wife moved to Indiana. In 2009 he chaired that board, the ADA's highest lay position, taking a "semi-sabbatical" from his full-time job as CFO/COO at Indianapolis-based Theoris Group while traveling across the country performing his duties. He also participated in ADA's advocacy efforts during the health reform debate to ensure people with diabetes were covered. He still chairs the national legislative subcommittee of the advocacy committee and the subcommittee that sets the federal and state priorities for the ADA.
At the local level Huntley's done everything from sing the National Anthem at the Tour de Cure (ADA's fundraiser bicycle ride) to lobby the Indiana legislature to allow school kids to test their blood without having to go to the nurse's station.
"George has been involved in every event in every initiative we have ever undertaken," said Jennifer Pferrer, executive director, American Diabetes Association in Indianapolis. "He's a true advocate when it comes to making a difference in the lives of people who have diabetes."
More than 714,000 children and adults in Indiana suffer from all forms of diabetes.
One of those is Emily Cook, who was diagnosed with Type 1 diabetes at age 11. Huntley suggested resources to the family and recommended Emily attend Camp John Warvel to learn how to manage the disease. Now 18, Emily's been a camp staff member for two years.
"This experience, more than any other, has enhanced the care she exercises for herself and the impact she is having on other children with Type 1 Diabetes," said Tim Cook, Emily's father. "In George Huntley, Central Indiana has a tireless volunteer living with a chronic disease and making measurable contributions every day worthy of national recognition."•
Please enable JavaScript to view this content.