One of the hottest companies in Indianapolis is prospecting for more fuel to accelerate growth.

Stonegate Mortgage Corp., No. 9 on IBJ's list of fastest-growing private companies in 2012, is negotiating to raise a round of private equity in addition to the $32 million it landed a year ago from New York-based Long Ridge Equity Partners.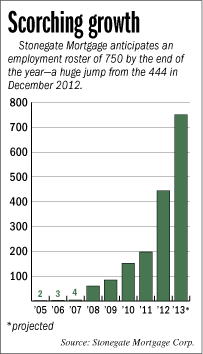 Co-founder and CEO Jim Cutillo said securities laws prevent his discussing the process in detail. However, he anticipates the new round being larger, which would enable the company to take advantage of the recovering housing market by adding offices across the country to originate and service mortgages.

"We believe the emerging market will allow us to grow to a national platform," Cutillo said.

IBJ isn't the only publication to recognize Stonegate's growth. The company was 478th on the Inc. 500 last year with an 807-percent revenue gain, to $23.7 million, in the three years ended in 2011.

The soaring growth is a relatively new experience for Stonegate, headquartered near Keystone Avenue and East 96th Street. Cutillo and his wife, Barb, the chief financial officer, started the company in 2005 but laid low in order to put a foundation for growth in place. Not even a handful of employees were on the payroll in the first couple of years.

Jim Cutillo had stepped away as director of GMAC Residential Funding in Minneapolis a few months earlier as personal burnout—and a sense that the overheated industry would retrench—set in.

Freed from the weekly commute from Fishers to Minneapolis, Cutillo drew up plans for a startup unencumbered by the subprime mortgages and other baggage many industry leaders had accumulated.

Those infantile days are long gone. Stonegate would not disclose 2012 revenue, but said it shot up 275 percent from 2011. Based on the $23.7 million in 2011, the figure would have soared to $65 million.

Employment in December swelled to 444, from 197 a year earlier. Mortgage originations totaled $3 billion, and $4 billion in fees were collected for servicing its portfolio.

In the third quarter, mortgagestats.com ranked Stonegate as the nation's 15th-largest correspondent lender, a term used to describe companies that buy and service loans from banks and other originators. Stonegate was the 25th-largest wholesale lender.

Cutillo
The Long Ridge round wasn't the only boost Stonegate collected along the way. Retired Simon Property Group Inc. executives Scott Mumphrey and Dennis Cavenaugh were among the individuals investing growth capital, and the city of Indianapolis offered a property tax abatement, and the state, tax credits.

In October, Stonegate acquired St. Petersburg, Fla.-based mortgage lender and servicer NattyMac LLC, from New York-based Guggenheim Partners LLC.

This year, Stonegate projects revenue rising 169 percent, employment increasing to 750, and a presence in 48 states; origination revenue will triple and servicing revenue will quadruple.

The strategy pursued by Stonegate and similar startups across the country comes as the housing market shows signs of strength two years after the trough.

Indiana sustained less trauma from the housing crash because home values didn't inflate as quickly as elsewhere in the country, said Al Thorup, executive director of the Indiana Mortgage Bankers Association. However, the state experienced higher rates of delinquencies and foreclosures due to its greater concentration of manufacturing jobs, which were hit especially hard by the recession.

Frank Nothaft, chief economist at Freddie Mac, the federally backed enterprise that provides a secondary market for residential mortgages, expects home sales to gain strength due to pent-up demand and 30-year fixed rates hovering at 65-year lows of approximately 3.56 percent.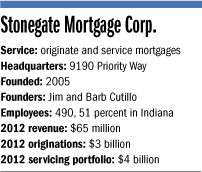 While new entrants are not distracted by subprime fallout, they will struggle to find talent and expertise to meet rising demand for originations and service, Nothaft said. Some experienced employees abandoned the industry.

"There are a lot of challenges," he said. "But there are a lot of opportunities, too."

Companies like Stonegate have an opening to tie up relationships with real estate agents and others who can serve as a pipeline of referrals, Nothaft added.

And that's exactly what Stonegate is doing.

Stonegate is lining up relationships not only with real estate agents, but also with builders and other referrals by attempting to establish a track record of closing loans quickly—typically within 20 days. The figure is so important that top executives monitor it daily.

Stonegate also has attracted employees from Irwin Financial Corp., the Columbus institution shut down by the Federal Deposit Insurance Corp. in 2009 following a spurt of freewheeling residential lending and an ill-fated foray into commercial lending.

Cutillo's GMAC background is coming in handy, too. Three of the seven-member executive team in addition to Cutillo are former GMAC executives. They commute to Indianapolis from Minneapolis, a reversal of Cutillo's former lifestyle. Five other former GMAC workers hold positions within Stonegate.

Cutillo said the company has no exit strategy, that it is not being positioned for an acquisition.

"We're not trying to grow it to sell it," he said. "We believe the emerging market will allow us to grow to a national platform."•