A massive donation from an Indiana-born entrepreneur boosted charitable giving in the state in 2012. But without that $125 million gift, contributions of $1 million or more would have dropped significantly.

Gifts of at least $1 million from individuals, couples or families—a bellwether for philanthropy—rose to $138.4 million last year, according to The Center on Philanthropy at Indiana University.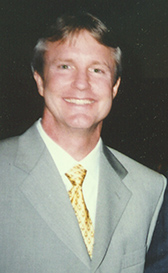 Gundlach (Photo courtesy of The Elkhart Truth)
Elkhart native Guy David Gundlach's giant gift to his hometown's community foundation accounted for 90 percent of the giving.

Take him out of the equation and five people gave $1 million or more, totaling $13.4 million. That's down from 10 contributors who donated $89.8 million in 2011.

Nationwide, major gifts declined in 2012, with donors declining from 810 to 491 and the value of their gifts slipping from $9.1 billion to $6.7 billion.

Individual giving can be much more volatile than other donor types because a small group of people are giving large sums of money.

Corporations and foundations, on the other hand, typically give out set amounts based on years-long averages of their assets or earnings. That means changes to giving are more gradual, said Una Osili, director of research at the Center on Philanthropy.

For instance, Indianapolis-based Lilly Endowment Inc. annually gives out 5 percent of the monthly average value of its assets over the previous year. The endowment gave out $206.4 million in grants in 2011.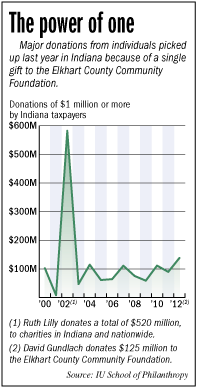 "Individuals tend to be much more responsive to economic conditions," Osili said. "We saw them being much more responsive in 2008 and 2009. Corporations and foundations … some actually increased their giving. They have three-, four- or in some cases five-year rolling averages."

While big corporate and foundation gifts bolster charitable giving in hard times, a donation from a person can carry much more of a wow factor.

Someone who pledges seven or eight figures sets a tone with other prospective donors, often spurring them to open their wallets, Osili said.

"Not only do they have the potential to transform institutions, but they also have the potential to inspire other donors," she said.

Conversely, when the big donors aren't there, neither is the influence.

Gundlach's gift to the Elkhart County Community Foundation isn't causing the organization to suddenly toss out its business plan.

"This is a year where we've actually said we're not going to behave any differently than we have in the last 20 years of our history," said Foundation President Pete McCown. "We need to make sure we've given enough thought and consideration to be ready to fully deploy this."

Gundlach, who died of a heart attack at age 56 in 2011, worked for IBM after college. He later started the insurance firm Hastings Direct in London. He sold it in 2006, then dabbled in the film industry, producing the 2009 film "Get Low," starring Robert Duvall, Bill Murray and Sissy Spacek.

His estate's gift to the Elkhart County Community Foundation—originally valued at $125 million—has been revised upward to $140 million because some of his assets fetched more than anticipated.

The gift, which The Chronicle of Philanthropy ranked as the 10th-largest from an individual in the United States last year, almost quadrupled the Elkhart foundation's endowment.

"The management of [the endowment] has to be completely rethought—the decision making, the architecture by which we accept grant applications," McCown said. "The average grant size a year ago was $10,000. A year from now, when fully deployed, we'll be giving away $8 million a year. Grants will be $100,000, $250,000."•