They did it with Glendale Town Center and Rivers Edge in Indianapolis, and they're doing it with Rangeline Crossing in Carmel. Kite Realty Group Trust has developed a reputation for buying mediocre shopping centers below replacement cost in prime trade areas and redeveloping them into high-traffic, destination centers that more closely match the market's potential.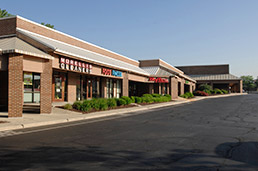 Rangeline Crossing, before the renovation. (IBJ file photo)
Repositioning existing retail centers has become a cornerstone of the growth strategy for the Indianapolis-based company, which has built a $370 million development pipeline including $240 million of projects it expects to deliver in the next 12 to 14 months and another roughly $130 million in future projects. That represents about 26 percent of Kite's overall portfolio value.
Most of the development and redevelopment properties are concentrated in North Carolina ($225 million) and Florida ($108 million), but Kite also is investing $15.5 million in Carmel for its Rangeline Crossing face-lift, including the organic supermarket Earth Fare.
The company's development and redevelopment pipeline stood at just $98.4 million at the end of 2010.
Rangeline Crossing under construction. (IBJ Photo/ Perry Reichanadter)
"They certainly are on a great roll," said John Byrne, a veteran retail broker in the local office of Cassidy Turley. "What they've done at Rivers Edge is masterful and it appears they're well on the way to working the same magic on Rangeline Crossing. Without sounding like a brochure, I honestly would chalk it up to two things: vision and elbow grease."
Kite's shares are trading at a two-year high after rising 30 percent in 2012, beating the Standard & Poor's 500 and every real estate benchmark. Other measures also look strong for Kite: Its overall 94.2-percent occupancy rate is the highest the company has reported since 2007.
CEO John Kite told Wall Street analysts on a conference call in February that the company is "done with the defensive capital" it had to raise during the Great Recession. Money it raises from share offerings and bank financing now goes toward growth.
Analysts for RBC Capital Markets wrote in a Feb. 7 equity research note that Kite "has fully returned to health." RBC has an "outperform" rating on the stock, which was trading just under $7 at press time.
"If the numbers aren't convincing enough, the increased activity on the external front should be an indication that Kite is fully back in the game," wrote RBC analyst Rich Moore. "On the development front, the company is nearing the final stages of a multi-year development plan."
Like most retail developers, Kite has built its share of ground-up projects. In fact, it opened the $95 million Delray Marketplace in Florida in February, and expects to open the $57 million Holly Springs Town Center in North Carolina in March. Both have been on Kite's drawing board for years.
But as Kite opens a handful of long-planned new developments, the company's growth focus has turned to buying existing shopping centers, particularly ones with a high-performing grocery store as an anchor and located in its target markets in the Midwest, Southeast and Texas.
The company spent $38 million to acquire two shopping centers in Greenville, S.C., including a 194,000-square-foot power center anchored by Bed Bath & Beyond and a 68,000-square-foot shopping center anchored by a Publix grocery store. Last summer, Kite paid $37 million for two centers in Vero Beach, Fla. In December, it paid $12 million for a center in Orlando.
Meanwhile, Kite has launched redevelopments of shopping centers in Seattle and Jacksonville, and told Wall Street analysts it plans similar face-lifts for centers it owns in Gainesville and Naples.
On the Feb. 8 call, Kite executives predicted that even if retail sales continue to grow at a modest pace (up 1.1 percent in February and 0.6 percent in January), demand for new or refreshed retail space remains strong.
Glendale Town Center in Indianapolis. (IBJ file photo)
"I think people often think about, so how can we need new retail in this country?" Kite CFO Dan Sink said, referring to the Delray Beach project. "It is not all about what the retail per capita is, it is also about the age of the retail and the functionality. It's just so hard to deliver these things and so hard to get them done."
Most of Kite's development projects are outside of Indianapolis, but that doesn't mean it won't continue to invest locally.
Eight of the company's top 20 properties in terms of household incomes served are in Indianapolis. And those household incomes go further than in other markets thanks to a low cost of living. The numbers for Rangeline Crossing are among the best in the company: More than 145,000 people live within a five-mile radius in households earning an average income of $111,000.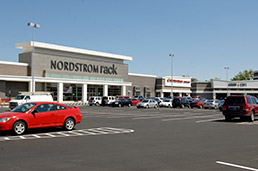 Rivers Edge, also in Indianapolis. (IBJ file photo)
Indiana represents the largest single market for Kite, with 20 properties and about 30 percent of the company's portfolio.
Both John Kite, the CEO, and Tom McGowan, the chief operating officer, have been traveling and were unavailable for interviews, but investor and media relations associate Adam Basch answered a series of IBJ's questions via e-mail.
Basch said the company does not hold other properties in Indiana that are candidates for redevelopments along the lines of Rangeline Crossing, but Kite is always scouting for acquisitions.
As for market rumors that Kite has put its Target- and Macy's-anchored Glendale shopping center on the block: "Glendale Town Center is not currently for sale but we are always exploring multiple strategies throughout our portfolio," Basch wrote.
Kite's acquisition strategy has another prong: Kite has been unloading unanchored shopping centers and non-core properties.
Among the sales in 2012 were three local properties: The Zionsville Place retail center along State Road 334 west of Ford Road, and the Indiana State Motor Pool and Pen Products commercial properties, which total 201,000 square feet. The Indianapolis industrial buildings fetched a total of $10 million, according to an investor presentation.
Kite also owns the 300,000-square-foot 30 South Meridian and the 850-space Union Station Parking garage. Basch said neither is on the block, at the moment at least.
"While we think it's a great property and provides us flexibility relative to our own space needs, we are always looking at enhancing and repositioning our portfolio," he wrote. "We certainly believe that 30 South is a very well-positioned asset with an attractive tenant mix and would draw strong interest from the investment community."•

Please enable JavaScript to view this content.