Positives can be hard to find in a record-breaking drought. However, for most of the roughly 430 golf courses in Indiana, last summer's scorcher was actually good for business.

With a warm first quarter and a dry Indiana summer, the rounds of golf played statewide in 2012 increased 14.2 percent compared with 2011, according to the PGA of America. As a result, golf-related revenue for the courses rose 15.5 percent over the previous year.

And it's not just the weather that's pushing recent revenue increases for golf courses. Growth in corporate and group outings — a first since 2007 — and an aggressive PGA-led marketing plan have local golf course operators optimistic that 2013 will be a good year.

Indiana's 2012 numbers were well ahead of the national averages. Nationwide, the rounds of golf played rose only 6.4 percent from 2011 to 2012, according to the PGA, and golf-related revenue rose 6.6 percent.

"The weather was certainly a big part of the increase in golf activity, but the economy began to come back, too, after a four-year-plus slump, and that helps with corporate play and charity events," said Richard Sheehan, a University of Notre Dame economist and sports business expert.

According to the PGA, Indiana was one of 19 states where golf revenue increased more than 10 percent. Forty-eight states had an increase, with another 19 states showing an increase of 5 percent to 10 percent.

A dozen interviews with area golf course operators indicate that, while business in central Indiana improved last year, it might have been a bit below the statewide averages.

"Most of the local golf course operators I've talked to saw a definite increase from 2011 to 2012, but not many were seeing double-digit percentage gains," said Kent Knorr, manager of city golf operations for Indy Parks and Recreation.

PGA boosts outreach

Despite recent improvement, about 6 percent fewer rounds were played nationally and locally than a decade ago, according to the National Golf Foundation, an industry trade group in Florida.

That decade-long downward spiral spurred the PGA to launch an offensive to increase player development, said Mike David, executive director of the Indiana Golf Office, the organizing and sanctioning body for golf in Indiana. David thinks those initiatives helped boost 2012's numbers.

"There have been a lot of efforts out there by course managers and within the PGA to grow the game, and I'm sure those efforts are having an impact," David said.

Since the economy tanked in 2008, the PGA has worked to attract new, young and women golfers to the game.

Last year, the PGA and its member courses launched Golf 2.0, an initiative that includes marketing and program offerings aimed at retaining core golfers, re-engaging those who have left the game, and creating new players.

"It's not an aberration that golf facilities that are offering player-development programs to support Golf 2.0 are driving more consumers to the course," said Ted Bishop, president of PGA of America and director of golf at The Legends in Franklin.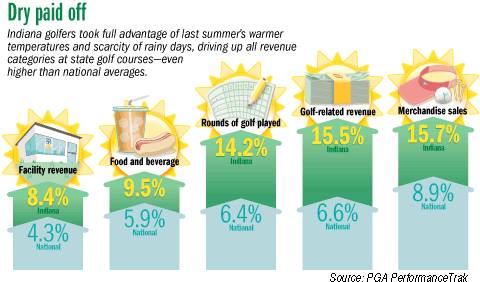 Another PGA program, Get Golf Ready, offers golfers five one-hour lessons for $99. The number of courses offering the program doubled in 2012, to more than 3,000, Bishop said.

"You have to work harder these days on the player development side to get people to come back," he said.

Programs like Get Golf Ready focus on more than teaching people how to play the game, said Chip Essig, senior vice president of Essig Golf Management, which oversees operations at Hickory Stick Golf Club in Greenwood

and Heartland Crossing Golf Links in Camby.

"It teaches them all the basics in golf etiquette and how to conduct yourself on the course," Essig said. "Golf can be intimidating for new players, and these programs are about making people feel more comfortable on the course."

The programs also have another benefit. "They introduce new golfers to other new golfers," Essig said. "And we've found that camaraderie helps to bring people back."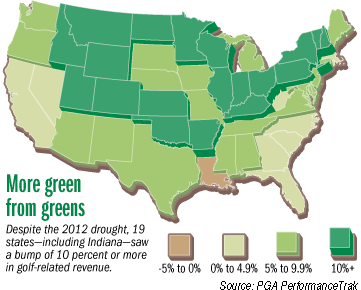 The Indiana Section of the PGA has put an emphasis on attracting young golfers, recently launching a program for junior development called the First Tee Program and this year putting together a youth golf league for players under age 14.

"If you can get the kids out, that does two things," Knorr said. "First, you build a long-term customer base. Also, if you get the kids playing, you get the parents playing, too. Golf can be a great family outing."

Corporate and charity rebound

Even more encouraging is the rebound that courses have seen in group and charity event business.

"Last year was the first increase we've seen in corporate outings and charity events in five years," Essig said. "That's the biggest sign that the economy is coming back."

Local golf course operators said corporate and charity business, which typically accounts for 20 percent to 30 percent of revenue, has declined as much as 70 percent since 2007.

"First, the overbuild [of golf courses] started to take a slice out of that pie, then the economy tanked and that really hurt," David said. "Not only did companies have tighter budgets, but that kind of corporate spending — on things like golf outings — became taboo."

Last year stopped a string of 15 percent to 20 percent year-to-year declines in corporate and charity event business dating to 2007, local course operators said.

The profit margin on corporate outings and charity events is often higher than on fees from individual golfers, said Notre Dame's Sheehan.

"Those events usually have a sizable food and beverage sales component," he said. "And they also often buy gifts and awards from the golf course to give to participants."

The 2012 industry rebound is showing up in other ways beyond greens fees. Nationally, merchandise sales at golf courses were up 8.9 percent, food and beverage sales were up 5.9 percent, and total facility revenue was up 4.3 percent.

Challenges remain

While business improved in 2012, profit didn't necessarily climb along with revenue.

Courses have seen significant cost increases for fuel and fertilizer as well as marketing and programming in recent years, local operators said.

"The margins are slimmer than ever," Knorr said. "Revenue increases haven't kept up with expense increases."

Despite its upside, the drought meant added expenses for course operators, with central Indiana course owners reporting water bills from $10,000 to $30,000 higher in 2012. While courses often pull water from on-site retention ponds, many had to buy additional water from city or county sources.

B.G. Winnings, director of golf at The Trophy Club, a semi-private course in Lebanon, said his course paid the city $15,000 for water when retention ponds went dry.

"That's a lot of money to us," Winnings said. "And not something you normally budget for."

The drought also meant the stressed courses took a beating during the summer and required more repair than normal last fall and early this year.

Still overcrowded

Competition is still stiff for golf courses despite the closure of hundreds of them nationally over the past half-decade. Indiana has seen numerous closures, too, but an oversupply remains, experts say.

"Indiana is overbuilt, and it's tipped the scales in terms of supply and demand," David said.

That means courses in the crowded field have had to increase their marketing budgets to grab the attention of golfers while maintaining or lowering their prices.

"In the 1990s, it was build, build, build in the golf industry," Knorr said. "The recession came at the absolute worst time. Now I'm seeing more specials on greens fees than ever before. That drives your profit margin way down."

Unfortunately, David said, the still-uncertain economy means there is little development potential for land occupied by courses.

"A lot of course operators, though they're making a slim or no profit, are stuck still trying to make a go of it," he said. "So I don't expect the supply and demand issue to abate anytime soon."

At least there are no new courses being built.

"We haven't had a new course open up in this state in more than three years," David said. "That tells the story of profitability."

Despite challenges ahead, most operators are optimistic about the future. Many local courses already were on pace to have 1,200 or more rounds played by March 1. Though winter rounds are usually discounted 20 percent to 40 percent, it's still a nice windfall.

"We don't budget any rounds for January or February, so any play during that time is good," said The Trophy Club's Winnings.

Winnings thinks the continuing rebound in the economy and aggressive marketing could push rounds played and revenue up again in 2013 — if the weather cooperates.

If that happens, it will be the first time since 1986 that courses nationally have seen rounds and revenue increase in two consecutive years, according to PGA of America.

"We're working against 26 years of history," said The Legends' Bishop. "But I can tell you one thing, we are working at it."•