Three years ago, Mark Emmert ascended to the top of college sports when he became president of the NCAA.

But in the last six weeks, Emmert and the 500-employee organization he leads have been sued, lampooned by the media, and taken arrows from some of their own members.

The mountain of ill will piling up threatens to derail some of Emmert's bold initiatives and could topple Emmert himself.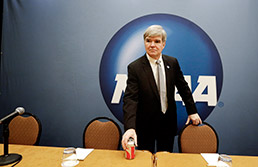 CEO Mark Emmert is the target of increasing criticism at the NCAA. (AP photo)
"The credibility of that organization has always been low, but it's never been lower than it is right now," said ESPN college basketball analyst Jay Bilas. "When the head of your organization's credibility is non-existent—and it's non-existent, it's gone—I don't see how you can credibly move forward on important matters."

Emmert, 60, got off to a strong start at the NCAA, earning high marks for streamlining the association's enormous and arcane rulebook, making institutional control a primary responsibility of coaches and athletic directors, and increasing academic standards for student-athletes.

He was fresh out of academia, having been chancellor at the University of Connecticut, then president of Louisiana State University and, finally, at his alma mater, the University of Washington.

Emmert had a reputation as a skilled administrator and superb fundraiser. He promised massive reform, and he promised to change collegiate athletics faster than any of the association's previous presidents.

Recent missteps, however, have turned his reputation upside down.

"The most recent developments could really have a big impact," said Darin David, senior director for The Marketing Arm, a Dallas-based sports marketing firm that counts NCAA sponsors among its clients. "And sponsors don't want to be associated with a brand that is viewed negatively."

For now, however, the shadow cast on the NCAA hasn't reached its events, most notably the men's basketball tournament known as March Madness, which remains a strong brand among sports consumers.

"Ultimately, the brand of their products is what really matters," David said. "Still, the NCAA's own image at some point will affect people's views on the events they govern."

There's no doubt that Emmert's future is a hot-button issue right now. The presidents of Indiana, Purdue, Ball State and Butler universities declined, for various reasons, to discuss the matter. Several in-state athletic directors, however, came to Emmert's defense.

Purdue Athletic Director Morgan Burke, who is on the NCAA leadership council, said Emmert's aggressive reform agenda has created some enemies.

"He's a man trying to make some things happen, and he's taken an aggressive approach, where in the past we've moved at such a snail's pace, any changes have had a limited impact," Burke said.

He added that Emmert is "thoughtful and smart," and is trying to bring the NCAA's "governance system into the 21st century."

University of Notre Dame Athletic Director Jack Swarbrick agreed Emmert's agenda has worked against him.

"The more you do, the more you stake out the bold positions, the more you make a target out of yourself. Lying low is not leadership, and that's never been [Emmert's] style," Swarbrick said.



Butler Athletic Director Barry Collier said Emmert "is dealing with the challenges of that job as well as anyone could expect.

"As for his future and the leadership of the NCAA," Collier added, "that will be up to the university presidents that control the organization."

Two black eyes

Much of Emmert's trouble stems from two recent, high-profile cases.

In January, the state of Pennsylvania sued the NCAA as a result of the association's ruling against Pennsylvania State University regarding the Jerry Sandusky sex scandal.

Pennsylvania Gov. Tom Corbett claimed the NCAA punished Penn State without due process and overreached its authority in fining the university $60 million, imposing a four-year postseason ban on Penn State football, and significantly reducing the number of scholarship players the team can field for four years.

Corbett said the unjust sanctions have taken an enormous toll on the state's economy, which in the fall receives a huge bump from PSU football activities.

But the biggest blow sustained by the NCAA and Emmert came in February, when Emmert was forced to fire the association's top enforcement official, Julie Roe Lach, after the association broke its own rules while gathering information in an investigation of the University of Miami's athletic program. The Miami case stems from allegations that a school booster, Nevin Shapiro, gave hundreds of thousands of dollars in cash, as well as other benefits, to dozens of Miami student-athletes.

It was discovered that Roe Lach approved paying Maria Elena Perez, an attorney representing Shapiro, $25,000 to depose people and ask them questions provided by the NCAA—about the Miami case—during an unrelated bankruptcy trial involving Shapiro.

The NCAA, which doesn't have the power to subpoena people or compel them to testify, hoped to use that information to bolster its case that Miami violated NCAA rules. Emmert later called the situation a "debacle" and "embarrassing," admitting that the NCAA had gone beyond the organization's limits to collect information.

The media howled when an investigation commissioned by the NCAA concluded that, of the 10 people whose accountability is questioned in the Miami fiasco, Emmert was least responsible.

"[Mark Emmert] is completely insulated from any responsibility on anything," ESPN's Bilas said. "The fact that he only has two people reporting to him is outrageous."

Notre Dame's Swarbrick concedes that a discussion about the way the NCAA governs itself "has been too long coming," but he noted that Emmert has embraced that effort—and did so well before the Miami case erupted.

"Mark has always been willing to take on the big issues," Swarbrick said.

The NCAA wouldn't make anyone available to comment for this story.

Departmental disaster

The firing of Roe Lach was just the latest upheaval in the NCAA's enforcement department.

Investigator Ameen Najjar was fired last summer for misdeeds involving the Miami case. In June, former Indianapolis Police Department deputy chief Bill Benjamin left his post as the NCAA's director of enforcement after less than eight months on the job. He said he left the NCAA to pursue other opportunities.

And last December, investigator Abigail Grantstein was fired for improper conduct during the association's investigation into UCLA basketball star Shabazz Muhammad.

The turnover and misdeeds paint an ugly picture.

"These investigators are poorly supervised, I've felt, and sometimes even drunk on power where they've done things outside of what they were allowed to do. I think it has gone on for a long time," said David Ridpath, an associate professor at Ohio University and past president of The Drake Group, a not-for-profit that bills itself as a watchdog for academic integrity in big-time college sports.

The NCAA proceeded with the Miami case—after throwing out the evidence unearthed by Perez—and found that Miami officials lacked "institutional control," which is an offense that has historically brought the heaviest penalties. The NCAA will inform Miami of its punishment in coming weeks.

Bilas recommended the NCAA turn enforcement decisions over to the American Arbitration Association, the organization used by the U.S. Olympic Committee and U.S. Anti-Doping Agency.

Dissent from within

Surely the biggest threat to Emmert and the NCAA is lack of support from its member institutions.

In the wake of the Miami investigation flap, the school's president, Donna Shalala, said: "The lengthy and flawed investigation has demonstrated a disappointing pattern of unprofessional and unethical behavior [by the NCAA]."

"Regardless of where blame lies internally with the NCAA, even one individual, one act, one instance of malfeasance both taints the entire process and breaches the public's trust," she added.

Shalala, secretary of health and human services under President Bill Clinton, is the sort of foe who has the ability to cause a fair bit of collateral damage to the NCAA.

Last month, a memo circulated among presidents of schools in the Mountain West Conference questioned Emmert's leadership.

"Is it time for the presidents to seek new NCAA leadership or a new organization?" reads the memo obtained by CBS Sports.

The memo says the NCAA has focused on the wrong things and called decision making "cumbersome" and the salaries of Emmert, who makes about $2 million annually, and other NCAA leaders "excessive and an embarrassment."

For now, it appears Emmert's job is safe.

In the wake of the Miami investigation gaffe, Emmert got a unanimous vote of confidence from the NCAA Executive Committee.

Michigan State University President Lou Anna K. Simon, chairwoman of the executive committee, said recent revelations within the NCAA should lead to change, but that change shouldn't involve Emmert.

"Mark Emmert was hired to lead a major transformation of the NCAA," Simon said in a statement. "Much has been accomplished without fanfare, such as academic reforms, enhanced fiscal accountability and organizational transparency."•