Indianapolis now has its first FM sports/talk radio station.
In late January, Indianapolis-based Emmis Communications Corp. bought FM 107.5 from Frankfort-based Kaspar Broadcasting, ditched its soft-rock format, and boosted its weak signal.
The station, not to be confused with WYXB-FM 105.7, a soft-rock station Emmis already owns, in mid-February began simulcasting The Fan sports talk format on the new WFNI-FM 107.5. The Fan also airs on Emmis' WFNI-AM 1070.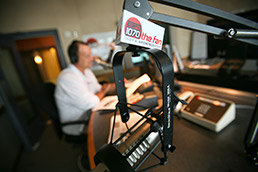 Emmis hopes adding The Fan on an FM channel will provide access to a larger, and younger, audience. (IBJ File Photo)
The FM version of The Fan comes with a few twists. It will air "The Herd," featuring ESPN's Colin Cowherd, from 10 a.m. to 1 p.m. weekdays and the "SVP & Russillo" show, featuring ESPN's Scott Van Pelt and Ryan Russillo, from 1 p.m. to 3 p.m.
The Fan at 1070 AM will continue to run the "Grady & Big Joe Show" from 10 a.m. to noon and "The Dan Dakich Show" from noon to 3 p.m.
Buying FM 107.5 and simulcasting The Fan there gives Emmis an outlet for regular programming while the AM station is broadcasting live-game coverage. Emmis has contracts to broadcast Indiana Pacers, Indianapolis Colts, Butler University and Indiana University basketball, IU football, Indiana Fever, Indianapolis Motor Speedway and Indiana High School Athletic Association events. Many of those events air on The Fan.
The FM outlet will also broaden the reach of the sports/talk station at night, Emmis officials said. The AM signal gets substantially weaker in the evening, when it's difficult to pick up in much of Boone County; parts of Hamilton County, especially to the northeast; and in Hendricks County.
The FM dial should also give The Fan access to a larger, and younger, audience than its AM frequency. Those will be important factors to some advertisers.
Emmis officials have said 1070 The Fan has the fastest-growing revenue stream and profit margin among all its Indianapolis stations, which, in addition to WYXB-FM 105.7, include country station WLHK-FM 97.1 and news/talk station WIBC-FM 93.1.
Emmis' primary competition in the sports/talk category comes from Clear Channel Radio's WNDE-AM 1260. Entercom recently changed its format on WXNT-AM 1430 to carry CBS Sports Radio content.
Emmis officials haven't divulged exactly how much they paid for the FM frequency. But a recent public filing said the company's lenders allowed it to buy certain translators (Terre Haute and Indianapolis) for an amount not to exceed $437,000.
The likely acquisition price for FM 107.5 was $150,000 to $250,000, industry sources said.
Please enable JavaScript to view this content.