Indianapolis police are keeping an eye on downtown valets, whose habit of blocking traffic lanes has prompted complaints.
The Indianapolis Metropolitan Police Department issued a stern reminder to all valet operators on Jan. 31, the week after the opening of The Alexander Hotel in CityWay at Delaware and South streets.
"IMPD prohibits valet operators to take possession, return or stage vehicles in any travel/through lane of traffic," Deputy Chief Mike Bates wrote in the memo. "The practice of parking cars in the valet zone and continuing to operate the valet zone in the travel portion of the street will not be permitted. This causes significant traffic problems for motorists and IMPD will dedicate officers to enforce any such violations."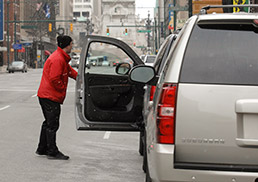 Valet parking for downtown hotels, such as the Homewood Suites on South Meridian Street, sometimes snarls traffic. (IBJ photo/Perry Reichanadter)
The memo said valet operations that fail to comply could be shut down without warning.

Bates said his memo wasn't prompted by parking at the Alexander, but he thought the beginning of the year was a logical time to remind everyone of the rules.
"It was more a consistency thing," he said. "We just want them to utilize the valet zone like they're supposed to utilize it."
The Alexander has a valet loading zone, which is cut into the curb along Delaware Street, plus use of the adjacent lane. The weekend after the hotel opened, police swept through and collected cones that valet operator Elite Management Services had placed to block off a section of the street, Elite owner Yancey Kay said.
The crackdown stemmed from miscommunication, Kay said. Officers weren't aware that the city had allowed the hotel to use what looks like a travel lane, and no valet-zone signs had been posted yet.
"It all kind of came to a head on the day of the monster truck rally, and the shooting downtown," Kay said.
Lucas Oil Stadium hosted a monster truck show Jan. 25, which sent traffic pouring past the newly opened hotel, he said. The following night, there was a shooting, in which no one was injured, at Capitol Avenue and Maryland Street.
A heavy police presence downtown that weekend might have brought more attention to valet operations in general. Police arrested the shooter on Washington Street at Capitol Avenue, just as 400 people were leaving an event at the Indiana Repertory Theatre, which is also served by Elite, Kay noted.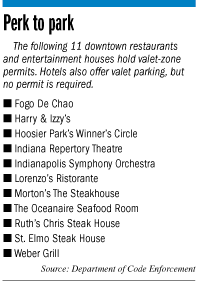 Valets and the occasional complaint about blocking traffic are a given for downtowns, said Fred Laughlin, vice president of management services for Indianapolis Downtown Inc.
"Valet parking for high-end restaurants is an important feature" of a downtown, Laughlin said. "Generally, I think you have a system that works pretty well with IMPD providing a little one-on-one training with those people, so to speak."
Nine restaurants, plus the Indiana Repertory Theatre and Indianapolis Symphony Orchestra, have valet-zone permits, which allow them to use metered parking spaces in front of their establishments from 6 p.m. to 4 a.m.
The list of permitted restaurants includes the expected high-end eateries like St. Elmo Steak House and Fogo de Chao.
Businesses that had valet operations before May 1, 2011, pay $2,000 a year for the permit, which covers use of the meters. The fee rose to $2,500 after that date, as the city restructured permitting in the wake of its parking-meter privatization deal.
Hotels can operate valet service 24 hours a day, and they don't have to obtain a separate permit.
Kay acknowledged that it can be difficult to avoid blocking traffic, given the location of some valet zones. The Conrad at Washington and Illinois streets is a frequent source of complaints.
"They've got a clientele that has a certain expectation of service. They're in a challenging space," Kay said.
Bates said complaints spike after special events, when people are trying to leave downtown.
The valets sometimes leave cars parked in their designated loading zones, forcing them to work in the traffic lanes, Bates said. He said the valets park illegally so that regular restaurant customers won't have to wait for their cars to be fetched from a garage.
Bates said valets typically get a verbal warning about blocking traffic. Police could tow the offending car and issue a citation to the valet operator, he said, but he doesn't think that's ever happened.•
Please enable JavaScript to view this content.