Full-price offers, multiple bidders and houses sold in a matter of days.
That's the view from the ground in some of the hottest neighborhoods in the Indianapolis area, where the residential housing market is heating up to levels not seen for a decade, just in time for the spring and summer selling season.
The supply of homes on the market has shrunk to five months from the roughly 10 months during the housing bottom in 2009—suggesting a new balance between buyers and sellers. The phenomena has emerged across the Indianapolis area.
However, the consensus among real estate brokers is that a strong seller's market—marked by quickly appreciating prices—has taken hold in the area's most sought-after neighborhoods ranging from Washington Township in Indianapolis to Carmel.
The catalyst: A dwindling number of owners is putting homes up for sale even as rising stock markets boost buyer confidence. Across all price ranges in the nine-county area, inventory has fallen about 15 percent this year, data from F.C. Tucker Co. show.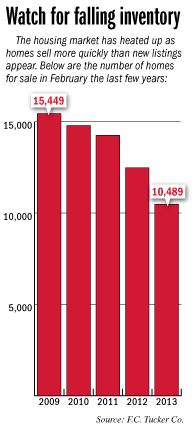 In March, Tucker broker Stacy Sobczak advised a couple interested in a home at 62nd Street and Washington Boulevard to act fast and write an
aggressive offer, knowing the market has gained steam.
The couple, which plans to move from Ohio, wrote a full-price offer of about $370,000 with no closing costs and submitted it one day after the listing went live.
The family didn't get the house.
The property attracted 15 showings and three offers in two days, said Sobczak, who began selling homes six years ago. The winning bidders put more money down and agreed to pay the offer price even if the property failed to appraise at a value as high as their offer.
"I've never seen anything like this," Sobczak said. "I didn't even know there was a form for multiple offer disclosure."
Most properties attracting multiple bids fall into the $200,000 to $700,000 range, brokers said, since the number of homes available for sale has fallen most in the upper third of the market.
Homes over $1 million also are selling well even if they're not attracting multiple offers; 16 such properties pended at one point in mid-March, one broker noted. Entry-level homes are more plentiful.
The number of available homes priced within the upper third of the market (more than $193,100) fell 28 percent in February compared to a year earlier, while the inventory of homes in the bottom third (less than $107,650) actually rose about 15 percent, according to research for IBJ by real estate portal Zillow.com. For the middle third, inventory fell about 10 percent.
Zillow's data comes up with an overall drop in inventory of about 9 percent, short of Tucker's number. Zillow excluded Madison County, which stands alone as its own official metropolitan statistical area, and included Brown and Putnam counties, which are part of the official 10-county Indianapolis metro area.
Some owners aren't selling because they still owe more than their home is worth, and others see the market has turned upward and they're hoping to capture more appreciation by waiting, said Svenja Maarit Gudell, a senior economist for Zillow.
"Usually, you would expect inventory to increase as you enter the peak selling season," she said. "This is quite the interesting year, without that happening. You have a lot of buyers looking for homes and sellers know that."
Gudell expects the Indianapolis metro area will remain a seller's market for a year or so before reaching equilibrium by 2014.
Values rising, too
The high demand and low inventory already has helped drive a surprisingly strong gain in home values: For the larger Indianapolis metro area, Zillow's home-value index, which considers the value of all homes—not just those that sold recently—rose 13.2 percent for the year ended in January.
Its forecast is for a modest 1.7-percent increase in 2013, suggesting owners waiting for bigger gains may be wise to move while buyers are eager.
"If you're able to sell right now, I would say ride the wave," Gudell said.
Home-sale agreements in February rose 8.1 percent from a year earlier, following a 17.2-percent rise in January, according to Tucker data. Average selling prices rose 7.7 percent, to $144,225.
"It's the market we've been waiting for," said Jim Litten, Tucker's president.
Litten said the company is seeing strong demand from buyers and strong sales volume all over the city. The renewed demand should provide an extra boost during a period home sales typically hit their annual peak.
Broker jackpot
The updraft could be lucrative for residential brokers who stuck around through the downturn. There are about 5,200 locally, down from a peak of 7,200.
Brokers representing buyers are calling other agents in the hope of scouting listings before they go live, following up on pended sales that might have fallen through, and encouraging buyers to make same-day appointments to look at promising properties.
Jimmy Dulin, who owns residential brokerage RE/MAX Ability Plus, helped a client in Germany snag a home in Carmel's Prairie View at 135th Street and River Road for about $700,000 in February, before the home hit the market.
The owners had put the golf course property up for sale before they were ready to move and pulled the listing when demand was too strong.
Dulin heard they planned to put it up for sale again so he visited on a Sunday, recorded a video for his clients, and helped close the deal at list price.
"If they'd have waited, it would have been gone," he said.
Matt McLaughlin, a 24-year veteran broker who focuses on the north side and Hamilton County, said he hasn't seen a market this hot in 10 to 15 years.
In 2013, he's had seven or eight listings attract multiple offers. The only category where he hasn't seen multiple offers is in the $1-million-and-up range.
High-priced homes still take much longer to sell on average: The market has a 25-month inventory of $1 million to $2 million homes versus 7.2 months for the $300,000 to $499,000 range.
Savvy buyers
One difference in today's market: Buyers are more educated than those in go-go markets of the past, thanks in part to online resources, which should help keep prices in check even if multiple offers roll in on a property.
"What I'm telling buyers upfront is that the market is hot, that if this is the house you want and you'd be upset if you lost out, then you should be prepared to pay list price," McLaughlin said. "If you're OK with losing out, we'll offer whatever price you like."
Jerry Cunningham and his wife, Jennifer Simmons, sold their house faster than they expected. (IBJ Photo/ Perry Reichanadter)
One tricky issue is appraisals: As prices appreciate, brokers must document the number of showings and bidders to convince appraisers, who in some cases are relying on six-month-old data, that home values have indeed appreciated.
McLaughlin expects the local market to continue improving for a few years at least, unless the number of incoming residents falls or interest rates take a big jump.
It took five days for Jennifer Simmons and her husband to sell their house in the Ivy Hills neighborhood near 79th Street and Allisonville Road.
They sold the three-bedroom, 2-1/2-bath home with three fireplaces and garage space for four cars at the list price of $349,900, after 10 showings. They paid about $308,000 about five years ago.
"We were hopeful when we put it on the market, but very surprised when it sold so quickly," said Simmons, the chief operating officer for the Indiana Association of Cities and Towns.
The family had taken on the risk of carrying two mortgages when it began building a new home in Zionsville, but the Indianapolis home sold quickly enough to eliminate overlap.
Dulin, the RE/MAX broker, expects the sale cycle will continue to shorten and average selling prices will continue to rise. Larger homes that sell last also will start to move quicker.
The average pended home in the Indianapolis area sold in 96 days in February, compared to 103 days in 2012 and 113 days in 2011, Dulin noted. He suspects the March number will show another drop.
"This market favors the seller more so than the previous five years," Dulin said. "Values may not have returned to their peak, but if you have a well-priced home relative to condition and location, it's likely you'll have competing offers."•
Please enable JavaScript to view this content.