Architect Chris Lake's Zionsville home is a work in progress, and probably always will be.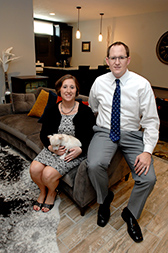 Shawna and Chris Lake (IBJ Photo/ Perry Reichanadter)
He and his wife, Shawna, moved in with their two children in December 2011, after a whirlwind six-month construction campaign. Lake—to no surprise, given his profession—designed the place himself. A bit more of a surprise, he also finished the interior almost single-handedly—an experience he found time-consuming, difficult and "humbling."
"I did all the electrical work myself, all the plumbing, the landscaping and the irrigation system, and I framed and finished the basement," said Lake, 35. "I was working 60 hours a week here and 50 hours a week at the office."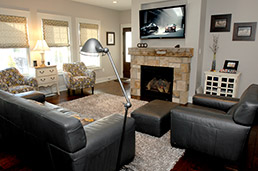 The living room and adjacent kitchen (facing page) are the nerve center of the Lake home. (IBJ Photo/ Perry Reichanadter)
The result is a two-story abode with (at present) five bedrooms and four baths, but enough extra space to jump to six bedrooms and five baths. Lake describes it as a sort of Midwestern farmhouse/northeastern beach house fusion—a choice dictated by his neighborhood's design rules. But more important than the architectural style are the features that allow the abode to evolve with the needs of its occupants.
The kitchen and adjoining living room are designed to help keep the busy family together when they're home. (IBJ Photo/ Perry Reichanadter)
Right now, it's optimized to keep Mom and Dad close to son Carter, 7, and daughter Natalie, 5. The home's nerve center is the living room and adjacent kitchen/dining area. Nearby are other high-traffic zones such as the screened patio, a children's "craft room" that will one day morph into a den, and a mud room/laundry area. Most laundry rooms are upstairs, where the dirty laundry is, but Lake felt his arrangement kept whoever did the wash from being isolated upstairs.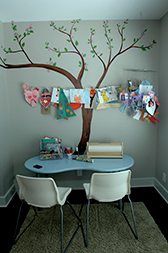 A craft room for the children someday will morph into a den. (IBJ Photo/ Perry Reichanadter)
"I want us to all be in the same place together," he said. "With two working parents, you want to maximize the time you have with the kids."
Lake is managing director of organization development for BSA LifeStructures, an Indianapolis-based architectural and engineering firm. Shawna works for MISO Energy in Carmel as adviser, organizational development and employee relations.
The upstairs is just as family-friendly. The kids have their own bedrooms, but share a bathroom. Their parents are just across the hall in a "hotel-style" suite with a separate sleeping area, sitting area, a walk-in his-and-hers closet and a spacious bathroom.
The kids won't always want to be so near their parents, so Lake has a plan for that. He's busily turning the home's only unfinished area, the over-the-garage bonus room, into a game room, bedroom and bath—with an eye toward relocating his son there when he's older. He likewise envisions turning the first-floor craft room into a den, and a basement play area into the home's sixth bedroom.

The dining room and screened porch (IBJ Photo/ Perry Reichanadter)
At present, the fully finished basement includes a seating area, pool table and fully equipped, marble-topped bar. Lake did most of the basement work himself, including laying the tile in the bathroom. All told, he reckons he's put in some 5,000 square feet of tile over the years during various home improvement projects.
The open floor plan lends itself to entertaining—something that comes up fairly often, given that Lake is board president of the Ronald McDonald House of Indiana. In January, he hosted a function for 40 people, with room left over for a band.
"I was really worried that we wouldn't be able to do it, but it actually worked out pretty well," he said.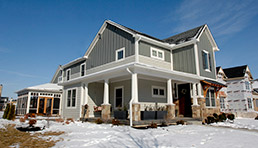 (IBJ Photo/ Perry Reichanadter)
The home cost about $475,000, which was somewhat of a financial stretch. However, a recent appraisal valued it at around $575,000. The Lakes hope that resale value stays strong, because, once their kids grow up, they don't plan to stick around.
"I would fully anticipate that when our kids graduate from high school, we'll move out of here," Lake said. "I would like to do a house that's got more full-glass walls, and steel structure versus wood structure. More open, and maybe tucked back into the woods somewhere on three to five acres. That's my 'the kids are out of the house' house. We'll get there someday."•
 
Please enable JavaScript to view this content.