Two years after opening, the Center for the Performing Arts in Carmel is working on its first strategy, an effort aimed at maximizing attendance while providing financial stability.

The organization is finalizing a $10 million budget for the fiscal year that begins July 1, down from $12 million this year.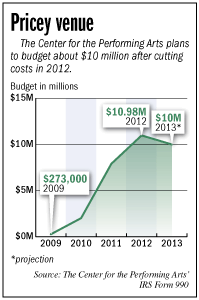 The cuts reflect lower subsidies from the city of Carmel, which chipped in $2.35 million for the first half season and $5.55 million the second full season. This year, the city approved $2.25 million.

The center, which includes the Palladium, the Booth Tarkington Civic Theatre and the Studio Theater, aims to bolster its finances with a mix of programming that draws larger crowds.

Including shows by the six resident companies, the theaters last year sold about 145,000 tickets, generating $5.1 million. Counting only performances presented by the center, ticket sales raised $3.7 million.

The best-sellers—Tony Bennett, Darius Rucker, Yo-Yo Ma, Chris Botti and Bernadette Peters featuring Michael Feinstein—sold more than 1,500 tickets in the 1,600-seat Palladium.

A spokesman for the center declined to give projections for 2012-2013 season-ticket sales, saying the center is still adding shows.

The center's board believes a strategy will help the organization boost ticket revenue, better define the venues, and position the organization for long-term success.

"It should have been done from the very beginning," said board Chairman Frank Basile. "But somehow with construction, with launching a season, hiring a CEO, it was just put off."

Consultants from The North Group Inc. in New York began meeting in January with city officials and with the center's managers, board members and resident artists to lay the groundwork for how the organization will operate the next three to five years.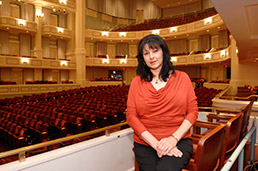 CEO Tania Castroverde Moskalenko is leading the effort to create a strategy that will boost ticket sales while restraining costs. (IBJ photo/Perry Reichanadter)
Basile said earlier discussions about a strategy were derailed by the sudden resignation of the original CEO, Steven Libman, in July 2011.

The hiring of his successor, Tania Castroverde Moskalenko, last summer moved development of a strategy back to the front burner.

Moskalenko, who began in August after leaving the Germantown Performing Arts Center near Memphis, Tenn., said it is too early to discuss her detailed strategies and goals.

But she said she wants to offer more performances than the 86 the center presented last year. She also wants to secure more donors so the performing center does not have to rely so heavily on the city of Carmel.

"I will certainly say … everybody agrees that the facilities are spectacular, and that's one of our strengths. We need to just be doing more with the facilities," she said.

The city owns the $175 million center, which Moskalenko and her team operate through a private not-for-profit.

Carmel's city council in November approved $2.25 million in grants for the organization in 2013, down from $3.8 million in 2012.

While that city subsidy shrank, starting Jan. 1 Carmel began paying the utilities and maintenance costs for the center.

"We thought … having some of the heating and operations of the building itself might be more efficient to just keep under the city's umbrella," Carmel Mayor Jim Brainard said.

The center expects to be able to get by with a smaller budget because the city is picking up those overhead costs and because of previous cuts imposed by Basile, who stepped in as interim CEO after Libman's departure.

Moskalenko said she won't scrimp on programming. Otherwise, she said, "you cut off your bloodline."

"As long as the shows are profitable, then there's no reason to reduce the number," she said.

She acknowledges the need to offer artistically edgy performances, such as the genre-bending Kronos Quartet, which performed at the Palladium in 2011.

"That's not necessarily appreciated by everybody," she said. "But it's important to be presenting things like that as well."

Programming changes might include adding performances that attract new audiences, especially children. That's why the center in June will host the Australia-based Erth Dinosaur Petting Zoo, which features oversized puppets.

Opportunities to collaborate

The performing arts center's six resident companies want to know how they fit into the overall picture.

Each group has provided input for the strategy. Halsey North, chairman of The North Group, said he noticed during initial interviews that all want greater collaboration on shows as well as on business matters.

"There was a real desire to create a unified campus—a partnership, cooperation, collaboration with the center and its companies and the city," North said, "wanting to create a better sense of the whole."

At the same time, each group wants some independence.

Cheri Dick, executive director of the Booth Tarkington Civic Theatre, said an unexpected challenge for her group was establishing a brand distinct from its five neighbors.

While all the groups operate independently and have their own budgets and boards, their close quarters lead people to believe they are one organization.

"There's a lot of muddying waters," Dick said. "The public gets confused. People will tell me they like one of our shows. I appreciate the compliment, but it was actually the Actors Theatre of Indiana or the Carmel Repertory Theatre."

Still, the Civic Theatre's move from Marian University in Indianapolis to Carmel has helped ticket sales. The organization has a record 1,400 subscribers this year.

But bigger audiences haven't translated into stronger finances for some of the resident companies.

The Actors Theatre of Indiana doubled its season subscribers to 500. And attendance rates, which once were below 50 percent, now hover around 70 percent.

But the organization ended last year with a $50,000 deficit because of high operating costs, said Jim Reilly, its executive director.

Ticket sales, donations and grants provided $600,000 to the Actors Theatre in 2012. However, rent payments alone chewed up $100,000.

"We love the environment. We love everything about it," Reilly said. "It's just expensive."

He hopes the new strategy will address the matter.

"I'm sitting back waiting to see what our rent will do," he said, "hoping for some kind of a decrease or something more palatable."•