Indianapolis Zoo leaders staged a pep rally at Bankers Life Fieldhouse on March 26 to garner support for what they call the "new team in town"—the seven orangutans expected to take up residence at the end of the year.
The event kicked off the public phase of the zoo's $30 million capital campaign, which will fund construction of its International Orangutan Center, among other projects. Supporters already have pledged nearly $26 million to the Campaign for Conservation and Community: Save the Orangutans.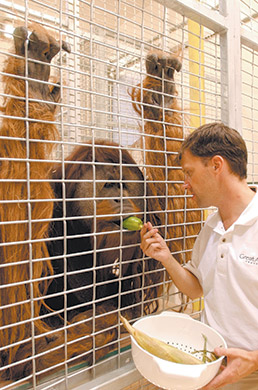 Lead oranguntan Azy is intelligent and patient, and uses touch-screen computers to communicate. (Photo courtesy of Indianapolis Zoo)
Donations will be accepted through a website unveiled at the rally. Named for the leader of the zoo's orangutans, azyandfriends.com features information about the project's progress.
It also lets visitors get to know the great apes and their keepers. Azy, for example, is an intelligent, patient social leader who uses touch-screen computers to communicate.
Zoo leaders hope would-be donors are inspired to give by learning more about the apes' human-like characteristics and personalities. To that end, the site features a quiz that allows visitors to find out which orangutan they're most like.
Construction on the International Orangutan Center is under way. It is expected to open Memorial Day weekend 2014.
Please enable JavaScript to view this content.