The city of Indianapolis is poised to pay Citizens Energy Group $6.5 million to buy a key parcel of real estate it's targeting as the centerpiece of its ambitious 16 Tech project.
City leaders in June 2011 announced their plan to transform the area northwest of downtown into a magnet for high-tech jobs and life-sciences research.

Kintner
Nearly two years later, the pieces are beginning to fall into place. Late last month, the City-County Council introduced a proposal to allow the city to issue up to $13 million in bonds for street, sidewalk, lighting and other improvements.
The city will use a portion of that money to buy the 19 acres at 1220 Waterway Blvd., where Citizens' water operations are located. It could take possession within the next year.
Citizens bought the city's water and sewer utility in 2011 for $1.9 billion. As part of the deal, Citizens agreed to give the city first rights to buy the property, said Deron Kintner, executive director of the Indianapolis Bond Bank.
"I don't know how much of a 16 Tech you have without this site," he said. "It's our intent to take it over and make it a shovel-ready or redevelopment site."
The site would accommodate about 1 million square feet of space, for a single tenant or multiple users, Kintner said. But he's promoting the property as an ideal location for the proposed life-sciences-focused research institute supported by Gov. Mike Pence and Eli Lilly and Co. CEO John Lechleiter.
"We hope it becomes a reality," Kintner said. "And if it does, we don't see a much better site out there than this."
The City-County Council's administration and finance committee is set to vote on the bond issuance at its April 16 meeting. A vote by the full council would follow April 22, setting the stage for the sale of the bonds by the first of May.
The entire 16 Tech area sits within a tax increment financing, or TIF, district created last year. Additional property-tax revenue generated by new projects in the area will go toward paying off the cost of infrastructure and other government spending.
The highly prized Citizens Energy parcel is bounded by White River to the west, Indiana Avenue to the east, 10th Street to the south, and 16th Street to the north. It's just south of Stadium Lofts, a $23 million redevelopment of the former Bush Stadium into apartments that is set to open in August.
Real estate developers and brokers say the city's purchase of the Citizens property could help cement 16 Tech as an attractive option for life sciences and research firms looking to either locate or expand in Indianapolis.
Abbe Hohmann, a land broker who served as a consultant to the city during the planning of 16 Tech, envisions something akin to Boston's Kendall Square, a former industrial area that now boasts more than 150 biotech and information technology firms.
"The city certainly wants to have an area to showcase for redevelopment," Hohmann said. "The sale of the water company presented a perfect opportunity. It's a great parcel right at the center of the activity."
The city and Indiana University own about two-thirds of the tech corridor's 120 acres. That control will make land acquisition less challenging than if the majority of the land were in private hands.
Talk of developing the area into a life sciences hub began in 2002, when the Central Indiana Corporate Partnership commissioned a study of the area by New York-based Beyer Blinder Belle Architects and Planners LLP.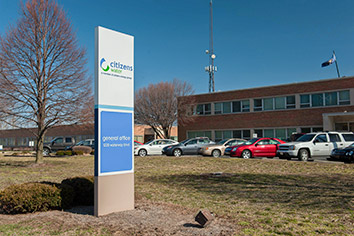 City leaders view Citizens Energy's property on Waterway Boulevard as an integral piece to the 16 Tech corridor. The city could take possession within a year. (IBJ photo/Eric Learned)
In 2007, then-Mayor Bart Peterson's administration set aside $4 million to renovate 16th Street from near Interstate 65 west to the White River. That project is complete, but there wasn't enough funding for other improvements, such as signage to brand the district.
For city leaders, demolition of the Citizens Energy building can't come soon enough.
In 2008, the city lost out on mail-order pharmaceutical company Medco, which opted to build a $140 million pharmacy distribution center in Boone County. Two years later, locally based pharmaceutical testing company AIT Laboratories bypassed the district and instead chose to expand on the northwest side.
"The city has missed out on a couple of big projects because the area wasn't ready," Kintner said. "There is interest, but we have to improve the infrastructure and get it to a level where it can attract investment."
City leaders by the end of the year plan to officially notify Citizens Energy of their intent to buy the property, paving the way for closing in early 2014, Kintner said.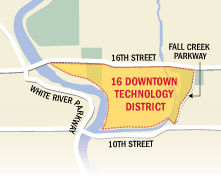 The city anticipates spending $1 million to tear down the structure and remediate the site, and another $4 million to make infrastructure improvements to 16th and Harding streets adjacent to Stadium Lofts. A landscaped median is planned for 16th Street.
Dennis Dye, vice president of development at Indianapolis-based Browning Investments, thinks the city's $6.5 million purchase price for the Citizens property is fair.
"We have plenty of places in the suburbs, but if somebody wants to be downtown or near downtown, we don't have any options," he said. "This gives us a chance to be competitive, and I think that's really important."
In connection with the property sale, Citizens plans to move about 100 employees from Waterway Boulevard and from two modular buildings on Dr. Martin Luther King Jr. Drive to other locations, company spokesman Dan Considine said.
Some will move to its headquarters at 2020 N. Meridian St. while others will move to a two-story, 40,000-square-foot building Citizens plans to add this year at the site of its operations center on Martin Luther King Drive.
Cost of the building is estimated at $12 million. It will house Citizens' engineering department, in addition to staffers overseeing upgrades to the city's water and sewer systems.
Citizens plans to spend $4 million to renovate its headquarters to accommodate some of the relocated employees, Considine said.•
Please enable JavaScript to view this content.