For Ron Caltabiano, dean of Butler University's Jordan College of the Arts, it's not about the building. It's more complex than that.
"This completes the complex," said Caltabiano of the $15 million Howard L. Schrott Center for the Arts, officially opening April 18 but already hosting soft-opening events. "Before this, there was the Eidson-Duckwall Recital Hall with 120 seats, the black box theater in Lilly Hall with 110, and Clowes Memorial Hall at 2,200. But there was always something missing."

Schrott
The Schrott Center has been designed to fill that gap. The new building includes a 415- to 451-seat theater with a 4,500-square-foot stage and orchestra pit—plus a video projection system and five robotic cameras. With it, Butler now has a venue large enough to accommodate the Butler Symphony Orchestra or the Butler Arts Chorale on stage without having its few hundred audience members disappear into cavernous Clowes Hall.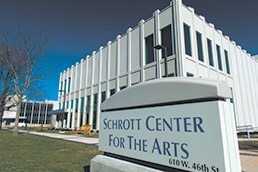 Butler University's new Schrott Center includes a 450-seat theater. Its first major test: the April 18-28 Butler ArtsFest, featuring more than 40 performances. (IBJ photo/Eric Learned)
Butler Opera Theatre, one of the first beneficiaries of the new hall, staged Aaron Copland's "The Tender Land" there April 5-7. In previous years, it performed in rented high school and church facilities off campus.
The center is named for Butler graduate Howard Schrott, a former Emmis Communications Corp. executive who hit it big when South Carolina-based Liberty Corp. sold for $987 million in 2006. Schrott, Liberty's chief financial officer, committed $6.5 million to the Butler project.
"When [Liberty] sold, I really thought I wanted to give something back," said Schrott, 58. "It evolved into something larger than I could have imagined. The entire gift wasn't just one big check. It's a series of things that will happen over years—some things will happen after I'm gone."
Schrott, who lives in San Francisco, returns to town for the April 18 opening, which Butler is celebrating with more than just a ribbon cutting and tour. Opening day also marks the start of the inaugural Butler Arts Fest, featuring more than 40 events highlighting not just Butler student groups, but also the Indianapolis Chamber Orchestra, Dance Kaleidoscope, American Pianists Association, Indianapolis Children's Choir and more.
Caltabiano hopes The Schrott will become a regular stop for these and other groups.
"I really want to be an advocate for the arts here in Indianapolis," he said. "One way is to get our students out there into the community supporting the arts. Another way is to bring the arts together in one central location. Butler can be an answer to that."
The main focus, though, is on education, with student opportunities onstage, backstage and at the front of the house.
"It's primarily a laboratory for our students," said Jon Crabiel, artist-in-residence in percussion at Butler. "Having our own hall means student ensembles will get to perform more. We won't have to share a hall with Clowes and work around their schedule."
"Inside and out, it's aesthetically spectacular," added Crabiel of the new theater. "Students take pride in playing in a place built for them. And it's a venue that's the right size for what we do. Clowes is a great hall, but sometimes the intimacy is lost in such a big space."
On the other end, Clowes will be freed up to book more touring acts that can come closer to filling the extra seats.
"It gives us 14 Sundays and a full week in February," said Clowes Hall Executive Director Elisa Kushigian. She said the changes will be seen in the 2014-2015 season.
To manage the facility, Butler added two part-time and two full-time staffers, including Francie Cohen as operations manager. Cohen, who grew up in Indianapolis' Butler-Tarkington neighborhood, previously operated larger facilities in Mesa, Ariz., and Flint, Mich.
Cohen's focus is on both the short term—a punch list of pre-opening details (including getting a Web-based ticketing system ready)—and the big picture, solidifying booking for the 2013-2014 season and beyond. For the summer, the hall is packed tightly with music camps, conferences, and donor events. Weddings and bar and bat mitzvahs are possibilities as well.
"It's amazing how booked it already is," she said.•
Please enable JavaScript to view this content.