An obstacle course of light poles and road signs forces pedestrians to weave single file along the narrow, uneven sidewalks in downtown Greenwood.

Jarrett
From his perch at the cash register at the A-Trains model train shop, Les Jarrett has a direct view of the traffic that routinely backs up in front of his store during rush hour on Main Street.
"It actually can benefit me," he chortled. "People sit in their cars and look through my windows."
Jarrett and a dozen barbers, salon stylists, tattoo artists, antique consigners and other mom-and-pop entrepreneurs around Greenwood's core have thrown their support behind plans to refurbish and re-energize the aging downtown.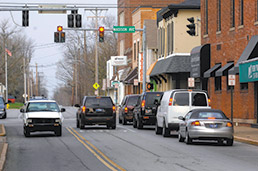 Main Street traffic passes through the heart of Greenwood's Old Town. (IBJ photo/Perry Reichanadter)
The project would begin with an investment of up to $9 million for wider sidewalks and one-way stretches for Main Street and Madison Avenue—designed to make the area known as Old Town more appealing to both vehicle and foot traffic. More people passing through the area would translate to more business openings, creating a better downtown, city officials believe.
"We've talked about it for years, and there's one thing that will solve all our problems," said Chuck Landon, a member of the Greenwood Economic Development Commission. "And that's customers."
Main St. Cutz co-owner and barber Vinny Berberena shaves Max Web, a client in the younger age group coveted by downtown Greenwood retailers. (IBJ photo/Perry Reichanadter)
Traveling south along Madison Avenue, downtown Greenwood's other main artery, leads by a foreclosed real estate building that will soon house city offices. Veer onto Market Plaza to pass by a pizza joint, drive-in diner, an auto-parts store and little else.
The area blends hometown warmth with ghost-town desertion.
The community proved it wanted to keep the historic element intact after former Mayor Charles Henderson proposed demolishing several of the structures and rebuilding. Voters responded in the 2011 primary election by ousting him from office after four terms.
But improvements to downtown Greenwood would be much appreciated.
"This is our downtown, and it's like a ghost town," said Miguel Rodriguez, who owns Main St. Cutz with partner Vinny Berberena.
Infrastructure first
City-commissioned renderings show dreams of privately developed condos, boutiques and bistros.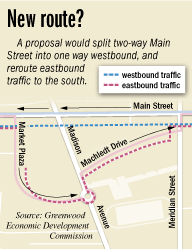 The first step to attracting those businesses would involve hefty infrastructure upgrades, according to the plans.
Greenwood would shift a congested few blocks of a two-way thoroughfare on Main Street into a one-way route. In doing so, the city would ditch a middle turn lane and use the extra room to widen narrow sidewalks in front of the shops.
"You can have a baby stroller, you can have a motorized wheelchair, or you could walk arm-in-arm with your girlfriend without any problem," Landon said.
Westbound traffic would hold its course on the road. But going east would mean traveling farther as the one-way route dipped south through Market Plaza, passed through a roundabout, turned onto Madison Avenue—then jaunted onto an ancillary road before reconnecting with Main Street where it would resume two ways.
Landon said the changeup should make traffic move faster, despite the diversion for people driving east.
"Look at the [stop] lights' structure, with skinny, little lanes," he said. "Traffic can line up two or three lights back. It's very, very difficult for the morning commute."

Myers
The roadwork should cost the city $8 million to $9 million and last up to three years, he said.
Greenwood Mayor Mark Myers said other necessary infrastructure work not covered by the downtown proposal "could easily double" current projections. Fifty-year-old sanitation and storm-water systems desperately need upgrades, he said in an email to IBJ.
The Economic Development Commission has proposed creating a tax increment financing district and earmarking the tax revenue to fund the downtown project.
The city council, which has the legal ability to create a TIF district, has yet to move forward on doing so as the city focuses on other priorities.
Myers listed several other development projects his office plans to finish first: moving city offices into a new building, putting in a splash park, building an aquatics center, widening part of Worthsville Road, and turning around the municipal airport's finances.
Not so new
Greenwood has spent years attempting to pump life back into the heart of its city, where 25 buildings have historic status.
Mayor Henderson pitched the more radical—and heavily criticized—idea of demolishing seven buildings and redeveloping them with mimicked versions of their historical predecessors.
The plan caught the attention of Indiana Landmarks, which listed downtown Greenwood as one of its "10 Most Endangered" landmarks in 2011.
Henderson's loss in the primary election that year nixed the demolition plans and the area's spot on the endangered list.
The latest plans have received Indiana Landmark's blessing.
Rebecca Smith, a community preservation specialist for the group, said the building owners need to consider federal incentives to refurbish their properties and maintain a historic appeal.
"Being listed on the national register is a point of advertising, a point of pride," Smith said." It should be celebrated and taken advantage of."
Zach Kyle, who owns the downtown bar Blind Pig, said the buildings need to keep their historic allure, but façade upgrades are also a must if the area is going to compete with downtown Indianapolis, Broad Ripple or even the Greenwood Park Mall area about a mile to the north.
"Who's going to want to buy a new bar near an old building like that?" Kyle asked as he pointed through a window to a void, haggard building across the street. "At the same time, I don't want them to come in and level buildings. I like that old-fashioned look."
Build it, brand it
Businesses have largely relied on word-of-mouth and local advertising to pull in customers, but there has been no orchestrated effort for downtown as a whole.
Landon said Greenwood needs to think of ways to draw new businesses and customers beyond physical improvements to the buildings and streets.
"If you're a businessperson, you build it, you brand it, you market it," he said. "It's not just, 'Build it and they will come.' We have to do this professionally."
What the brand will be remains up in the air.
Landon said he would like to see the area focus more on the "family-friendly" image.
"I think it's very important, the type of businesses we get in here," he said. "We have to be very careful."
However, business owners in the area said they want a mix that will appeal to younger crowds as well.•
"We need more of a mix to pull everyone," said Rodriguez from Main St. Cutz.•
Please enable JavaScript to view this content.