Professional hockey will be skating back into Indianapolis in less than two years if Indiana State Fairgrounds officials get their wish.
A local contingent traveled to the ECHL all-star game early this year to begin a dialogue with league officials and check out their operations and quality of play.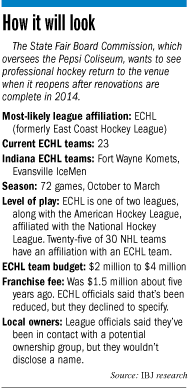 State Fairgrounds officials are trying to lure a team here when the revamped Pepsi Coliseum opens in 2014. Sources familiar with the discussion said a potential local ownership group has been identified, though State Fairgrounds and ECHL officials declined to divulge who is involved.
"We just can't comment right now. It would be premature," said Joe Babik, ECHL director of communications. "The renovated coliseum would be an attractive venue [for an ECHL team], and we like the market and what they're doing there."
Any potential local ownership group does not include Paul Skjodt, who operates the Indiana Ice, an amateur team composed of young NHL hopefuls.
"Paul wants no part of this," said Ice Vice President Jason Burkman. "Paul loves the development aspect, so he wants to keep operating the team as it is."
Ice officials fear a minor-league professional team could draw fans from the amateur team's games.
The ECHL, formerly known as the East Coast Hockey League, bills itself as the premier Class AA hockey league. The 23-team league is one of two—along with the higher-level American Hockey League—affiliated with the National Hockey League. Twenty-five of the 30 NHL teams have ECHL affiliations. ECHL officials indicated an Indianapolis team would likely have an NHL affiliate, but it's not clear which major-league team that would be.
"With [ECHL] teams in Evansville and Fort Wayne, a team in Indianapolis could have some good rivalries," Babik said. "It could be a good fit."
The fit is so good apparently that unidentified league sources recently told the Peoria (Illinois) Journal Star that an Indianapolis franchise was set to slide into the ECHL in time for the 2014-2015 season.
Finding an owner with the passion for hockey and deep enough pockets is likely to be the biggest challenge.
In pre-recession 2007, the ECHL was charging a $1.5 million expansion franchise fee. Though league officials declined to say what the fee is now, they said it has come down. ECHL Commissioner Brian McKenna said he prefers new ownership groups put their money into their franchise and local arena operations.
The annual budget for an ECHL team is $2 million to $4 million, sports business experts said.
Mark Rosentraub, a former IUPUI dean and sports business author, thinks a minor-league hockey team in Indianapolis would be a viable operation. But he questions the wisdom of putting the team in the 74-year-old Pepsi Coliseum, about four miles north of downtown.
"It goes against the blueprint of what made downtown Indianapolis great," Rosentraub said. "Now you're starting to pull events out of the city center and that's going to cause problems for the Pacers, Bankers Life Fieldhouse and in the end, the city, which owns the Fieldhouse."
Rick Fuson, Pacers Sports and Entertainment chief operating officer, isn't too worried. The Pacers operate the fieldhouse and depend on revenue from non-basketball events to cover its expenses at the venue.
"This doesn't affect Bankers Life Fieldhouse at all," Fuson said. "Bankers Life Fieldhouse is one of the great gathering places for this city. This facility stands on its own, and I don't think the coliseum is a competitive situation."
Wherever it might play, minor-league hockey is good for Indianapolis, Rosentraub said, because it diversifies the city's sports offerings and has a proven niche market.
"The Pacers and Colts are high-end tickets, but to have a healthy sports market you have to have more modestly priced offerings," Rosentraub said. "The demand for these tickets wouldn't go crazy, but I think you could attract between 5,000 and 8,000 per game."
Professional minor-league hockey will be "a great fit" at the Pepsi Coliseum, said State Fairgrounds spokesman Andy Klotz, because the venue has been reconfigured with two ice rinks and has myriad improvements over the pre-renovated coliseum, including better locker rooms, training areas, concession offerings, sight lines for fans, and an intimate 9,000-seat arena perfect for hockey.
The coliseum renovation is part of a $63 million project that also includes construction of an adjoining arena for simultaneous public events.
The city has had a long—if somewhat checkered—history with hockey, which included stints with the Indianapolis Racers, Checkers and Ice, back when the Ice was a professional team.
For various reasons—many attached to finances, those teams failed. The city's last professional team—which played in the International Hockey League, then the Central Hockey League—shut down in 2004. The professional Ice teams played the vast majority of their games at the coliseum with a sprinkling of games at Market Square Arena and then Bankers Life Fieldhouse.
After Skjodt bought the assets of the Ice and turned it into an amateur squad, the team continued to play most games at the coliseum until it closed for renovations in 2012.
The Ice this season played 11 games at Pan Am Plaza and 21 games in Bankers Life Fieldhouse, averaging 1,200 per game at Pan Am Plaza and 4,000 at the fieldhouse.
The Ice's future at the coliseum is uncertain, officials said. If a minor-league team moved in, the Ice would likely not be back.
There are natural synergies between the Pacers and Ice, given that Skjodt is married to the niece of Pacers owner Herb Simon. Those relationships might have the Ice moving more of their games to the fieldhouse even after the coliseum reopens, and that would likely be a concern to fairgrounds officials.
An ECHL team would guarantee the coliseum 36 home games a year, and could likely afford to pay more in rent than the amateur Ice franchise. Though State Fairgrounds officials said lease prices for the upgraded facility have not been set, sports business experts said rent is likely to go up at least 10 percent to 15 percent.
"It's competitive and these venues have to fill dates to survive," Rosentraub said. "The problem right now is, there are just too many covered stadiums and arenas in the Midwest and certainly in Indianapolis."•
Please enable JavaScript to view this content.