40th anniversary: Downtown went from ghost town to 'city's biggest neighborhood'
Downtown was a reclamation project waiting to happen in 1980. That's when Janet Allen moved here to work at the Indiana Repertory Theatre, which had just moved from the Athenaeum to the Indiana Theatre building on West Washington Street. Restaurants were few—and mostly in hotels—nightlife meager and places to live almost nonexistent.
"It felt like tumbleweeds rolled down Washington Street," she said.
When Kate Flock began selling downtown real estate in 1985, she traveled with three flashlights and a crowbar in her car. "I would literally crowbar off the door and we would go in and tour the home with flashlights," she said. Until Indiana National Bank stepped up in the early 1990s, she said, it was difficult to get a mortgage on a house downtown.
That was then.
The changes in downtown Indianapolis over the past 40 years have been staggering. Progress began in 1982 when American United Life Insurance Co., coaxed by Mayor William Hudnut, opened its 38-story downtown headquarters (now OneAmerica Tower). Construction of the 60,000-seat Hoosier Dome wrapped up in May 1984, in time for the debut of the Indianapolis Colts, and the Indianapolis Symphony Orchestra returned to downtown that year to a new home at the Circle Theatre (renamed Hilbert Circle Theatre in 1996).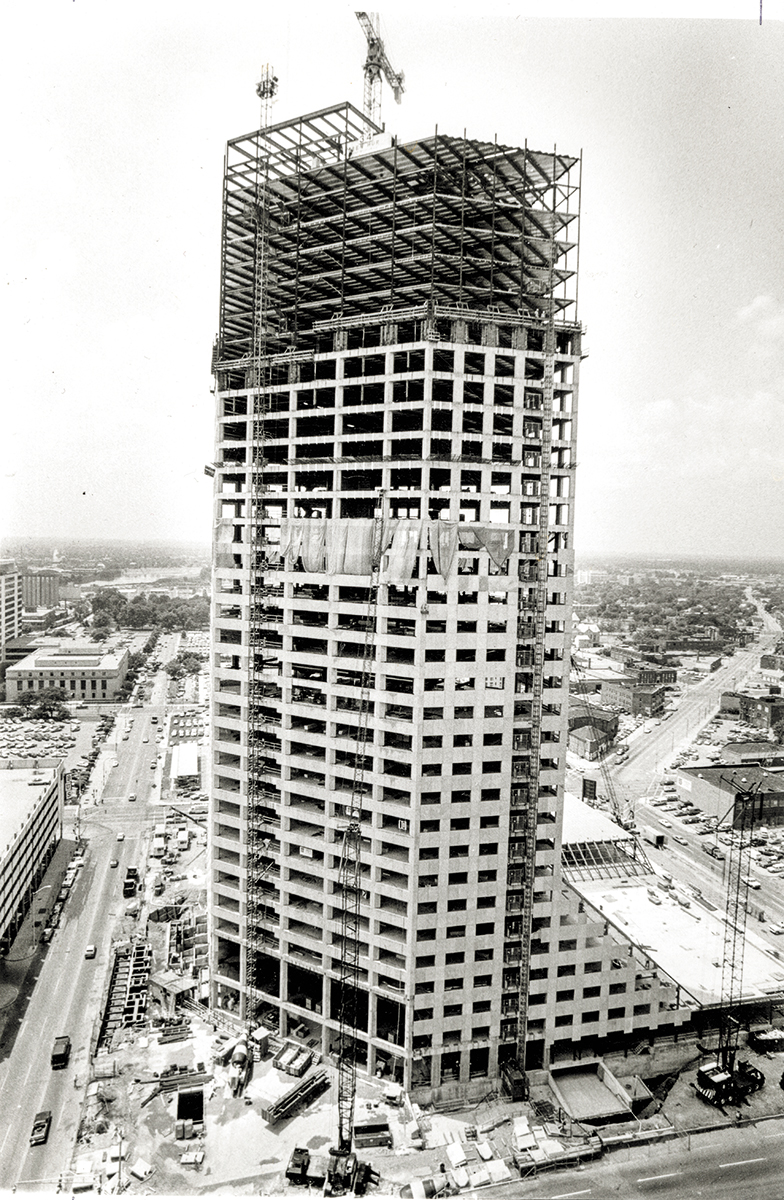 Union Station reopened in 1986 with retail shops and restaurants (it is now largely office space), Indianapolis hosted the 10th Pan Am Games in 1987, the Indianapolis Zoo moved downtown to White River State Park in 1988, followed by the Eiteljorg Museum of American Indians and Western Art a year later. Also in 1989, after 10 years of talk, the city tore down buildings and dug holes for what eventually would become Circle Centre mall.
In 1990, Indiana's tallest building, the 49-story Bank One Tower (now Salesforce Tower) opened just north of Monument Circle. But then, for a few years, downtown progress slowed. The mall project, beset by a bad economy, lack of financing and no anchor tenant, looked dead. In 1992, Hudnut left the mayor's office after 16 years, replaced by Stephen Goldsmith, a small-government advocate who had seen downtown malls fail around the country and opposed using city money for downtown development. Goldsmith changed his thinking when an MIT professor of urban design suggested that he look at the mall as an economic and job engine, since retail and hospitality are typically the first set of jobs for underemployed people.
"I didn't want to build a mall," Goldsmith says today. "I wanted to build job opportunities and a downtown."
Goldsmith remembers the night a few months into his first term that he went to Eli Lilly and Co. headquarters to meet with about 40 executives from around the city "who barely knew me." He pulled out maps that showed Center Township divided into about a dozen districts—the arts, historic, Circle Centre, Mass Ave, the White River, IUPUI and more—extending from Lilly headquarters to 16th Street. The plan included housing, corporate headquarters, downtown attractions, hotels, conventions and more, all linked together as a "connected center of activities."
"Without all that," he said, "the mall would have made no sense."
The reaction in the room was lukewarm, Goldsmith recalls, but there was enough support to move the plan forward. The city created a tax-increment-financing district to spur investment, and projects began to unfold.
In 1995, the four-story mall—a partnership between the city and more than a dozen local companies, with Simon Property Group as manager—opened with 100 stores and 20 restaurants.
"There had been craters downtown, and the sidewalks rolled up at 5," said Tamara Zahn, who ran Indianapolis Downtown Inc. from its opening in 1993 to 2013. (Zahn passed away weeks after giving this interview.) "People got in their cars and drove home. The Pacers and Colts were downtown, but there weren't a lot of reasons to shop or dine. That's why Circle Centre was so important."
New landmarks
In 1996, the Indianapolis Indians moved from Bush Stadium on West 16th Street to their new home in White River State Park, Victory Field, which Sports Illustrated called "the best new minor league ballpark in America." The vision of White River State Park as a cultural destination continued to take shape when the NCAA moved to Indianapolis in 1999 and the NCAA Hall of Champions opened in 2000.
At the end of 2001, the Indiana State Museum closed its doors in the old City Hall, and in May 2002 moved to 650 W. Washington St. in the heart of White River State Park. The Lawn, a 7,500-capacity outdoor concert venue, was added to the park's attractions in 2004.
Meanwhile, some of the early downtown landmarks were being replaced with more modern facilities. The Indiana Pacers moved a few blocks south from Market Square Arena, which opened in 1974, to Conseco Fieldhouse, which opened in 1999. (Market Square Arena was demolished in 2001; Conseco Fieldhouse became Bankers Life Fieldhouse in 2011.) The Hoosier Dome, which opened in 1984 and was renamed the RCA Dome in 1994, was demolished in 2008, the same year Lucas Oil Stadium opened a few blocks south. Four years later, Lucas Oil Stadium was the site of Super Bowl XLVI.
The amenities made downtown attractive for residents, visitors and businesses. From 2004-2014, downtown added more than 5,400 residential units. On the commercial side, five of the 10 largest Indianapolis-area commercial developments opened in or near downtown. As of 2019, downtown had nearly 10,000 apartments, with the average rental price just under $1,200 a month. But those successes did not extend to everyone. Center Township continues to grapple with an overall poverty level of 25.2% in the 46202, 46204 and 46225 ZIP codes—almost twice the statewide figure.
Hotel construction brought the total number of rooms from just about 5,000 in 2000 to 7,726 in 2020 as the city continued to be an attractive location for conventions. (The Indiana Convention Center underwent a $275 million renovation and expansion in 2011.) New hotels included the luxury $100 million Conrad Indianapolis in 2006; the 34-story, 1,005-room, $450 million JW Marriott in 2011, and the 209-room boutique Alexander in 2013 as part of the CityWay development. In 2014, the historic Canterbury Hotel underwent a $9.5 million renovation and became Le Meridien Indianapolis.
Connections
Throughout the growth of downtown, the city of Indianapolis invested in many projects, including $25 million toward the Conrad, $59.5 million for the JW, and $98 million for CityWay, which includes 250 apartments, The Alexander, and 10 restaurants and shops at South and Delaware streets.
"Indianapolis is known for public-private partnerships,' Zahn said. "We collaborate as a public sector and a private sector and not-for-profit sector as well if not better than any city in the country. We are known for working together."
Corporations also came downtown, including Emmis Communications Corp., which built its headquarters on Monument Circle in 1998, and Rolls-Royce Corp., which moved 2,500 employees downtown in 2011. In 2009, Marion County voters gave 85% support for a referendum to sell $703 million in bonds to replace Wishard Hospital. The $754 million Sidney & Lois Eskenazi Hospital, located a block away, opened in 2013 and is one of downtown's largest employers. In 2018, Anthem Inc. moved from Monument Circle to its Virginia Avenue headquarters and spent $20 million on renovations.
Connecting much of downtown and connecting to trails beyond is the Indianapolis Cultural Trail, an eight-mile path that joins the city's six downtown cultural districts—Mass Ave, Fountain Square, The Canal and White River State Park, Indiana Avenue, the Wholesale District and Market East. The trail opened in 2013.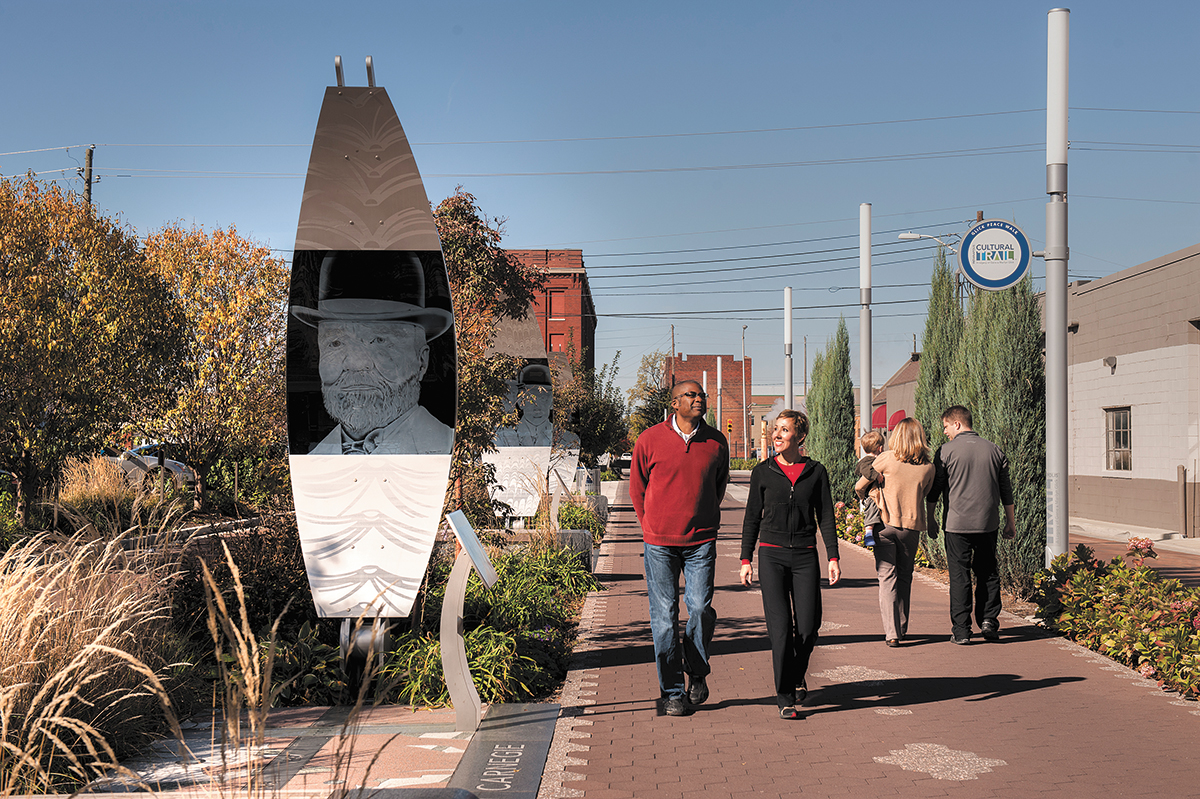 Over the years, IUPUI quietly transformed itself. The school has long graduated most of Indiana's doctors, nurses and dentists. In 2005, the General Assembly made Ivy Tech the state's official community college system, freeing IUPUI to evolve from a commuter campus serving mostly adults working toward associate degrees and certificates in 136 programs into a full-fledged four-year university with 479 tracks leading to baccalaureates and beyond. About 2,400 of the 29,000 students (up from 23,000 in 1980) live on campus, and many others live in apartments within walking or scooter distance.
"We have more graduates of IUPUI in central Indiana and the city of Indianapolis than IU and Purdue alumni combined," said Chancellor Nasser Paydar, who moved to Indianapolis in 1985 and lived in Riley Towers, at Alabama and North streets. He remembers looking out his 27th floor window at night and seeing nothing but empty streets. "We're very proud of what we have created here, who we are and what we are doing for our community."
'Urban vitality'
It's said that victory has a thousand fathers, but defeat is an orphan. The revitalization of Indianapolis' downtown proves that truism, with every mayor—Richard Lugar, Bill Hudnut, Steve Goldsmith, Bart Peterson, Greg Ballard and now Joe Hogsett—building, and building on, his predecessor's successes.
"The huge story of downtown is the transition from an almost purely central business district—somewhere you went to work and left to go home—into the city's biggest neighborhood, with the housing investment that has occurred in downtown Indianapolis and the vibrancy that has added," said Mark Fisher, chief policy officer for the Indy Chamber.
Today, the IRT's Allen sees "tremendous urban vitality" downtown—and so do visitors who come from Chicago and New York to perform at the theater. "They're so pleasantly surprised by what a great downtown it is."
Realtor Flock and her husband, Kurt, can show you hundreds of examples of downtown houses that increased exponentially in value, like one at 1443 N. Park Ave.—which went from $19,900 in 1989 to $335,000 in November 2017. "In the last five years, you'd have to pinch me to believe that we are where we are," she said. "It's a bigger vision than we even dreamed possible."
Former Mayor Goldsmith said Kurt Flock "used to come over and tell me the most ridiculous things about the future of downtown real estate. Turned out, he was right more often than wrong." And the former mayor, who lives part time in Indianapolis and part time in Massachusetts, where he teaches at Harvard University, said he's proud of what the city has accomplished.
"I love Indianapolis," he said, "and it's great to see the success."•
Please enable JavaScript to view this content.