40th anniversary: Hamilton County population, amenities explode
Hamilton County's explosive growth from 82,000 residents in 1980 to more than 338,000 in 2020 is a tale of four cities—Carmel, Fishers, Noblesville and Westfield—each of which carved out its own niche to attract residents and businesses and collectively built the fastest-growing county in Indiana.
Forty years ago, Hamilton County's suburbs were viewed as little more than northern extensions of Indianapolis, Hamilton County historian David Heighway said. The towns of Fishers and Westfield were literally and figuratively decades from becoming cities.
Nancy Chance, founder of the Good Samaritan Network, which coordinates the county's 45 food pantries and related services, remembers that, in 1980, the intersection at the center of Fishers was a four-way stop with blinking lights, and the fastest vehicles going through that crossing were International Harvester tractors. When Brenda Myers, now president and CEO of Hamilton County Tourism, took a job at Conner Prairie in 1984, the entire county had about 170 hotel rooms—and that included the fleabag Carmel Hotel. The number of hotel rooms is now more than 4,500.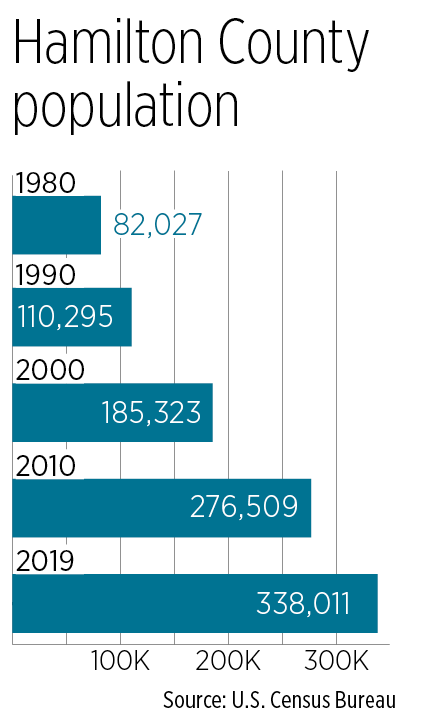 The county's boom was driven largely by two factors: better roads and highways (interstates 465 and 69, U.S. 31, State Road 37) that made commuting easier and "white flight" out of Indianapolis and into the suburbs, where the lure of safe streets, good schools and lower taxes beckoned, Heighway said.
As the migration northward picked up steam, Hamilton County's four southernmost communities each found a way to differentiate themselves: Fishers as a hub for entrepreneurship, Noblesville by virtue of its classic Indiana town square, Carmel through performing arts, and Westfield as the home of family sports. Each also embraced New Urbanism—walkable communities and accessible public spaces with housing and shopping close by.
Carmel
That New Urbanism movement in Hamilton County began in 1995 with the election of Jim Brainard as Carmel's mayor. In his first year, Brainard and his administration decided to build a downtown that would "create a sense of community." That coincided with the Carmel Redevelopment Commission's purchase of 88 acres just four blocks south of the original downtown, which became the Arts and Design District. The city's arts focus continued with the construction of the Center for the Performing Arts, a complex that includes the 1,600-seat Palladium concert hall, the 500-seat Tarkington theater, and the 200-seat Studio Theater. The center is now home to six resident companies. On the retail front, Simon Property Group opened the 577,000-square-foot Clay Terrace, an open-air shopping mall and the state's first "lifestyle center," in 2004.
Along the way, the city annexed Clay Township and Home Place, made road improvements—first to Hazel Dell Parkway and more recently to Keystone Avenue (now Keystone Parkway)—and replaced stoplights with more than 100 roundabouts to improve traffic flow. Its enthusiasm for roundabouts has garnered the city national press. Carmel expanded its parks from 40 acres to more than 1,000 acres and its bike and hiking trails from zero to more than 230 miles.
Brainard said Carmel was guided by the idea that, to attract the best and brightest workforce, his city needed to work hard at design and infrastructure to compete with San Diego, Boston and Florida, among other places.
As the city became increasingly attractive to residents, it also began to lure companies, including Midcontinent Independent System Operator, Pedcor Management Corp., Allied Solutions and American Specialty Health, which moved its headquarters to Carmel from San Diego in 2014. Brainard boasts that Carmel now is the base for nearly 130 corporate or regional headquarters. The city is home to three of Indiana's largest public companies (CNO Financial Group, KAR Auction Services and Allegion PLC), four of the top 25 Indianapolis-area private companies (Telamon Corp., American Specialty Health Inc., Indiana Municipal Power Agency, Indiana Farmers Mutual Insurance Co.) and two of the fastest-growing Indianapolis-area private companies (GadellNet IT Consulting, Shepherd Insurance).
In addition, seven of the 25 largest Indianapolis-area residential real estate agencies are in Carmel. (One is in Fishers.)
"We've taken the approach over the last 20 years that we've got to invest in ourselves," Brainard said. "We've got to invest in infrastructure. If we invest in those things, we'll be able to compete."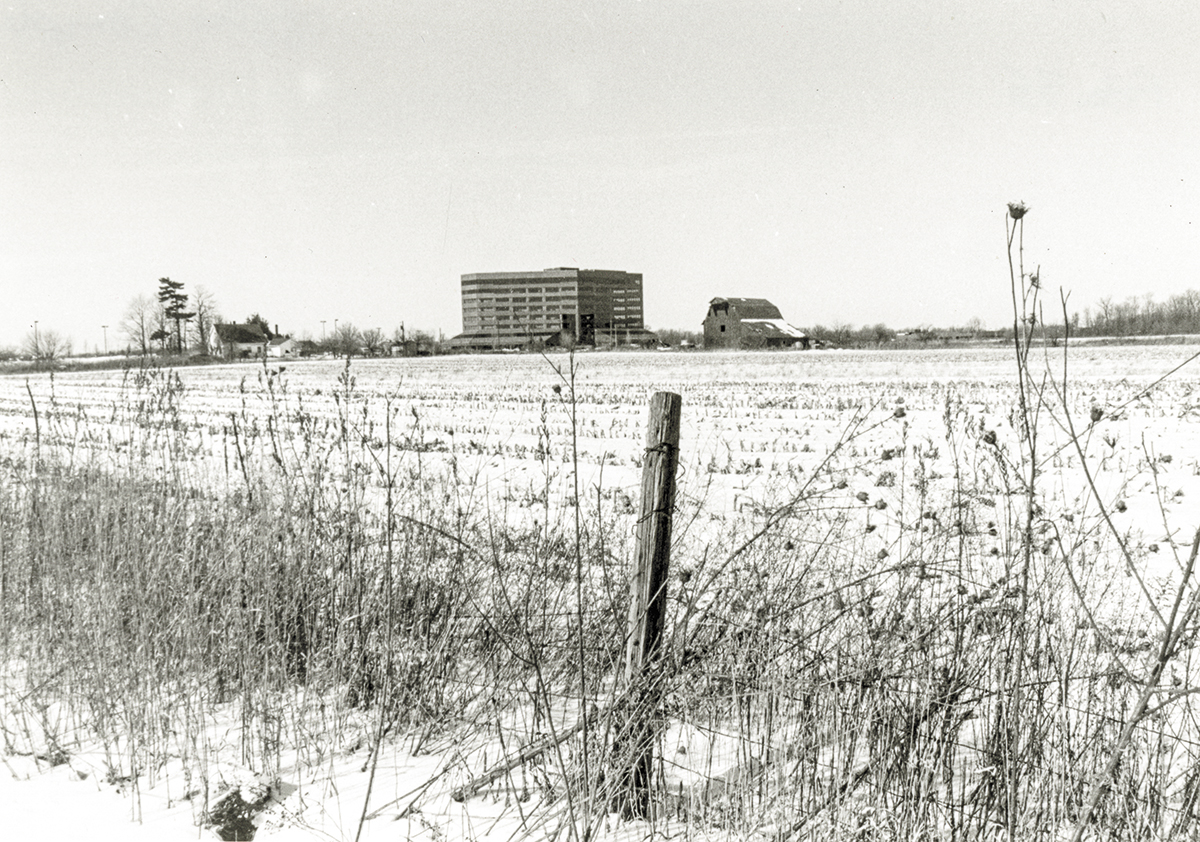 Fishers
Fishers, which has seen its population increase from 2,000 in 1980 to 95,000 today, has followed a pattern similar to Carmel's, beginning with what Mayor Scott Fadness calls the "unbridled residential growth" that took place from the mid-1980s to 2008, when the town opened a new elementary school nearly every year (it now has 13). Commercial development followed.
Fadness said Fishers' growth also was aided by the annexation of Geist in 2010, which added 2,200 homes to the town's tax rolls, and an agreement in 2014 to partner with Hamilton Southeastern Utilities to extend sewer services east of I-69, which opened development and catapulted growth.
Today, Fishers—which became a city in 2015 (and Fadness, the former town manager, its first mayor)—is home to two of Hamilton County's largest employers: Navient Corp. and Roche Diagnostics Corp. The city's leading businesses include Probo Medical, No. 2 on IBJ's list of fastest-growing Indianapolis-area private companies, and the Hagerman Group, No. 20 among the largest Indianapolis-area private companies.
Westfield
Companies have also started to flock to Westfield. In October 2019, the city announced $246 million in investments—and 1,000 jobs—from Aptiv PLC, BDX-Indiana, Gordon Food Service and Abbott Laboratories.
"These companies have done their homework and they know that, even though their future workforce may not live here today, they can easily recruit people of all occupations and all ages to live and work in Hamilton County," four-term Mayor Andy Cook said.
Cook, who pledged to "manage our gift of growth well" when he ran to become Westfield's first mayor in 2007, credits three major occurrences with his city's population boom from 2,800 residents in 1980 to 40,000 today. One is the conversion of U.S. 31 "from a stoplight-laden, congested, four-lane highway into a true freeway." The state's $350 million investment has led to $1.5 billion in private investment over the past five years, he said.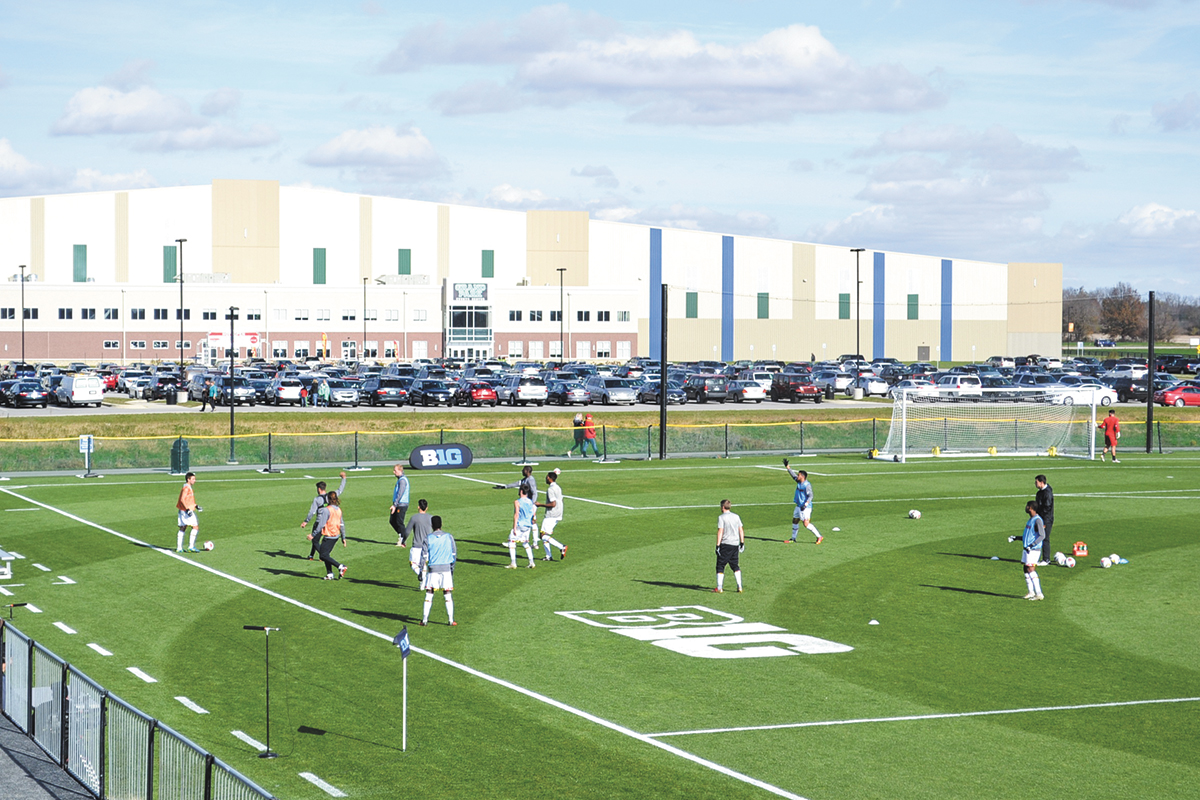 Then there was the city's sale of its water and wastewater utilities in 2014 to Citizens Energy for $91 million. Westfield was able to bank $40 million that it has been able to invest in infrastructure improvements and stay ahead of traffic demands. "There would have been no way during the last six years that a municipally owned utility could have had enough capital to put enough pipes in the ground to support all of our growth," he said.
Finally, there was the development of the $85 million Grand Park Sports Campus, a 400-plus-acre complex that opened in 2014 with 26 softball and baseball diamonds, 31 soccer fields and 10 miles of multi-use paths. The Grand Park Events Center, a nearly 400,000-square-foot indoor facility, was added in 2016. Two years later, the Indianapolis Colts announced that Grand Park would be their summer home for the next 10 years.
Noblesville
The complex gave Westfield an identity it had been lacking. Meanwhile, Noblesville, the oldest of Hamilton County's four largest cities, already was well-established as both the county seat and the only one of the four with a traditional Indiana courthouse square.
The city has been bringing in visitors by the thousands since 1989, when Deer Creek Music Center (now Ruoff Music Center) opened near Exit 210 off I-69. What gets people to stay, new mayor and lifelong Noblesville resident Chris Jensen said, has been improvements to U.S. 31 and S.R. 37, which made for an easier commute to Indianapolis, and natural assets such as the White River flowing through downtown, quaint brick streets and walkability—an urban feel in a suburban community.
Noblesville also has had success luring businesses, including SMC Corporation of America, BorgWarner, which opened a $28 million, 300-employee headquarters there in 2018, and India-based Panacea Medical Technologies, which announced plans to build an engineering and manufacturing facility there by 2023.
Noblesville has grown both in population, from 12,000 in 1980 to more than 63,000 today, and in land mass. The city, which will celebrate its bicentennial in 2023, has expanded from its downtown core east and north to Morse Reservoir and west to Exit 210 on I-69. Jensen said the city could go east and annex into Wayne Township over the next 10-20 years and become the geographically largest city in Hamilton County.
Noblesville is working hard to offer a range of affordable housing—apartments, town houses, estate homes and empty-nester homes—to get people to stay in the city, Jensen said. Andrea Muirragui Davis, executive director of Hamilton County Area Neighborhood Development, said the county needs that kind of thinking. Household income from 2000-2015 is up 21% in Hamilton County, but rental costs are up 51% over the same period. There are city leaders who understand the importance of having a range of housing options so service-industry workers can live closer to their jobs, she said.
That said, there is no master plan for Hamilton County's growth, which continues to trend upward. Fishers Mayor Fadness describes it this way: "We're just a collection of four communities pursuing the best possible versions of themselves."•
Please enable JavaScript to view this content.