40th anniversary: Indianapolis bootstraps its way into sports elite
The city's sports landscape was sparse, indeed, in May 1980.
The Indianapolis 500 and the state high school basketball tournament still drew capacity crowds, of course, with no hint of the drop-off to come. The Indianapolis Indians were a comfortable and assumed presence.
But the Pacers had been saved only by a July 4 weekend telethon three years earlier and still were at risk of being demolished or transplanted due to owner neglect. The Colts? They played out of Baltimore, and surely always would.
Out of the view of most residents in 1980, however, seeds had been planted that would grow into a lush array of sporting events, facilities, teams and organizations beyond what anyone could have imagined. So many, in fact, that Indianapolis has progressed from being labeled "India-no-place" and "Naptown" to being widely recognized as one of America's greatest sports cities, despite being a midsize metropolis without Major League Baseball or a National Hockey League franchise.
Today, the city offers nearly the flip side of the view of 40 years ago. The Indy 500 and the high school tournament have lost some of their luster, but the Pacers are on solid financial footing, and an NFL team has resided here for 36 years.
The lead story in the inaugural IBJ issue was headlined, "Pro football in Indy: So near and yet so far." It reported that an 11-acre site had been designated by the Metropolitan Development Department as suitable for construction of a domed stadium, which was a significant step toward landing an NFL team—an expansion team, presumably.
The Colts' midnight run to Indianapolis in 1984, however, offered material evidence that just about anything can happen if you dream big enough, work hard enough and catch a break now and then. Because of that approach, the sports-related additions and improvements in Indianapolis defied belief then and summation now.
The city has hosted a Super Bowl, seven NCAA Final Fours, the National Sports Festival, the Pan American Games, an exhibition basketball doubleheader that drew a record crowd for indoor games, an NBA All-Star game, a world swimming championship and more than 500 national championship events.
World-class facilities have been constructed—most notably two football stadiums, a basketball arena and a Minor League Baseball stadium—but also a rowing facility, velodrome, track stadium and natatorium, among others. The headquarters for both the NCAA and the National Federation of State High School Associations are here, along with those of four national amateur-sports governing bodies. And, of course, the city is home to major- and minor-league franchises that run the gamut of pro sports.
Indianapolis also is frequently mentioned in national publications as one of the most livable cities in the country because of its arts, public green spaces, dining options and social life. That's no coincidence, because sports initiatives have directly or indirectly fueled most of the progress downtown and played a role in improving surrounding neighborhoods.
"I can remember when Indianapolis did not have a single hotel downtown, and hardly any restaurants," said Jim Morris, whose career as a community leader dates back to 1967, when he joined Mayor Richard Lugar's administration as chief of staff. "A couple of years ago, USA Today said we were the most important convention city in the country.
"We were on a mission. We knew these events were of great significance unto themselves, but we also knew they could be great opportunities for Indianapolis and Indiana to do something as well as it could be done and to build a reputation."
Indianapolis-izing
How did all this happen? The short answer is the Indianapolis Sports Corp., which has been the driving force behind most of the sporting activity in the city. But the steps can be traced to a painting that hung in the Amateur Athletic Union headquarters in the late '60s.
Sandy Knapp, the original ISC president, tells the story: Beurt R. SerVaas, whose firm Curtis Publishing produced the AAU's corporate magazine, was visiting his client in New York City when he learned it was planning to move out of Manhattan. SerVaas noticed a painting in the hallway depicting Olympic gold medalist Frank E. McKinney Jr., the executive vice president of American Fletcher National Bank, who had won a medal for swimming in 1960. It gave him an idea. He informed McKinney of the AAU's intention and they put together a plan that enticed the AAU to move to Indy.
That alone was a big deal for its time, but it became even more meaningful when Congress passed the Amateur Sports Act of 1978. That bipartisan effort broke up the turf war between the AAU and NCAA and created a separate governing body for every Olympic sport. With the AAU already operating out of the city, Indianapolis was perfectly positioned to offer those new governing bodies a happy home.
Another piece of legislation also would have a major impact. The Tax Reform Act of 1969 established more stringent guidelines for not-for-profits such as Lilly Endowment, the philanthropical arm of Eli Lilly and Co., to disburse funds. Later, Eli Lilly, grandson of the company founder, stated before his passing in 1977 that he wanted most of the foundation's grant money to be awarded to local and state organizations. The combination of those two events resulted in an exponential increase in funds available to construct facilities, host events and sway organizations to move to the city.
Into this bubbling cauldron of possibility stepped the ISC, which was born on Dec. 31, 1979, the first organization of its kind in the country. Its mission was not to improve the city's image so much as to create one for a city with a reputation for blandness. Studies had shown sports to be one of the best methods to accomplish that.
The NCAA men's basketball Final Four in 1980, the first ever played in Indianapolis, had been secured long before the ISC was founded, but it provided the perfect vehicle for the fledgling organization to test its wings and prove its objective of executing events in a way that surpassed the expectations of fans and participants.
Knapp's term for it is "Indianapolis-ize." As in, "How do we Indianapolis-ize this so that they'll want to come back? Because of our self-given inferiority complex at the time, we had to do stuff that made us look better in the eyes of others," she said.
In the case of that Final Four, it meant the non-glamourous work of distributing brochures, posters, maps and the like to hotels to welcome visitors and direct them to local attractions, as well as summoning volunteers to assist teams and fans. It also included an emphasis on helpfulness and friendliness.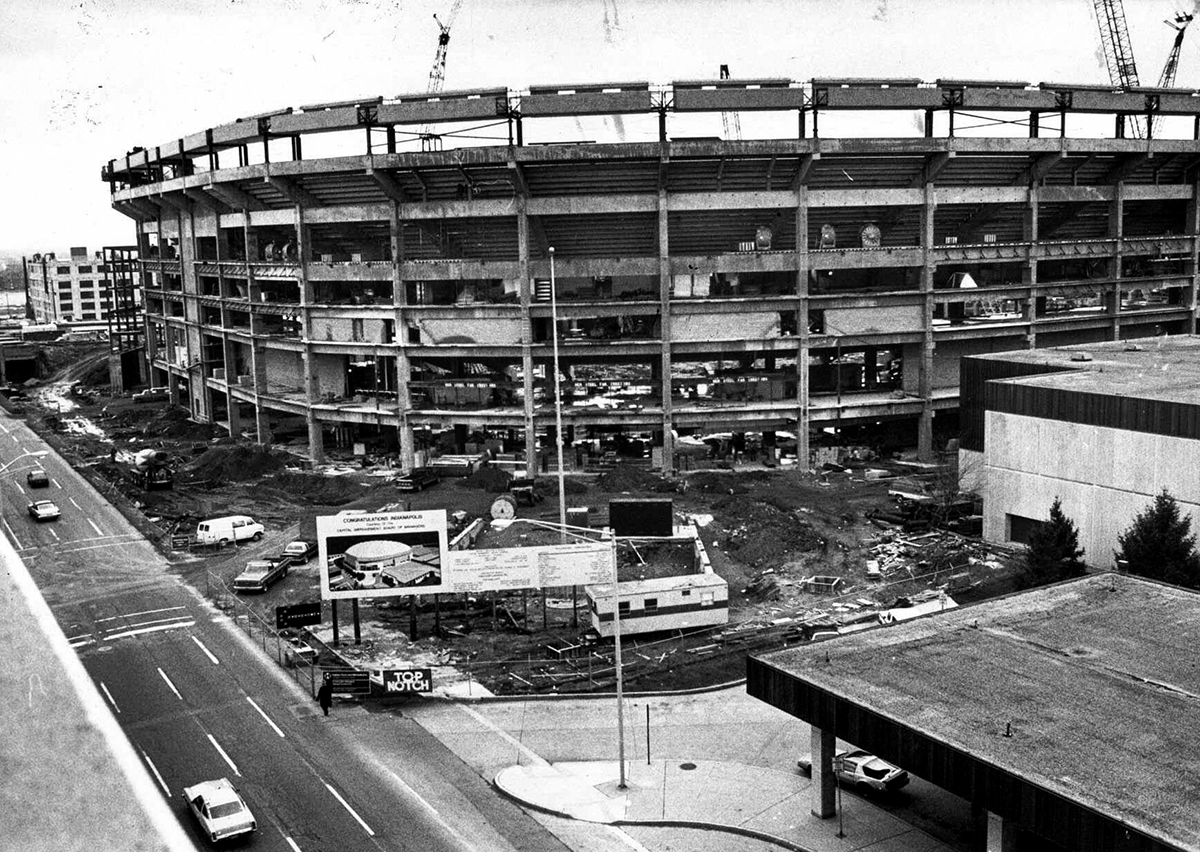 Taking off
Things started to pop. Bigger and bigger events arrived, and the ISC hurdled all of them with only minor spills. The National Sports Festival brought 2,600 athletes and 50,000 fans to the city in 1982, acting as a prelude to the Olympic Games in Los Angeles two years later. It also enabled the ISC to meet and impress the heads of all the Olympic sports governing bodies.
A bigger breakthrough occurred when Indianapolis landed the Pan American Games in 1987. The opportunity arose unexpectedly because the original host city, Santiago, Chile, and the alternate host, Quito, Ecuador, both had to withdraw because of financial and political instability.
The games drew 4,300 athletes from 38 countries who participated in 30 sports at 23 venues. Vice President George H.W. Bush presided over an opening ceremony produced by Disney at the Indianapolis Motor Speedway before 70,000 fans, and nearly 40,000 residents formed a volunteer workforce to pull it off. Many of the competitions were televised nationally and covered by international media.
The games brought more exposure to the city than any sporting event had ever done and helped further dissolve the "self-given inferiority complex." The world had come to the city and liked it.
"On a scale of one-to-10, for the community it was a 10," Knapp said. "For the organizers, it was an eight," she added, because the event did not quite break even.
The Sports Corp. soon become widely studied and imitated. Representatives from other cities trekked to Indianapolis to see how it was done, to the point that it became a distraction. Knapp eventually created an informational kit that she sent out instead.
What couldn't be learned on paper, however, was the ISC's secret sauce, the "Indianapolis-izing" process that went beyond throwing open the doors and selling tickets. Dale Neuburger, ISC president from 1993-2005, cites the example of the FINA World Swimming Championships at Bankers Life Fieldhouse in 2004. It was the first, and still only, time the competition has been conducted in the United States, not to mention indoors. But the ISC went a step further.
Rather than playing recorded versions of the national anthems associated with the gold medal winners, as is traditionally done, the Indianapolis Children's Choir was enlisted to sing them live. The kids learned the anthems of all 35 represented countries, a process that required eight months of rehearsal.
"They became rock stars," Neuburger said. "When they walked through the [fieldhouse] lobby, the fans broke into cheers."
The ISC's extra-mile approach also reaches the athletes. The ISC has people on hand to greet the teams when they arrive at their hotel, provides a private lounge for them and offers liaisons for the players and coaches. If someone needs a prescription filled at 3 a.m., it will be done.
"You want to hear someone say, 'Man, these guys think of everything,'" Neuburger said. "That's the highest compliment."
Competition
A stream of future major sports events lies in wait, including the NBA's All-Star Weekend and NCAA Final Four in 2021, the college football national championship game and Big Ten Men's Basketball Tournament in 2022, and another Final Four in 2026. Those events will depend on the status of the pandemic, however.
Over the years, the competition has stiffened. Some cities have successfully emulated the ISC and present viable options to what Indianapolis can offer, along with warmer weather.
"We're not the most asset-rich city in the country, by any means," said Neuburger, now director of the Burson Cohn and Wolfe sports consulting firm. Any city's attempt to grow its sports profile depends on its ability to align with community objectives, such as improving downtown facilities and neighborhoods, he added.
Morris, now vice chairman of Pacers Sports and Entertainment, said the city can become a center for leadership development in sports. He sees the potential for more governing bodies moving to the city.
It's as difficult to predict what the sporting landscape will look like 40 years from now as it was in 1980. But whenever opportunity knocks, it's a safe bet that Indianapolis will answer the call.•
Please enable JavaScript to view this content.