The day after Angie's List reported better-than-expected first-quarter revenue late last month, the stock price soared more than 28 percent to an all-time high, around $26.
It entered the month of May still above $24 a share, suggesting analysts are confident of decent results in the second quarter.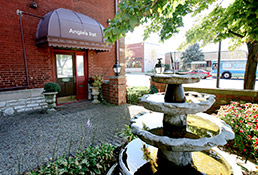 Angie's List's stock price rose on news of the company's better-than-expected first-quarter revenue. (IBJ file photo)
Indeed, the Indianapolis company raised its expectations for second-quarter revenue to the range of $58.5 million to $59.5 million, above the $57.8 million analysts had been expecting.
First-quarter results announced last month showed a 68-percent increase in year-over-year sales, to $52.2 million.
The company lost money on that improved revenue, but the $7.9 million loss was smaller than in the first quarter of 2012, when the company was $13.5 million in the red.
To the uninitiated, Angie's List is a strange duck. It loses money on a regular basis, and it burns through marketing dollars like a Hemi-powered muscle car burns through gasoline.
In fact, marketing expenses are roughly 47 percent of revenue. Much of that money goes into building a presence in new markets for its consumer ratings of service businesses such as plumbers and landscapers.
But a lot of those markets are maturing, which has helped reduce Angie's relative marketing outlay. In the first-quarter earnings report, the cost per acquisition—marketing expenses divided by gross paid members added—fell 12 percent year-over-year.
Please enable JavaScript to view this content.