Budget compromise lets Pence declare victory
Gov. Mike Pence declared victory for his long-sought tax cut, and Republican legislative leaders continued to tout their fiscal responsibility in a compromise on the two-year, $30 billion state budget.
The budget increased spending on education and roads and includes $350 million in new tax cuts. The inheritance tax will be repealed, retroactive to Jan. 1, and the personal income tax is set to fall 5 percent, from 3.4 percent to 3.23 percent, by Jan. 1, 2017.
The income-tax cut is half of what Pence lobbied for, and it won't take effect until Jan. 1, 2015. House and Senate leaders hadn't wanted to give the governor even that much, but his case was buoyed by the April revenue forecast, which predicted an increase of $290 million during the biennium.
Road builders were a big winner, as the budget pumps up state and local funds more than $400 million over the two years. The budget also provides new sources of transportation funding: 1 percent of state sales tax for current expenses and a new trust account, Major Moves 2020, which is to be used for future highway expansion.
Funding for K-12 education will increase $330 million over the biennium—2 percent in the first year and 1 percent in the second.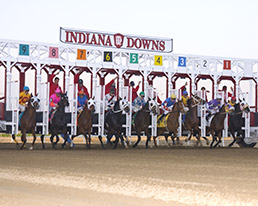 Indiana's two racetrack-casinos weren't granted permission to introduce live table games at their racetracks. Pence did not want to see gambling expanded. (IBJ file photo)
Indianapolis Motor Speedway lands $100 million subsidy
 The General Assembly gave the Indianapolis Motor Speedway a $100 million financial package to help pay for improvements at the local landmark.
Due to changes to the original House bill, the $5 million the state will give annually for 20 years to the IMS is considered a loan. The Speedway is required to pay $2 million a year, allowing for $7 million annually for bond payments, with the bonds handled by the Indiana Finance Authority.
The money, Speedway spokesman Doug Boles said, will pay for improved seating, video boards and lights at the 16th Street and Georgetown Road facility. Speedway CEO Jeff Belskus said the improvements should help IMS officials draw more events to the track.
State lawmakers said the loan will be repaid through the growth in sales and income taxes at the track and merchandise and food booths adjacent to the track. A ticket tax, which expires after 20 years, will also be imposed.
Casinos get some help
A bill designed to aid casinos in the face of neighboring-state competition met strong resistance from House Republican leaders and Pence, who didn't want to see gambling expanded.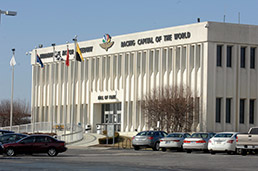 The Indianapolis Motor Speedway plans to use part of its state subsidy to renovate its Hall of Fame, along with improved seating, video boards and lights on the racetrack. (IBJ file photo)
Provisions allowing central Indiana's two racetrack-casinos to introduce live table games and riverboats to move onto land were stripped from the bill, as were significant tax breaks.
A late compromise will allow casinos to deduct free-play coupons from taxable revenue, though the amount is limited to $2.5 million this year and $5 million in the next three fiscal years.
The smallest riverboat-casinos, in terms of annual revenue, will see their tax rate drop from 15 percent to 5 percent. Casinos and racinos will also be allowed to seek Indiana Gaming Commission approval for mobile devices, to be used on the casino floor or at off-track-betting facilities.
Mass transit meets an early end
Marion County's Republican senators sent mass-transit legislation on a study-committee detour after it had easily passed the House.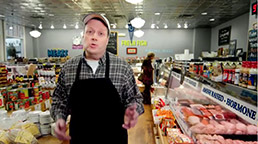 A PR campaign that included video appeals failed to yield a bill that would allow a referendum on mass transit.(IBJ file photo)
The bill would have allowed Marion and surrounding counties to create a regional mass-transit authority and hold referendums on whether to raise local income taxes to support the system. The earliest possible referendum date was November 2014.
A 2014 referendum is still possible, if a transit bill is introduced and passes next year. First, the concept will come under scrutiny by a 12-member study committee, which is expected to work until Dec. 15 and look at everything from funding sources to ridership to light-rail feasibility.
Lawmakers unite behind economic-development transparency
In a rare moment of bipartisanship, the House and Senate in March voted nearly unanimously to require the Indiana Economic Development Corp. to disclose incentive agreements and actual results—how many jobs companies created, not just how many they promised to create.
The bill calls for incentive deals between the state and companies to be available for inspection and copying once they are reached. The bill also requires annual performance reports on all incentive deals offered since 2005, including actual jobs created.
Important details the bill does not appear to require are disclosure of average wages of jobs created or individual company performance.
Legislature leaves Medicaid expansion up to Pence
After a four-month debate, the General Assembly ended where it started on a potential expansion of Medicaid: Lawmakers are letting Gov. Pence go one-on-one with President Obama to see what kind of deal he can strike.
The Legislature passed no new language regarding a potential Medicaid expansion, but instead let stand a 2011 law, which gave the governor the authority to alter the Healthy Indiana Plan to "allow Indiana to use the plan to cover individuals eligible for Medicaid resulting from passage of the Federal Patient Protection and Affordable Care Act."
That 2010 act, better known as Obamacare, called for all states to expand eligibility of their Medicaid programs up to 138 percent of the federal poverty limit, or about $31,800 for a family of four. Such an expansion would allow an extra 400,000 Hoosiers to qualify for Medicaid.
The General Assembly did set aside $250 million to prepare for the Pence and Obama administrations' coming to terms on a Medicaid expansion using the Healthy Indiana Plan. HIP, created in 2007, uses health savings accounts to help about 40,000 working adults pay for care and provides insurance coverage for larger bills.
Convenience-store bill fails to advance past committee
A Democrat-sponsored bill that would have required late-night convenience stores to include safety requirements such as security cameras and height markers failed to advance out of committee.
The tougher measures would have included installing bulletproof glass or hiring guards, among other options under the bill introduced by Rep. Ed DeLaney, D-Indianapolis. It never received a vote within the Committee on Employment, Labor and Pensions.
DeLaney drafted the legislation, which industry lobbyists criticized as "unreasonable," in response to the October 2011 shooting of a Village Pantry clerk at the 1416 W. 86th St. store. Marcella Birnell survived the shooting but suffered brain trauma.
Legislation could kill Rockport coal-gas plant
Developers say legislation passed by Indiana lawmakers requiring regulators to review a $2.8 billion coal-gasification plant to be built in southwestern Indiana will likely kill the project.
Indiana Gasification LLC Project Manager Mark Lubbers said developers wouldn't have tried to build the plant at Rockport if the law passed in late April had been in place. Lubbers said even a win in the Indiana Supreme Court, which is reviewing the state's deal with developers, wouldn't save the project.
The contract would mandate the state buy and resell synthetic natural gas produced at the plant over the next 30 years. Opponents say that deal could cause ratepayers to eat as much as $1.1 billion in increased utility rates.
Lawmakers approve fund for biosciences institute
The Legislature approved $25 million to launch the Indiana Biosciences Research Institute, which has been described as a partnership for applied research between Indiana's research universities and large life sciences companies, such as pharmaceutical giant Eli Lilly and Co.
Gov. Pence, Lilly CEO John Lechleiter and the Indianapolis-based life sciences development group BioCrossroads have all highlighted the institute as a way to create more life sciences business activity in Indiana.
Bill banning secret videotaping at businesses is withdrawn
A bill that would have made it illegal to secretly take videos or photographs that could make a business look bad failed after debate over whether it would squelch whistleblowers trying to expose wrongdoing.
The bill's House sponsor withdrew the measure after a floor debate during which several opponents argued it could lead to criminal charges against those trying to document unsafe working conditions or even customers who sent text messages about an unsanitary restaurant.
Bill sponsor Sen. Travis Holdman, R-Markle, said the bill was meant to protect factories, farms and other businesses from those who violated the owner's property rights. Opponents of the bill called it a "gag all" measure that intruded on freedom of speech rights.
Utilities' 'money grab' passes Legislature
(Editor's note: An earlier version of this story incorrectly said this bill died).
A Senate bill that critics dubbed a "money grab" that made it easier for utility companies to automatically raise their rates cleared the General Assembly.
Under Senate Bill 560, companies that file for rate increases will be able to temporarily implement 75 percent of the proposed increase if the Indiana Utility Regulatory Commission does not issue an order within 300 days.
Kerwin Olson, executive director of the Citizens Action Coalition in Indianapolis, told IBJ in January the bill was "another example of shifting the risk to the public."
– From staff and Associated Press reports
Please enable JavaScript to view this content.