The Naked Monkey started 2009 on a tear, giving the then-3-year-old Carmel waxing spa's owners welcome momentum as they opened a second location in Fishers. By fall, the recession had stopped their progress cold.
"We got hit hard," co-founder Brenda Schultz recalled. "It was like someone opened a Monkey across the street and was charging $20 less."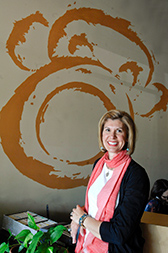 Schultz is growing the company's base of male customers. (IBJ Photo/ Perry Reichanadter)
Business picked up again the following year, and the partners emerged from the rough patch with their sights set on franchising. Their attorney began the process as the beauty school buddies fine-tuned the company they had launched with $1,000 and three credit cards.
Then everything changed.
Schultz and business partner Jeniffer Webber were working toward their goals, talking to contract manufacturers about making private-label products for the spa, when Webber fell ill in June 2011. The 44-year-old thought she had food poisoning. She actually had suffered a heart attack, then later died in her sleep.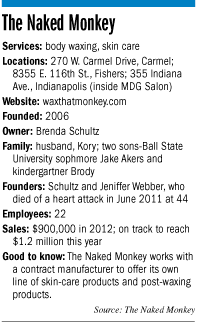 Schultz decided she wasn't ready to try franchising on her own. She put expansion plans on hold to focus on her family—at home and at The Naked Monkey.
"It's funny, I don't really revisit that very often," she said. "I'm a business owner, an esthetician, a mom and a den mother to all these women. … We laugh a lot. And sometimes we cry."
The mood has been light recently, as The Naked Monkey eases back into growth mode. Sales are on track to reach $1.2 million this year, due in part to a smaller-scale "Mini Monkey" that opened six months ago inside the new MDG Salon in downtown Indianapolis.
It has been successful enough that Schultz is exploring the idea of continuing the partnership in other markets. (Bloomington is at the top of her wish list.)
MDG Operations Director Travis Moore is equally enthusiastic. He courted Schultz's cooperation as his family's salon—formerly known as Meridian Design Group—sought to draw like-minded service providers interested in sharing space.
"We want it to be as successful as she does," Moore said. "In a situation like this, your reputation is only as good as those around you."
The Naked Monkey is among "the best of the best," he said, citing its discreet staff and savvy boss, whom he considers a mentor. Moore appreciates Schultz's analytical mind and what-you-see-is-what-you-get mind-set, among other qualities.
"She's hilarious and very compassionate, very warm," he said. "She is very much Brenda all the time. That's a refreshing quality in a businessperson."
Schultz, who became an esthetician after working in clinical research, admits to being the more reserved of founding partners. Webber was the company's idea person, she said, while Schultz took a more conservative approach.
"She would push and I would pull, for sure," said Schultz, 45.
Webber's death forced her to explore her creative side. And conservative doesn't necessarily mean stodgy. Humor is an important part of The Naked Monkey's success, Schultz said.
That starts with the name—as irreverent as it is descriptive, given the spas' focus on removing unwanted body hair—which has drawn curious customers since the first sign went up. It's also memorable—something that helps make the company's radio advertising effective.
Schultz is particularly proud of the spas' growing base of male customers, which the radio ads target.
Women might pick a waxing spa based on recommendations from friends, Community Manager Carrie Kleiman said, but men are less likely to discuss such personal matters among themselves. So a memorable commercial or tweet becomes that much more valuable.
"We definitely offend people," Kleiman said with a smile before rattling off a favorite example: "I'm not going to beat around the bush: You should wax yours."
A new series of ads now in production feature "fractured" fairy tales, starting with the story of Rapunzel, the long-haired princess trapped at the top of a tower. Let your imagination take it from there.
Kleiman serves as a sounding board for Schultz and handles the company's social media efforts, which is a point of emphasis this year. She credits her boss's hands-on approach and caring attitude for helping The Naked Monkey attract and keep quality employees.
"There's a lot of laughter," Kleiman said. "We have fun."
Both women said Webber would be thrilled with the company's progress—if not last year's decision to close the spas on the anniversary of her death for a company-wide lunch and cemetery visit.
"She would be so pissed," Schultz said.•
 
Please enable JavaScript to view this content.