Baldwin & Lyons Inc.'s recently announced move to Carmel is an even bigger blow to Indianapolis' downtown than was initially apparent.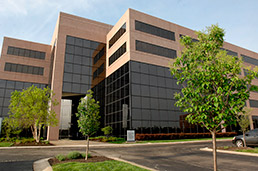 Baldwin & Lyons will spend $28.9 million to buy and improve its new Carmel headquarters. (IBJ File Photo)
The 133 full-time jobs the truck and auto insurer plans to add over the next five years will pay around $60 an hour, or nearly $125,000 a year, the Indiana Economic Development Corp. board said at its May 7 meeting.
The company announced in early May that it would move its headquarters from 1099 N. Meridian St. downtown to 111 Congressional Blvd. in Carmel.
Baldwin & Lyons will spend $28.9 million to buy and improve the 184,000-square-foot Carmel building.
In return for the new jobs, IEDC offered a package of tax incentives and training grants that equate to about $27,800 per job.
That's more than three times IEDC's average incentive per job, but then again, the jobs are paying several times the average Hoosier wage, IEDC board member and former Lt. Gov. John Mutz said.
Mutz acknowledged that subsidizing corporate moves within the same metropolitan area tends to create tension between cities, but he said IEDC staff communicated well with Indianapolis Mayor Greg Ballard's office.
Chad Pittman, IEDC executive vice president, said Baldwin & Lyons had also been considering Chicago, so it was better to ensure the home-grown company stayed in Indiana.
Baldwin employs about 350 people in the state.
Please enable JavaScript to view this content.