The Robert Irsay Pavilion at 116h Street and Ditch Road in Carmel has hosted its last event.
Nancy Irsay, the widow of the former Indianapolis Colts owner, has put the 10,000-square-foot facility and her adjacent home on the market for $3.7 million.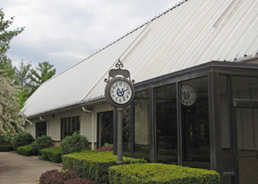 Irsay used the pavilion on her property to help local charities host events. (IBJ Photo/Scott Olson)
Irsay's decision to sell the pavilion is a blow to dozens of local charities that have hosted fundraisers there, usually at a fraction of what they would pay to rent similar facilities.
A Boys and Girls Club of Indianapolis event May 2 was the final event at the pavilion under Irsay's ownership.
"The way Nancy ran the facility, it was just a very cost-effective location to hold a fundraiser," said Rick Whitten, executive director of the local Boys and Girls Club. "Having priced lots of places, I would guess she was underwriting a lot of the costs to operate the facility."
Indeed, Irsay typically would charge a flat $1,000 even though expenses might run $3,000 to $5,000 per event. But her generosity can only extend so far. She said she can no longer afford to absorb the additional costs.
"Even a thousand dollars is a lot of money" for charities, she said. "But you get into a habit of doing things."
Irsay is listing the nearly 40-acre property, including the pavilion and her 8,600-square-foot home, with Bif Ward of F.C. Tucker Co. Inc, the Indianapolis area's top real estate agent in terms of sales.
In 2011, the most recent year for which IBJ statistics are available, Ward's largest transaction was nearly $2.9 million. Irsay's property would dwarf that, if it fetches near the asking price.
Ward's listing says the property's planned sale provides a "once-in-a-lifetime opportunity to own one of the most sought-after estates in Hamilton County."
The pavilion held its first event in 1986, for Christamore House and Little Sisters of the Poor, in conjunction with Robert Irsay Charities and the Indianapolis Colts.
The Irsays expanded the facility in 1992 to include a full stage, sound booth, floating dance floor, changing rooms and a capacity to seat 430 for dinner.
Celebrities such as Tony Bennett, Kelsey Grammer and John Mellencamp attended events there. But Nancy Irsay mostly catered to small charities that couldn't afford to host events at pricier venues.
She might book up to 20 events a year. That might not seem like a lot, but she only made the venue available six months out of the year—March to May and September to November.
The pavilion is constructed to be disassembled and moved, if necessary, which could prompt Irsay to sell the steel structure separate from her home.
The 15-room spread was built in 1978 and costs her more than $43,000 in annual property taxes, according to the listing information.
Irsay wants to downsize and spend more time in California, where a good friend resides. Irsay also lives part of the year in England, where her father was born.
Still, she has no plans to disappear entirely from the Indianapolis area.
"I'm very comfortable here," she said. "I've lived here too long."
 
Please enable JavaScript to view this content.