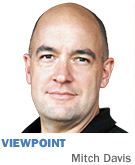 With businesses everywhere working to attract and retain great talent and customers, giving back to the community can end up on the back burner. The time and effort required to connect with charities, plan events and provide time off from critical business focus initially seems to be counterproductive. This paradigm leaves many leaders scratching their heads about corporate social responsibility.
The most successful companies, however, have great business results along with a well-executed focus on community relations and corporate giving.
The missing link for some is the understanding that top-notch employees and customers recognize and respect companies that serve their communities while thriving as a successful business.
The most effective enterprises realize that outstanding results are actually supported by being a great corporate citizen. This includes demonstrating to employees and customers alike that they care as much about their neighbors and communities as they do about the balance sheet.
Young, talented employees continue to accept positions based on the total package, including corporate culture and social responsibility. As final decisions are being made, they will often accept the role providing the freedom and resources to give back in the midst of record-breaking sales and innovation.
According to The Chronicle of Philanthropy, nearly 71 percent of employees surveyed said their employer's volunteer program made them feel "more positive" about working there. Corporate employees said the best way to recognize their volunteerism is for the company to donate to the charities to which they volunteer.
Companies are developing cultures of greater purpose without sacrificing their ability to pay the rent and make payroll by taking risk. Risking that the time off given to serve charities will build teamwork instead of losing precious hours of productive time. Risking that employees will stay with the company because it has demonstrated the desire to pay it forward to those who need the company's time, talent and resources.
Risking that customers will appreciate the company's passion for serving food at the local homeless shelter during business hours. And finally, risking that there will be unusual cooperation among all business relationships to help the company succeed because it is willing to help others.
The Corporation for National and Community Service report showed that, among citizens who volunteered, the top activities included fundraising or selling items to raise money (26.2 percent); collecting, preparing, distributing or serving food (23.6 percent); engaging in general labor or transportation (20.3 percent); or tutoring or teaching (18.2 percent).
These numbers demonstrate the desire by employees to do more than donate money. They are volunteering their time and talents to become engaged with charities in a meaningful way and becoming volunteers for a lifetime.
Companies should keep the momentum going, roll up their sleeves, hit the pavement, and help those in our communities who need them the most.•
__________
Davis is executive director of Companies With A Mission, an Indianapolis-based not-for-profit. Send comments on this column to ibjedit@ibj.com.
Please enable JavaScript to view this content.