Cummins Inc. wants to expand its downtown Indianapolis presence and is searching for land to construct an office building that would double the space the Fortune 500 company occupies in the city, several local office brokers said.
The Columbus-based manufacturer of diesel engines leases roughly 30,000 square feet between the OneAmerica Tower and Capital Center North for several corporate departments.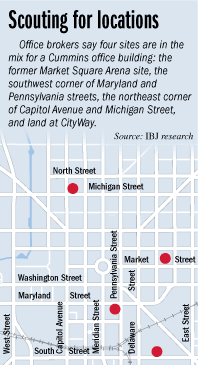 Cummins wants to consolidate the offices before its leases expire within the next two years by constructing its own building that could be as large as 70,000 square feet, the brokers said.
The company now has 70 workers downtown. The additional space would enable Cummins to bring more employees from Columbus to Indianapolis to grow its visibility within the state's largest city.
A company spokesman said it's too early in the process to provide details about its plans.
"Cummins is evaluating our Indianapolis office presence in an effort to increase efficiencies as well as provide the best work environment for our employees," Jon Mills said.
Cummins would prefer a new building rather than leasing existing space, said John Robinson, managing director of Jones Lang LaSalle's Indianapolis office.
"People who have land in the [central business district] area should be excited about talking to Cummins," Robinson said.
Cummins is scouting at least four locations, including Buckingham's CityWay development at Delaware and South streets and the former Market Square Arena site on the eastern edge of downtown.
Building at CityWay could be attractive because of its close proximity to other large companies such as Eli Lilly and Co., WellPoint Inc. and Rolls Royce Corp. With $17.3 billion in annual revenue, Cummins ranks as the state's third-largest public company, trailing only WellPoint Inc. and Eli Lilly and Co.
In addition, Buckingham is seeking a corporate presence for the property. It attempted to lure trucking and auto fleet insurer Baldwin & Lyons Inc. from downtown's Landmark Center before the company announced earlier this year that it will move to Carmel in August.
CityWay's office component is planned for a parcel east of The Alexander hotel. The development also includes apartment units with first-floor retail space.
A spokeswoman for Buckingham declined to comment on Cummins' interest in the property.
City officials undoubtedly would welcome a larger Cummins presence. It ranks 150th on the most recent Fortune 500 list, and any additional employees the company would bring to the city would help downtown's economy.
It's unclear at this point whether the city would provide incentives to entice Cummins to build a larger office.
At the former Market Square Arena site, city officials are considering six proposals to redevelop a parking lot at the northeastern corner of Market and Alabama streets. City officials hope a mixed-use project on the northern half will help generate demand for future development on the southern half.
"Any company similar to someone like Cummins choosing to locate, grow and call Indianapolis home is always a good thing for the city and speaks to the attractiveness of the city from a business standpoint," said Deputy Mayor of Economic Development Deron Kintner.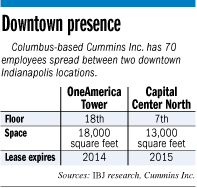 Two other surface parking lots also are on Cummins' list, brokers said. They are at the southwest corner of Maryland and Pennsylvania streets and the northeast corner of Capitol Avenue and Michigan Street.
The land at Capitol and Michigan is owned by OneAmerica Financial Partners Inc., a company spokesman confirmed.
The parking lot at Maryland and Pennsylvania is owned by local developer Allen Commercial, which had planned to develop the lot as part of a mixed-use project called Penn Centre before the economy tanked. The project originally called for apartments and two hotels on lots west of Pennsylvania Street between Maryland and Georgia streets.
Whether Cummins could be part of the mix is unclear. CEO Greg Allen did not return a phone message.
"There's some momentum building to reignite the project," he told IBJ in February 2012. "We're going to need some support from the city, and we may have to change the mix to make a project happen."
Cummins established its Indianapolis outpost in 2004, Mills said.
The two locations at OneAmerica Tower and Capital City North house executive offices, as well as corporate departments such as human resources, legal, information technology and investor relations.•
Please enable JavaScript to view this content.