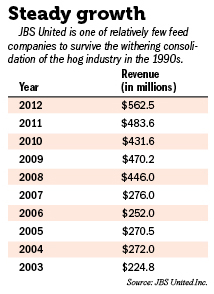 JBS United Inc. has survived a massive shakeout of the hog feed industry to become one of the largest in the nation.
Headquartered in Sheridan, JBS churned out $562.5 million in revenue last year–21st on IBJ's list of largest private companies in the state.
No one is able to track exact market shares of feed companies, said John Swisher, who started the company in 1956 and at 83 remains chairman. But JBS executives know that one in five pigs in the country eat their feed—leading them to believe the company is in the top three, alongside fellow heavyweights Purina Feed LLC and Provimi.
Swisher said JBS' intense focus on research is building market share.
"We have such an advantage over them that they don't concern me," he said.
The hog feed industry is more than a decade beyond the sweeping consolidation of the '90s that forced out thousands of family farms as corporations took advantage of new techniques to enable raising hogs in huge, factory-type complexes.
Most feed companies perished because they couldn't adapt, said Purdue University ag economist Chris Hurt. But JBS thrived because it recast its service-focused strategy to the consolidators.
"They've done well," Hurt said. "What comes to mind is really high service orientation and problem-solving for their clients."
One JBS customer is Smithfield Foods Inc., a Smithfield, Va.-based integrator of farms and packing houses set to be acquired for $4.7 billion by China's Shuanghui International Holdings Ltd.
JBS specializes in "pre-mix," a cocktail of vitamins, minerals and other pricey nutrition typically mixed with corn and soybean meal to create a complete feed.
JBS has never pitched the cheapest pre-mix, but rather argues the quality of the feed and the company's customer service lead to lower overall costs for customers.
Pre-mix, mostly for swine, but also for dairy and poultry, generates 38 percent of JBS revenue and most of its profit.
Half of JBS revenue comes from grain elevators it operates in Illinois, and the remaining 12 percent is generated by production hog farms in Indiana, Illinois and Iowa.
JBS focuses on pre-mix for "nursery" pigs, 2- to 8-week-olds. The pre-mix is complex to formulate and mixed in small batches, but can pry open pre-mix sales for older animals.
The company is broadening its service thrust through its June 2012 acquisition of Iowa software firm Prairie Systems LLC that enables farms to track feed eaten by a pig throughout its life.
JBS also has started selling a hormone that stimulates ovulation in sows in order to enable synchronized artificial insemination, and is pushing into joint ventures with companies and universities that can help it better understand how feed is digested.
Swisher and his wife, Jean, have set up the company to endure after they're no longer involved.
Managing Director John Corbett is married to the younger of the Swishers' two daughters, Mary, and the Corbetts' son-in-law, Steve Biddle, is an analyst in the nutrition group.
The Swishers' other daughter, Ellen Crabb, is on the board and involved in strategic planning.
The family controls 65 percent of the stock, with the remainder spread among employees.•
Please enable JavaScript to view this content.