The low-profile but high-impact Nina Mason Pulliam Charitable Trust is at a key juncture after 15 years and more than $200 million in grants.

Ivey
Founding CEO Harriet Ivey plans to retire at the end of January, and one of her top lieutenants, Michael Twyman, just departed for a job directing the Institute on Race and Ethnicity at the University of Arkansas in Little Rock.
But leaders nevertheless are confident the private foundation can withstand the upcoming transition.
"Harriet has done a wonderful job building a stable organization," said Kent Agness, one of three trustees who govern the grantmaking group and head of its newly formed executive search committee. "Now it's up to us to find someone who will maintain and build on that base. We're not looking to change direction."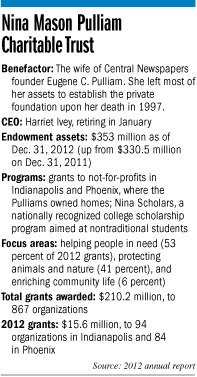 Maybe not, but the trust has fine-tuned its philanthropic approach since it came to life in 1998 following the death of its namesake and benefactor, the wife of Central Newspapers founder Eugene C. Pulliam.
Worth $370 million at the end of May, its endowment is still recovering from recession-induced losses that plagued many foundations nationwide. Since endowment proceeds are the organization's only source of revenue, the drop from a 2007 high of $415 million forced some introspection.
The result was an increased emphasis on supporting big-picture initiatives rather than one-off grants.
"Doing more with less is a common theme in nonprofits, for-profits and our personal lives," said Ivey, 64. "Our interest is in becoming more intentional, making more of an impact."
Last year, for example, trustees approved grants totaling $3.5 million for an effort to get animal-welfare organizations to work together to increase pet adoptions and encourage responsible pet ownership.
More than $1.5 million of that went to the newly formed Indianapolis Animal Welfare Alliance, which also got grants from Lilly Endowment Inc. and the Tony Stewart Foundation.
"As its grantmaking has matured, the trust is effectively—and strategically—partnering with other organizations," said Marissa Manlove, CEO of the Indiana Grantmakers Alliance. "They've been very thoughtful."
Such collaborations still must fit into one or more of the organization's three funding priorities: helping people in need, protecting animals and nature, and enriching community life. But the balance of giving shifts as needs change.
The Nina Mason Pulliam Legacy Scholars program, launched in 2001 to help non-traditional students attend college, has stood the test of time. Last year, the initiative selected its 500th scholarship recipient.
The competitive program's longevity—and more than a decade's worth of data—is proof of the initiative's success, Ivey said. It can be more difficult to gauge the effectiveness of small gifts that aim to address big problems.
"Everyone in the philanthropic world is talking about how to be more impactful, how to know when you have made a positive impact," Ivey said. "The reality is, choices have to be made, and we need to think about results."
So the trust examined its already-rigorous grant review process and began asking applicants to show how they plan to reach the intended outcome. Last year, it eliminated one of its three annual grant cycles and hired an internal director of evaluation who is working with trustees, program staff and grantees.
"We need to be able to step back periodically and say, 'This is how we made a specific difference,'" Ivey said. "A foundation is truly only as good as the work of its grantees. … We are the enabler."
She praised the organization's staff of 18—split among offices in Indianapolis and Phoenix, where the Pulliams lived and operated newspapers—for their commitment to the difficult task of responsibly giving money away.
"We have very capable, trained professionals who are dedicated to their work," said Ivey, who makes about $350,000. "This is not a game."
Keeping everyone on the same page can be a challenge, given the physical distance between the offices. Ivey spends about two-thirds of her time in Indianapolis, but maintains a second home in Phoenix and travels there at least once a month.
Technology helps bridge any gaps, but she said establishing that "dual life" was one of the most difficult parts of the job—and likely will be for the next CEO, too.
Of course, Ivey was starting from scratch. She moved from Washington, D.C., to take the trust's top job in 1998, so she had to get acquainted with two cities. The learning curve won't be as steep if trustees find her successor in Indianapolis or Phoenix.
"It's a tough job description," said Agness, one of two trustees appointed in December 2011 following the retirement of founding directors Frank and Nancy Russell. "Our CEO has to travel to and be involved in two communities—know people and make connections. And Harriet has done a marvelous job."
Ivey said she has been discussing the leadership transition with the trustees for months. Twyman's June departure after 14 years leading the Indianapolis grantmaking operation was unrelated, but she expects the job to stay open until the new CEO is in place. She'll step into the breach as needed in the meantime.
"Our grants program staff is very solid," Ivey said. "I'll do what I can to help, but I expect a smooth handoff of each baton."
The best advice she can give her successor is to continue looking for ways to improve the organization's grantmaking approach to make sure it is addressing community needs.
"It's difficult to have to say no," Ivey said, but "be compassionate, keep your eyes and ears open, and really get a handle on reality. Don't get hooked into the rhetoric out there in the community."•
Please enable JavaScript to view this content.