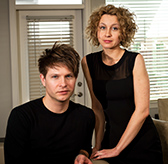 Krzysztof Urbanski and his wife, Joanna.
(IBJ Photo/Eric Learned)
The Indianapolis abode of Polish-born conductor Krzysztof Urbanski and his wife, Joanna, is nice but a bit on the small side—a 1,376-square-foot apartment inside downtown's new CityWay development.
But it's the closest thing that Urbanski, who spends about 15 weeks stateside annually, has to a permanent address.
"We don't spend this much time in our house in Poland," he said.
Actually, he and his wife don't spend a lot of time anywhere. Currently in his second season as music director of the Indianapolis Symphony Orchestra, Urbanski, 30, is the youngest person ever to lead a major North American orchestra. He's also chief conductor of the Trondheim Symphony Orchestra in Norway and principal guest conductor of the Tokyo Symphony Orchestra.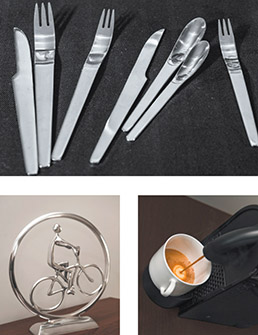 The couple's tastes run toward the sleek and modern.
(IBJ Photos/ Eric Learned)
In addition, he makes numerous guest appearances with a globe-spanning roster of musical institutions ranging from the Czech Philharmonic to the Los Angeles Philharmonic. And if that isn't enough to keep him busy, he's also adjunct professor of music (orchestral conducting) at the Indiana University Jacobs School of Music.
CityWay developer Buckingham Cos. provides an apartment for the Urbanskis, an apartment for visiting musicians, and Alexander hotel rooms for other visiting musicians as part of its sponsorship of the Indianapolis Symphony Orchestra.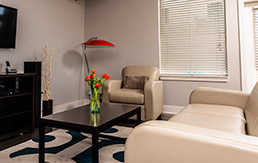 Their home in Poland is even more sparse.
(IBJ Photo/ Eric Learned)
Urbanski's Indy digs lack some of the personalized flair of the couple's Warsaw home, which they designed from scratch. The apartment sports a decor so spare that it borders on barren.
"Our place in Warsaw is so simple that some people who come there say, 'Are you living here?'" Urbanski said. "Because everything is hidden [in cabinets or walls]."
It's no surprise that, given their minimalist bent, one of the first things they did to their two-bedroom, two-bath, fully furnished Indianapolis apartment was remove some of its furnishings. Then they made a handful of additions, including an espresso machine and some treasured cutlery from Poland. Urbanski also wants to purchase an electric piano. There simply isn't room for an acoustic one in their modest home.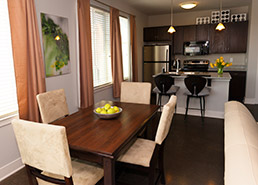 The couple has come to appreciate the American practice of combining cooking, dining and living spaces; in Poland the spaces are separated, sometimes between floors. 
 (IBJ Photo/Eric Learned)
The walls are covered with framed prints of photos taken by Joanna, including a black-and-white image in the master bedroom of Urbanski with his nephew, and a close-up color shot in the living room/kitchen of an exotic-looking plant. A plant that, upon closer examination, turns out to be a bunch of broccoli.
"We had it either for lunch or dinner," Urbanski said of the photogenic vegetable. "Before my wife put it into the pot, she decided to make a picture."
Cooking is a big leisure activity for the couple—something they didn't do much of during Urbanski's first Indianapolis season, when they stayed at a hotel and dined mostly at restaurants. That's why they're particularly taken with the apartment's kitchen-dining-living area. It's the default arrangement in most new American homes, but a comparative rarity in Poland, where the kitchen and living areas sometimes don't even occupy the same floor.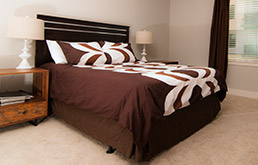 Much of the decor highlights contrasting earth tones.
(IBJ Photo/ Eric Learned)
Urbanski also appreciates the apartment's modest balcony, where he keeps a small grill. A maestro at grilling as well as music, he'll happily step outside in the dead of winter to sear some steaks.
"It doesn't matter how cold it is," he said. "I just love to grill."
Until recently, the Urbanskis lacked the time and logistical support to truly explore their adopted city. But now that they're a bit more established, and keep their own car at CityWay, that will change. They've put up a map of downtown Indianapolis near their tiny entryway, so they can familiarize themselves with the local geography.
"In the moments when we're putting our shoes on, we can learn a little about Indianapolis," Urbanski said. "During my first season, I was here for only six weeks, and I had so many meetings and so many things to do that we simply didn't have time to look around and discover Indianapolis. But now we'll finally have some time to look around and get inspired."•
Please enable JavaScript to view this content.