Space is at a premium in the Hamilton County Government & Judicial Center, prompting officials to consider solutions running the gamut from an expansion of the existing building to a mass exodus from downtown Noblesville.

To no surprise, the latter possibility has created a bit of a stir in the county seat.

Dillinger
"There has been a lot of speculation," said Renee Oldham, executive director of Noblesville Main Street, a membership-based organization that aims to keep downtown vibrant. "We are in the process of collecting information and meeting with county and city leaders to understand exactly what's on the table."

County Commission President Steve Dillinger laid out a veritable smorgasbord of options to deal with the space crunch at the 21-year-old facility, which houses the increasingly busy Hamilton County courts along with several other county offices, including the prosecutor, clerk, surveyor and planning department. The treasurer, auditor, recorder and most of the assessor's staff works in the restored historic courthouse across the street (connected to the judicial center via tunnel).

The county owns the land directly west of the existing building—which Dillinger said was constructed with expansion in mind—as well as several nearby downtown parcels now used as employee parking lots that could be developed into additional office space.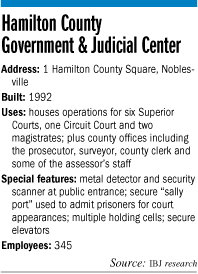 It also owns property on Foundation Drive east of State Road 37, where the county Health Department and Coroner's Office moved several years ago (and where there's room for another building).

Which option makes the most sense remains to be seen. Dillinger said a decision likely won't come for months, and definitely not before the commissioners have a chance to vet the possibilities with the community and the County Council, which controls the public purse strings.

"It is all very preliminary," he said.

The discussion began when the commission, the county's administrative and legislative body, asked departments to submit capital-projects requests for the next few years—a period when Dillinger said more than $80 million in debt is expected to be paid off. Office and storage space was a common request, along with technology updates.

"We have a wish list this big," Dillinger said, spreading his arms apart. "Now we have to focus in on prioritizing it."

Something has to give. The judicial center is "pretty well maxed out" now, he said, and officials expect the Legislature to add another judge or magistrate to ease the courts' heavy caseload. With amenities like holding cells and secure elevators for prisoners already in place, the courts aren't likely to go anywhere.

And Dillinger said many of the other county offices are so interrelated that they need to stay in close proximity.

"If we move one, we almost have to move them all," he said.

That's the rub. Moving 150 or so county employees around downtown is one thing. Moving them—and the citizens who conduct business at their offices—elsewhere is quite another.

A decades-old study conducted while Dillinger was a Noblesville city councilor suggested as much as 80 percent of downtown traffic originated with a trip to a county office. Main Street's Oldham doesn't have current estimates, but she said relocating anything that serves as a destination could have an impact on businesses.

"Obviously it's an area of concern," she said. "People are attracted to people."

Downtown's retail and restaurant offerings draw about 168,000 visitors a year, Oldham said.

"This is a genuine, authentic downtown," she said. "And it's beautiful … Many downtowns this size are boarded up."

Dillinger said the county made a commitment to downtown when it built the current facility in 1992, and that certainly will be a factor in the upcoming decision. But it won't be the only one.

Ultimately, officials must be able to answer a key question, he said: "What is the most economical, responsible way to do this?"•