The sign in the window at 5901 N. College Ave. thanking customers for 42 years of business says it all.
Fox Studios Inc., the venerable stained glass company whose work is on display at countless churches throughout the state and even the Indiana Statehouse, is closing.
Clare Fox Acheson, 59, a second-generation owner, is ready to retire from the demands of her 12-hour days. Older sister Ann Fox Vannice cashed out about three years ago, and younger sibling Mary Considine lives in Cincinnati and hasn't worked the showroom floor in years. A fourth sister was never involved.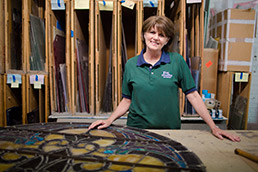 Clare Fox Acheson is closing the shop her parents started in 1971 to keep her father occupied after his retirement. (IBJ photo/Aaron P. Bernstein)
With none of their children interested in carrying on the family business, Acheson made the difficult decision to close up shop. She's finishing about a dozen jobs as she prepares the building that the family has owned since 1980 for new tenants, one of which is an interior design firm.
"Never in my life did I think I'd have my desk in with my men, but it's working," said Acheson, who now works alongside the glass cutters and whose work space has shrunk from 6,700 square feet to a minuscule 1,100 square feet and a trailer during the transition.
But actually, she's quite comfortable jumping in and getting her hands dirty, clearly evident from her work attire. Dressed in blue jeans and a matching blue Fox Studios T-shirt, Acheson has been cutting glass since President Nixon's resignation nearly 40 years ago.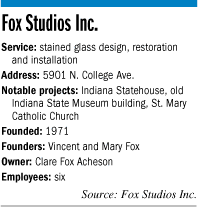 The firm's original business plan likely fit on the size of a napkin. It all started with a broken stained-glass lamp that her father, Vincent, repaired for her mother, Mary. The premise: Fox Studios would serve as a part-time hobby to keep him occupied after he retired as a sales engineer.
Though simple, the business quickly became successful. Vincent quit his job within about a year of the 1971 launch to devote all his time to the new endeavor.
"It just took off right away," recalled Acheson, who joined in 1974.
She declined to divulge annual revenue but said the company could handle up to a few hundred projects a year, ranging from restorations to new installations.
The company has never employed more than 10 workers, including an artist who's been there 28 years. Another plans to start his own stained glass company, taking what he's learned from Fox Studios after Acheson retires.
Acheson has been careful not to "over-grow" the company as she's juggled raising three children with her contractor husband, Donald Acheson. She met him in 1980 while he renovated the building Fox Studios moved to and is now preparing to leave.
Fox Studios is still a major player in the stained-glass industry, often competing with national rivals and building a reputation for paying careful attention to client needs.
Fox Studios landed its first large project in 1988 when it won the bid to restore the stained-glass dome at the Indiana Statehouse in addition to the state Supreme Court and Senate chambers.
The job took months to finish, and its prominence landed Acheson on a local television newscast.
Churches account for about 75 percent of the company's work and keep Fox Studios busy. If parishioners aren't building a new sanctuary, Acheson said, they're restoring the one they have.
The company's more recent clientele includes St. Paul's Episcopal Church on North Meridian Street, St. Mary Catholic Church at New Jersey and Vermont streets, and St. Roch Catholic Church on the south side.
Fox Studios installed eight new stained glass windows at St. Roch in 2006 and eight more a few years ago during construction of Roncalli High School's new chapel, said Rev. James Wilmoth of St. Roch. He also serves as Roncalli's chaplain.
"They were just fantastic people to work with," he said. "They would go out of their way to help you in any way that they could."
Fox Studios has been accredited since 1978 by the Stained Glass Association of America, meaning it's passed rigorous standards set by the organization. It's just one of 80 accredited by the Kansas City-based group, though 1,500 studios likely are capable of meeting the standards, said Katei Gross, the group's executive administrator.
"Because we aren't government-regulated like other trades, a lot feel like they don't have to be accredited because people look at it as more of an art form," she said.
Fox Studios gets most of its glass from the oldest art-glass manufacturer in the country, 125-year-old Kokomo Opalescent Glass.
Acheson never intended to carve out a career in the stained glass industry. She had been attending Indiana State University, studying French and English. But when her mother needed surgery that would sideline her for a few months, Acheson forewent her senior year and stayed in Indianapolis to lend a hand.
Acheson ultimately received a degree from IUPUI a few years later and taught as a college student at Cathedral High School in the event she needed "something to fall back on."
That never became necessary.
"Before long, it was obvious," Acheson said. "I was staying."
Her father retired from the business in the early 1980s, not long after the company moved to its present location from a leased building at 54th and Winthrop streets. He died in 1999. Her mother retired in the late 1980s and at 91 years old still visits the shop.
Acheson's plight surrounding the closure of Fox Studios is becoming more common, said Barbara Quandt, Indiana director of the National Federation of Independent Businesses.
"It's possible the next generation tends to see more of the problems and risks involved in operating a small business and may not choose to have that type of life, which is a shame, because small businesses create most of the jobs," she said.
Acheson, who turns 60 in November, is following in her father's footsteps by retiring at the same age he did, though she said she could "do this forever."•
Please enable JavaScript to view this content.