An 83-year-old downtown building that takes its name from the classy car dealership it once housed is poised for a rebound after years of sputtering occupancy.
About a quarter of the 50,700-square-foot Cadillac Building at the northwest corner of Capitol Avenue and Michigan Street has been empty for at least five years.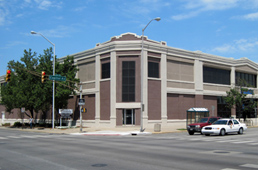 The Cadillac Building's owner is investing $500,000 in its exterior to take advantage of new attention to downtown's northwest quadrant. (IBJ Photo)
The Stough Group, the Cincinnati-based company that owns it, last year gave the building a boost by investing $400,000 in a modest exterior renovation. Now, it's set to spend another $100,000 to install new windows on the first floor in spaces that had been filled in long ago.
Stough filed plans with the state late last month to further renovate the building and should have the large windows installed by October, said Scott Stough, the company's director of marketing.
"We're going to restore the retail windows on the first floor as a proactive approach to opening up the space," he said. "It should look very nice, and hopefully we'll get a quality tenant in there."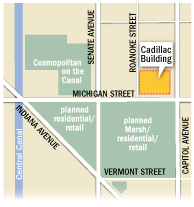 But perhaps the building's biggest selling point is Flaherty & Collins Properties' $85 million Axis at Block 400 mixed-use project right outside the Cadillac Building's front door. The local developer is transforming an entire city block of surface parking into a Marsh grocery store, 487 apartments, additional retail space and a parking garage on the south side of Michigan Street between Capitol and Indiana Avenue.
In addition, a block west of the Cadillac sits Flaherty's Cosmopolitan on the Canal, which boasts 218 units.
"As that area's coming around with the Marsh development, it's got a lot of potential going forward with the additional residential component," said Gary Perel, a retail broker at Newmark Knight Frank Halakar. "All those units coming in will certainly help that area."
 
Scott Lindenberg of Reliant Partners Commercial Realty is listing the roughly 12,000 square feet that's available in the two-story building for $9.95 a square foot. The best retail spot undoubtedly is a 7,200-square-foot, first-floor space fronting Michigan Street that's getting serious interest.
Lindenberg expects to have a formal commitment signed next month with a first-floor tenant occupying the space by the end of the year.
"Current ownership has made a commitment to the building, and the neighborhood is turning," he said. "It's a hot little area right now."
Another 4,500 square feet of loft space is available on the second floor, which has 12-foot ceilings and exposed beams. The second floor already is home to Indianapolis School of Ballet, which leases about 13,000 square feet, and Riolo Dance, a dance studio that leases 3,500 square feet.
The building's oldest tenant is PlasmaCare, a plasma donation center that occupies the majority of the first floor in a space that fronts Capitol Avenue. PlasmaCare moved into the building not long after Stough Group bought the property in 1983.
Stough owned PlasmaCare, which has facilities in Virginia, Alabama and throughout the Midwest, until about six years ago. It got into commercial real estate by purchasing properties suitable for housing the centers. When Stough sold PlasmaCare it kept the real estate.
Stough also owns the building immediately west of the Cadillac occupied by Mo'Jo Coffeehouse. It recently received a fresh coat of paint courtesy of Stough. in addition, the company plans to resurface three parking lots it owns in the area totaling 220 spaces.
Stough developed and owns the 22,000-square-foot Lockefield Commons retail center at 901 Indiana Ave. as well as the Pavilion at Castleton, a 42,000-square-foot retail center on the north side of Castleton Square Mall that Stough built in 1986.
 
Please enable JavaScript to view this content.