Indianapolis Motor Speedway officials say they've seen no adverse sales impact from a risky move to raise ticket prices for the 2014 Indianapolis 500 by about 15 percent—the first price increase in almost a decade.

Boles
In fact, Speedway Vice President Doug Boles said ticket renewals—which were due June 10—are actually up 1 percent or so over this same time a year ago. Speedway officials are in the early stage of tabulating renewals, with snail-mail responses still being counted.
"We understood there was some level of risk with this price increase," Boles said. "We absolutely took into account how this was going to affect our renewal rates and number of account holders."
While Boles said IMS officials have heard some complaints about the price increases—of 25 percent in some cases—he noted attendance has gone up for the last two Indianapolis 500s. Speedway officials expect another attendance increase in 2014.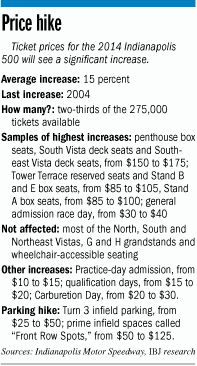 "We're not sold out yet, and that's our goal," Boles said, adding that the race hasn't been sold out since the early 2000s.
The IMS hadn't enacted a ticket increase for the Indianapolis 500 since 2004, and new Hulman & Co. CEO Mark Miles felt the demand for tickets and sale price of tickets—especially in prime locations—on the secondary market indicated it was time for a price hike.
"We looked at the demand and we saw on eBay that our $150 tickets were selling for between $350 and $550," Boles said. "Our fans seem to understand. Some said they'd like to see a more consistent, gradual increase in ticket prices and we'll take that into account when we consider ticket prices in the future."
The Speedway had fallen behind the times, sports marketers said, causing Miles to draw up a new plan after taking his job overseeing the Speedway and IndyCar Series in December.
"They're playing catch-up with the rest of the industry," said Larry DeGaris, director of academic sports marketing programs at the University of Indianapolis. "You could argue that, by not raising tickets before, they've left some money on the table."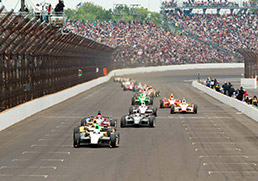 Attendance has risen for each of the last two Indianapolis 500s and, despite a sizable ticket-price hike, track executives predict another attendance increase in 2014. (Photo courtesy of Ed Carpenter Racing)
Ticket prices for two-thirds of the approximately 275,000 seats sold for the Indianapolis 500 are being increased for 2014. Some of the highest increases: $175 tickets are going up to $200 and $85 seats are rising to $100 and $105. General admission on race day will increase from $30 to $40.
By comparison, there are precious few seats for the Daytona 500 below $100, and those don't offer a view of the finish line. Many of the prime seats are sold as part of a four-day package for about $700.
Mark Rosentraub, a University of Michigan professor and sports business expert who has done economic impact studies on the IMS, says the price increase could score the Speedway more than $2.5 million in additional revenue next year.
It's no secret the Speedway is looking to raise money wherever it can. Miles is considering adding lights and high-definition video boards and making other major upgrades to the facility, including a multimillion-dollar project to upgrade the facility's ADA accessibility, before the 2015 race.
The IMS is required to raise $2 million annually for the next 20 years for capital improvements to qualify for $100 million from the state to be given over that same period.
Another factor that likely put pressure on Miles to raise ticket prices is the fact that the IMS has one of the most fan-friendly policies when it comes to food and beverages, allowing fans to bring in their own.
"Considering what they forgo in concession revenue, that policy puts pressure on [Speedway officials] to raise revenue through ticket prices," Rosentraub said.
While Rosentraub said the Speedway could prohibit fans from bringing in food and beverages, he thinks that might cause a bigger backlash than a ticket price increase. Additionally, he said, it would require a considerable capital outlay from the IMS to upgrade its food services to supply food and drinks to the masses.
"I think [the ticket price increase] is smart business," Rosentraub said. "It may actually help keep this event alive."
Despite a still-tepid economy, Rosentraub pointed out that ticket demand across the major stick-and-ball sports hasn't declined.
"That's a key indicator and the data show that demand [for live sporting events] has remained strong," he said.
But there's another critical factor that must be considered, said Tim Frost, a Chicago-based motorsports business consultant.
"Attendance for racing events, [whether] IndyCar or NASCAR, isn't on the rise right now," he said. "[IMS officials] are trying to test the market and look for ways to generate income, but people right now are very sensitive about ticket-price increases, and I would suspect when the final count comes in, they're going to lose some renewals."
One thing, though, is certain: "The marketplace is going to tell them pretty immediately how people feel," Frost said.
With television ratings still a major struggle for the IndyCar Series, the market for open-wheel racing nationally doesn't look terribly strong.
"While that's a concern, the Indianapolis 500 is an iconic event, one that stands apart from the rest," DeGaris said. "I'm not sure the popularity of the series reflects all that much on this single event."
Despite the 2014 ticket-price hike, Boles said, "We still feel like we're on the lower level of pricing for a premium sports event. We still feel like we offer one of the best values in sports."
Boles is not alone. George Phillips, an IndyCar fan who pens the racing blog Oil Pressure, said he didn't hesitate to renew his four Indianapolis 500 tickets, which increased from $85 to $100 each.
"Very few fans will balk at the increase in ticket prices," Phillips predicted. "I'll cough up an extra $15 per ticket for my four tickets and deal with it. … Why? Because it's the greatest event of the year and each year becomes a memory of a lifetime."
The Speedway didn't stop at ticket prices, also bumping parking rates. Spots inside the track that were free two years ago and $25 this year will cost $50 in 2014. The prime $75 spots will cost $125 and the $20 spaces outside turn one will jump to $40.
All that means that a family of four parking in the infield and sitting in Stand A will fork out $525 at next year's Indy 500. That same family would have paid $340 just two years earlier. That's a 64.7-percent increase.
"My fear is, it won't stop there," Phillips said. "If another increase is announced next year, it'll be a situation where attending the Indianapolis 500 will be cost-prohibitive to the average family. … I would hate to see it come to that."•
Please enable JavaScript to view this content.