What started with a call out of the blue last year has turned into a six-figure revenue stream for the Indiana State Fairgrounds.

Idaho-based event promoter J.T. Wilde was looking for a place to hold his Color Me Rad running event last fall and thought the State Fairgrounds might be a good option.

Fairgrounds officials were intrigued and worked with Wilde to map out a 5-kilometer course. The event, which attracted several hundred participants, has paved the way for the hottest running venue in central Indiana. Wilde's growing event is coming back this year—and he's not alone.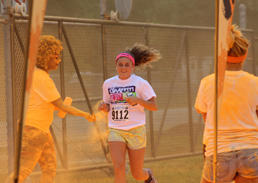 The Fairgrounds played host earlier this year to the Graffiti Run. (Image/Indiana State Fairgrounds)
Indiana State Fairgrounds officials already have signed deals to host six running events this year and are confident they will land two more before the year is up.

The Fairgrounds charges running event promoters $3,000 and up to rent the facility. Rental revenue for the events this year will be near $40,000, Fairgrounds officials said. After parking and other ancillary revenue from the events are added in, the new business line should bring in more than $100,000 this year.

"A year ago this was all new to us," said Fairgrounds spokesman Andy Klotz. "Now it's a growing revenue stream for us with a lot of promise."

About 90,000 people are expected to visit the Fairgrounds this year just for the running events.

Local event promoter Ray Compton, who has 5-kilometer and 10-kilometer races planned for the venue on Aug. 31 and another running event at the Fairgrounds Nov. 9, thinks Fairgrounds officials have just scratched the surface.

"The course they have there is a real gem," said Compton, whose races benefit the Marion County Health Department and a group that cares for etired military veterans. "I admire their vision. They're taking some turf they have there and turning it into a whole new line of business."

Compton thinks once word gets out to local, regional and national promoters, "they could have 50 running events there a year. That's how big I think the demand could be."

There are some big advantages to having an event in a "stadium environment" like the Fairgrounds, Compton said.

"They're event-planning professionals and they can handle any issues you might have quickly and efficiently," Compton said. "With their staff, it's a one-stop shop."

Fairgrounds officials can help promoters with decorating, set-up and clean-up, Klotz said. The starting area near the Dow AgroSciences Celebration Park offers the perfect staging area for kick-off activities, he added.

There's another big advantage, said Adam Lippert, a project manager for Houston-based DNS Visions, whose Graffiti Run event drew 6,000 participants to the Fairgrounds earlier this year.

"You don't have to worry about all the street closures and permits you do on a street course," Lippert said. "Street closures can be a real pain in the butt. Plus at the Fairgrounds you have all the parking you need, which can be another problem for an event as big as ours. A closed venue like they have there is ideal."

Lippert is confident the locally held Graffiti Run could add another 2,000 to 3,000 participants at the Indiana State Fairgrounds with no difficulty.

The 5-kilometer course is laid out on the north side of the Fairgrounds, which allows other events to be operated on site simultaneously. But Klotz isn't convinced the Fairgrounds could handle 50 events annually.

"We could certainly double the number of runs we're having this year, maybe more," Klotz said. "But there is a ceiling. It's a scheduling issue."

The effort to welcome running events has dovetailed nicely into a larger initiative to draw a wider array of events to the Fairgrounds, including things like wedding receptions and club and business meetings.

The Fairgrounds has an annual budget of about $9 million, not including the Indiana State Fair. A low six-figure revenue stream may not seem like a big deal, but it's not inconsequential, Fairgrounds officials said.

"When you start talking about all these events—whether weddings, family reunions or running events—they may be smaller than some of our big shows, but together they add up," Klotz said.

Profits from the events, Klotz said, go back into the Fairgrounds' operations budget.

The running events have significant value for the Fairgrounds as marketing tools.

"The people that come out here for these events may have either never come here before or not come since we've made the improvements we have," Klotz added. "We hear all the time, 'I never knew these facilities existed,' or 'I never knew you could host this event or that event out here.'

"A lot of times the traffic of these events feeds off one another and also attracts people here for our bigger events, including the State Fair."

There may be no time in the facility's recent history more important in terms of drawing visitors, said Compton, who as head of marketing for the now-defunct minor league hockey team Indianapolis Ice, used to work out at the Fairgrounds.

Since the mid-1990s, more than $60 million in capital improvements have been made to the Fairgrounds infrastructure. In addition, a $63 million renovation for the Fairgrounds Coliseum started in October. That project includes a $10 million companion arena, allowing two events to be held simultaneously in the facility.

The new part of the Coliseum is set for completion in July, with the larger Coliseum renovations—including new lighting, sound system, score board, ADA compliance and a concourse overlooking the main arena seating area—on target for August 2014.

"When I was with the Ice, one of our biggest problems was that people would say, 'I don't want to go to the Fairgrounds,'" Compton said. "The facilities here and the image of this place have changed dramatically since those days. When the Coliseum gets done, this is going to be a real show place and a destination.

"The more people they can get here to see what they've done the better, because it's phenomenal."