Local car dealers are investing in projects ranging from new facilities to showroom renovations as the economy improves and the auto industry rebounds from a crippling slump in sales.

The dealership construction boom includes projects in Carmel, Noblesville, Plainfield, Brownsburg and Greenwood. It comes as auto buyers snap up new cars and trucks at a pace not seen since before the recession, with no slowdown expected.

Lee
Noblesville city officials are slated to consider a zoning change later this month to allow for a 53-acre development from Terry Lee, who operates a Honda dealership in Avon. The project would be anchored by a Hyundai franchise along State Road 37, not far from the new location of Honda of Fishers, formerly Honda West, which moved July 1 from its longtime 38th Street site on the west side in Indianapolis.

On East 96th Street, Tom Wood is expanding its Subaru and Volkswagen operations, and Butler Automotive Group plans to build a larger Hyundai dealership to replace the current one adjacent to Butler Toyota.

Ray Skillman Ford in Greenwood is building a 17,300-square-foot dealership for its used car sales along U.S. 31. Andy Mohr Ford in Plainfield is building a 13,300-square-foot addition to expand its service department, and Bill Estes Ford in Brownsburg is remodeling its 9,000-square-foot showroom and service shop.

The activity is occurring along the busy thoroughfares already dotted with car lots, and continues a trend among dealers to follow the shifts in population.

Analysts anticipated U.S. auto sales rising 6 percent to 8 percent in June compared with the same month last year.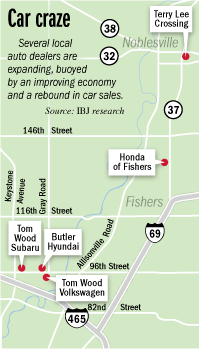 Low interest rates, wider credit availability and hot new vehicle models are a few of the factors driving the turnaround, said Marty Murphy, executive vice president of the Automobile Dealers Association of Indiana.

"All of this is because the economy is better, and a lot of it has to do with the availability of money to borrow," he said. "Plus, we have some really good cars out there."

Ford Motor Co. and Nissan Motor Co. led all major automakers, with a 13-percent June sales increase, followed by Honda Motor Co. and Toyota Motor Corp. at 10 percent. Chrysler Group LLC posted an 8-percent gain, followed by General Motors Co. at 6.5 percent.

Terry Lee Crossing

Lee's project, dubbed Terry Lee Crossing, would be built on undeveloped land at the southeast corner of State Road 37 and 32 in Noblesville. Plans call for a 38,000-square-foot Hyundai dealership to be built on 8.4 acres, with Lee marketing eight remaining lots to prospective developers.

The Noblesville Plan Commission is set to hear Lee's request for a zoning change at its July 15 meeting.

"It's definitely a very visible spot, and it's needed to be developed for quite some time," Lee said. "We're going in already as an anchor tenant, so that made it a lot more feasible for me to do."

Hamilton County property records indicate Lee bought the property in December 2011 from an entity called Dearborn Street Holding LLC for $995,000, though he would not confirm the price.

Lee's investment likely helped him secure the Hyundai franchise last September from a field of several competitors.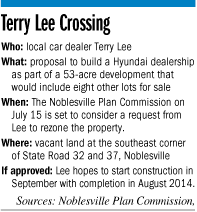 Pending necessary approvals, he hopes to finish the dealership by August 2014.

"This should be a really good move for them," Lee said. "Hyundai did not have any representation up there, so they were excited about getting there."

The high-profile corner largely has remained undeveloped because of poor soil quality, said Christy Langley, Noblesville's planning director.

One of Lee's zoning requests would change the property's designation from "flood hazard" to "planned business" by filling part of a creek and drainage ditch that snakes through it.

As long as Lee has the necessary environmental permits, Langley doesn't see any problems preventing the development.

"The 37 corridor is one of our main commercial corridors, and we want to make sure we keep it vital," she said. "We're happy to see something go there that generates traffic for its neighbors."

Honda of Fishers

To the south, Honda of Fishers built a 49,000-square-foot dealership along Britton Park Road fronting S.R. 37 that features a service facility double the size of the old one on 38th Street.

The prospect of selling more cars in prosperous Hamilton County prompted the move, said Tom Crawley, the dealership's general sales manager.

"Honda has requirements for their dealership and we need to meet those," he said. "The best decision we could make was to find more property."

The old Honda West facility at 4701 W. 38th St. is listed by the local office of Lee & Associates for $1.4 million. The 20,396-square-foot building sits on nearly four acres and was constructed in 1978.

Tom Wood

The Tom Wood automotive group, which sells 14 car brands, is undertaking simultaneous projects to expand its Subaru and Volkswagen dealerships.

Tom Wood plans to demolish part of the existing Subaru store at 3230 E. 96th St. and triple its size to 43,000 square feet. In the meantime, it plans to double the size of its Volkswagen dealership to 67,000 square feet by moving from the current location at 4610 E. 96th St. to the former Palmer Dodge building across the street.

The auto group has torn down much of the building and will add onto it with new construction that will feature a 15-car, multi-level showroom, said Roger Keller, Tom Wood's chief operating officer.

It will also be one of the few Volkswagen dealerships in the country with a service express center for quick oil changes, tire rotations, and wiper blade and exterior light bulb installations, he said.

The new Volkswagen facility should be open by early October.

"The automobile business is extremely competitive, but from Volkswagen's standpoint, the future is bright, and we've just outgrown our facility," Keller said. "We need the capacity to truly service our market."

Once it's open, Tom Wood plans to move its Audi dealership that it shares with Porsche to the old Volkswagen location, so each will be stand-alone shops.

The Subaru expansion should be finished in the latter half of 2014, Keller said.

Both the Subaru and Volkswagen facilities will feature several environmentally friendly components, and Tom Wood is shooting for LEED certification for its Subaru building.

Because both projects are not finished, Keller declined to provide an estimate on how much Tom Wood might be spending on them.

Butler Hyundai

In Carmel, an affiliate of Butler Automotive Group bought more than 19 acres at the northwest corner of East 96th Street and Randall Drive in late December and is seeking permission to build a structure that would house Butler Hyundai.

The two-story, 37,500-square-foot dealership would be built on the south half of the property.

Butler anticipates starting construction within the next year. Butler Hyundai would move from its location adjacent to Butler Toyota, which is south of 96th Street and closer to Keystone Avenue.•