The ill-fated Di Rimini apartment project that city officials halted three years ago because of numerous code violations is set to be resurrected by two local businessmen.
Restaurateur Mike Cunningham and contractor Patrick Heitz purchased the vacant 31-unit complex at 733 N. Capitol Ave. in late March from Louisville-based Stock Yards Bank & Trust for $700,000. The bank had taken ownership of the building last year after foreclosing on a $2.8 million loan to the original developer.
Cunningham and Heitz are preparing to submit plans to city officials within the next few weeks for review and say they will rework the façade of the structure.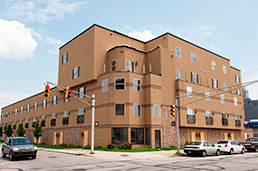 The failed Di Rimini apartment project on North Capitol Avenue has sat vacant for three years. (IBJ photo/Eric Learned)
Plans call for removing all windows and replacing them with larger ones that are more aesthetically pleasing, as well as re-cladding the building with a combination of a Hardie panel siding system and stone columns. New balconies also will be installed, along with an elevator to meet ADA requirements.
The pair plan to spend about $1.5 million on upgrades and are simply calling the complex "733" in a nod to its street address.
For observers of the eyesore, the sale represents the first significant sign of optimism in the drawn-out struggle to address the haphazardly constructed building.
"It's inappropriate for the neighborhood," said Greg Jacoby, a partner at Browning Day Mullins Dierdorf Architects, which sits a few blocks from Di Rimini.
He's seen preliminary architectural renderings of the building and is encouraged by the design.

Cunningham
Jeff York, a senior planner within the city's Department of Metropolitan Development, also has seen the proposed renderings. Department officials have given suggestions on how to improve the design, but York declined to comment because the plans haven't officially been filed. Neither has a rendering.
For Cunningham, 50, whose restaurants include Bru Burger Bar and Mesh on Mass, in addition to his four suburban Stone Creek Dining Co. concepts, owning an apartment complex gives him a chance to diversify his holdings.
"I think it's a cool project," he said, "to fix something like that and turn it into something positive."
Cunningham and Heitz, 45, a Westfield contractor, have worked together on a couple of projects, including the renovation of a vacant building on Fulton Street on downtown's east side that now serves as the office of Cunningham Restaurant Group.

Heitz
Wresting the 18,000-square-foot building from the bank for $700,000 seems like a good deal to Flaherty & Collins CEO David Flaherty. His firm developed Cosmopolitan on the Canal, southwest of Di Rimini, and is developing an $85 million mixed-use project at Capitol Avenue and Michigan Street called Axis at Block 400. The plan, which incorporates a Marsh grocery store, calls for almost 500 apartments.
Considering the upgrades Cunningham and Heitz plan to make to Di Rimini, their total investment of $2.2 million equates to spending roughly $71,000 per apartment unit, which Flaherty says is "good."
"You can't build suburban product for that kind of money," he said. "If you're into a deal under $100,000 [per unit] downtown, you're doing great."
After installing the elevator and meeting other ADA requirements, the developers might reduce the 31 units in the building by one or two, Heitz said.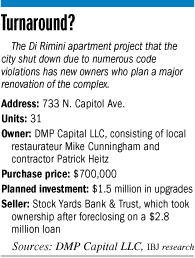 Stock Yards Bank & Trust's sale to the pair could be considered a surprise. As recently as January, IBJ reported that the city's Department of Code Enforcement was reviewing a permit application from the bank that could have allowed it to resume construction.
A bank official did not return a phone call from IBJ. Code enforcement spokesman Adam Baker said in an email that no one within the department knows why the bank might have "pulled" its application. But he noted that applications simply expire if the work is not completed.
Stock Yards told city officials last year that it would need to spend $1.5 million, the same amount the new owners plan to invest, to bring the structure up to code.
The city ordered construction to stop in October 2010 after code enforcement and planning department officials discovered Jeff Sparks, the original developer, was building an entirely different structure from the one for which he had sought approval.
Despite the order, the owners began moving tenants into the building, leading the state's fire marshal to issue an emergency order barring occupancy. Violations of the Indiana building code included a lack of fire walls between apartment units or a working sprinkler system.
Michael Osborne, president of Near North Development Corp., has been tracking the progress of the project since his group first voiced concerns over it three years ago. He's pleased that new owners have emerged.
"It's a very positive step that something is moving forward there, that there's been an actual sale of the property to somebody who's committed to making an actual investment," he said.
But he cautioned that design standards still need to be maintained.
"Just because they weren't involved originally," Osborne said, "doesn't mean the expectations are lower for good urban design."•
Please enable JavaScript to view this content.