Flaherty & Collins Properties plans to build a sleek $81 million, 28-story skyscraper on part of the former home of Market Square Arena in what would be the tallest new downtown development since the 34-story JW Marriott hotel opened in 2011.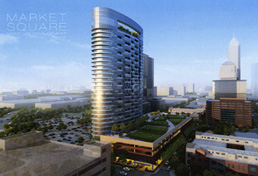 The project calls for 300 luxury apartments renting for between $1,300 and $2,400 per month. (Flaherty & Collins Properties)
The city has agreed to contribute $17.8 million by investing property taxes generated from the project back into the development, which would break ground next spring and be completed by late 2015. The investment would require approval by the City-County Council.
IBJ reported Monday that Flaherty & Collins had been chosen from a field of five developers for the project.
The plan calls for 300 luxury apartments, 500 parking spaces and 43,600 square feet of ground-floor retail space. It would feature a rooftop pool, a green sky window on the tower roof, and apartments with floor-to-ceiling windows and panoramic views of the city renting for between $1,300 and $2,400 per month.
The architect is the Chicago office of Baltimore-based RTKL.
Mayor Greg Ballard and company officials made the announcement early Tuesday at the roughly 2-acre site, which has served as surface parking since the arena's implosion in 2001. Previous attempts to redevelop the property failed in 2004 and 2007, under former Mayor Bart Peterson.
City officials decided to offer only the northern half of the arena site this time around, in hopes a first phase would help drive demand for a second one.
 
Several other big-name local developers floated plans for the MSA site: Keystone Group and Cleveland-based Forest City Enterprises; Browning Investments Inc. and The Whitsett Group LLC; Milhaus Development LLC and REI Real Estate Services LLC; and Barrett & Stokely Inc. and Ryan Companies US Inc.
The Keystone/Forest City proposal called for a tower up to 52-stories tall. A scaled-down, 35-story version of the tower would have cost $118 million to build and required a city subsidy of about $19 million.
The Browning/Whitsett proposal called for a 20-story project costing $114 million and requiring a $20 million city subsidy; and the Ryan/Barrett & Stokely project called for a 23-story building costing $80.5 million with a $21.5 million subsidy.
This story will be updated.
Please enable JavaScript to view this content.